June 2005 -
EXTRAS
Emanuel "Sonny" Marks
Emanuel "Sonny" Marks has never fully recovered from the winter of 1944, when his feet froze. "I'm taking treatments right now," he says, "because I have one toe that's been bleeding for four months." Marks, '50, was a heavy-weapons soldier in the Army's ninth Infantry Division, serving under brutal conditions in the Hurtgen Forest of western Germany. He probably would've lost his feet altogether, like so many of his buddies did, if he hadn't spent the first part of that winter nursing shrapnel wounds in an English hospital. He calls the grenade attack that put him there "the thing that saved me."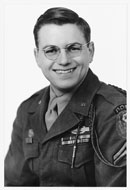 ---

Emanuel "Sonny" Marks. Photo courtesy of Emanuel Marks.

---
Marks is a matter-of-fact storyteller who apologizes when he suspects he's gone on too long. He comes across as a man almost incapable of self-pity or self-promotion. But when he saw a recent article announcing that certain combat veterans were still eligible for the Bronze Star, he figured there was no harm in inquiring. And that's how he came to receive the medal in the mail on Jan. 10, more than 60 years after he earned it.
On the morning of June 6, 1944, Marks went down a rope ladder into neck-deep water off Utah Beach, then waded ashore while two German fighter planes strafed the sand. Battling severe seasickness from the rough passage across the English Channel, he and his regiment marched inland and helped secure the city of Ste. Mere Eglise.
"When you go into the service, it trains you to do a job," Marks says. "And when you get ready to do it, all you're thinking about is doing your job."
Established in 1944, the Bronze Star recognizes "heroic or meritorious achievement or service." In 1947, President Harry Truman signed an executive order declaring that any soldier who had received the Combat Infantry Badge between Pearl Harbor and the surrender of Japan—a distinction that included all infantrymen who'd seen combat at Normandy—was also entitled to the Bronze Star. But by then Marks was out of the service and studying at the University of Idaho. His parents had sold their house and he had no permanent address. "There was no way of contacting me," he says.
Marks transferred to the UW in 1948, completed his business degree, married, had children, and built a life in Spokane. He retired as a vice president of Merrill Lynch in 1989. Elizabeth, his wife of 55 years, passed away this March. In all that time, Marks says, it never once occurred to him that there might be an unclaimed medal out there with his name on it. He's happy to have it, but seems self-conscious about the fact that the local American Legion wants to re-present it to him in a proper ceremony.
"I just did my job," he says, "like everybody else in my company did their job. I did nothing especially heroic."
Many would disagree.
—Eric McHenry