June 2005 -

In the early '50s, New York was a promising place for an ambitious young designer. "Modern design and architecture dominated both New York's art circles and the press," Larsen remembers. "There hadn't been much building in the Depression, and certainly not during the war years. But suddenly people were saving money for the first—and last—time in their lives. There was a great deal of interest in new architecture and design."
The modernist's glass-walled buildings called for new types of fabric—curtains that let in light yet maintained privacy, upholsteries that added texture and color to the cold surfaces. But "there were no warehouses full of modern fabrics," Larsen says. "They needed a weaver." Larsen quickly gained a reputation as a modernist in textiles, blending natural fibers such as linen and goat hair with cutting-edge synthetics like nylon and mylar.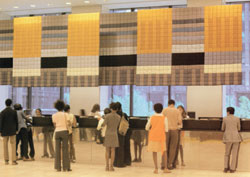 ---

For the tallest building in the world, the Sears Tower in Chicago, Larsen designed 28 silk hangings. Its lobby featured marble floors and a ceiling high enough for full-grown trees. The acoustics were "brutal" until his hangings softened the sound. Photo © 2005 Cowtan & Tout.

---
Famous architects began using his work in their projects. Eero Saarinen hired him to design a diaphanous veil for the unpolished white marble rooms of the Irwin Miller House (now a National Historic Landmark). Soon after, architect Louis Kahn commissioned Larsen to weave wall hangings for his Unitarian Church in Rochester, N.Y. A cubic concrete space, the church had no interior detailing to absorb its earsplitting echoes. To mute the church's acoustics and add color to its harsh walls, Larsen picked a thick Mexican wool and wove it into a rainbow of panels that ran from crimson through gold and sea-green to royal blues and purples.
By the early 1960s, Larsen's fabrics started showing up in the homes of famous patrons. Jackie Kennedy chose his textile "Granite"—a weave of natural, undyed yarns—to redo the White House. When Richard Nixon took office, Larsen got a call to provide Air Force One's carpets and upholstery.
In 1969, Larsen designed upholsteries for Pan Am and Braniff's first 747s. "Braniff wanted excitement—they wanted it to look like Latin America. Pan Am was more conservative," Larsen says. He created demure blue stripes for Pan Am—the 747's launch customer—and tropical pinks and oranges for Braniff. But production ran into a snag when Pan Am wanted to use a fire-resistant fabric, four times as expensive as Larsen's preferred wool. "It was ugly and faded horribly," Larsen says. Luckily, "the fabric failed every safety test and I wound up using wool after all."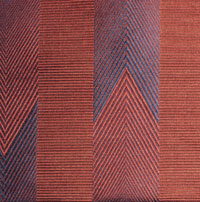 ---

Larsen's fabric Obelisk was a dyed linen created in 1959. Photo © 2005 Cowtan & Tout.

---
Larsen excelled at adapting the newest technologies for his textiles. In 1959, he produced the first printed velvet upholstery. Two years later, he designed the first stretch upholstery. He was also first to adopt ancient techniques like batik and ikat to powerloom machines. "His favorite fabric is always the next one," says Krista Pawar, who designed for Larsen in the 1990s.
Early on, Larsen dabbled in clothing after an upscale men's store noticed a tie he'd woven and requested an order. The ties were an instant hit with the avant-garde. "All my heroes tended not to like ties, people like John Cage, I.M. Pei and Leonard Bernstein," Larsen says. "And I'd see them in my ties. That was one of the best things that happened. Then I was open to working in apparel."
Calling his clothing line "J.L. Arbiter," Larsen spun suits out of exotic fibers and designed a line of classic cuts for women. Vogue did an enthusiastic story on the clothes. The chic department stores I. Magnin and Neiman Marcus each sampled 100 garments. "The first disappointment was when Vogue came back about six weeks later and said, 'Now you've done classicism. What's your new thing?' " Larsen says. When the department stores asked for an additional 1,000 pieces, he realized "we'd have to get much bigger or stop."
Instead, Larsen turned his energy to commercial fabrics. In 1962, J.P. Stevens hired him to make towels for their new line. Betting that female buyers would be more daring with towels than with sitting-room upholsteries, Larsen created a terry-cloth weave with architectural patterns in bright avocados and ochres. His gamble paid off: Before long, the towels became best sellers.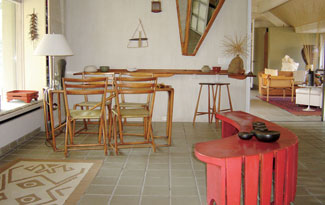 ---

Inside Larsen's Long Island retreat is his collection of furniture and artifacts such as Wharton Esherick's 1939 World's Fair dining table. Photo courtesy LongHouse Reserve.

---
But Larsen's designs occasionally proved too bold for sales departments. When Macy's placed an order for a colorful Larsen fabric, it secretly told its salespeople that Larsen's goods were fine for generating press, but not for selling to homemakers. Even when the fabric outsold Macy's other collections, the salespeople remained wary of Larsen's daring designs. From then on, Larsen steered clear of department stores.
Throughout his career, Larsen has maintained a connection to his Northwest roots. In the 1960s, he designed fabrics for many Seattle buildings—including Nordstrom's flagship store and the house of Boeing President William Allen—and wove blinds and upholsteries for Roland Terry, a leading architect in the Northwest style. Terry's houses, which complemented their natural surroundings, inspired Larsen to create fabrics with understated elegance and sunny colors to offset the Northwest's overcast skies.
In 1996, Larsen returned to Seattle to design the carpet for the Seattle Symphony's new home, Benaroya Hall. The same year, he began the carpet for his alma mater's renovation of Meany Hall. On Meany Hall's original carpet, the University had copied a Larsen print. The second time around, Larsen personally wove the fabric. "I felt it needed to be as bold as possible," he says. He chose a large-scale pattern in vibrant reds and yellows that would lighten the cavernous space. His color scheme reflected the hall's sunburst glass sculptures by Larsen's longtime friend Dale Chihuly.
A man of limitless energy, Larsen is most content when engaged in many projects. In addition to running his company, he has authored nine books, traveled extensively, mentored young artists and collected rare fabrics, crafts and works of art. "Jack's a very driven person; he was able to juggle so many things at once," says textile expert Bronwen Solyom, Larsen's longtime friend. "Running the business, doing his own creative design, serving on a number of museum boards. And he still found time to sit down at home for a beautiful meal every night."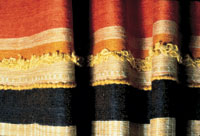 ---

This curtain section, woven for the Wolf Trap National Park for the Performing Arts in suburban Washington, D.C., was a 1971 collaboration between Larsen and a hand-weaving studio in Swaziland. Photo © 2005 Cowtan & Tout.

---
Larsen also found time to garden. After designing all day, he would retire to his rooftop terrace in Manhattan or to Round House, his 12-acre East Hampton estate. There, he kept his hands busy by weeding and planting until dark, while his mind plotted new fabrics for the company to try.
In 1986, Larsen sold Round House and constructed the four-story LongHouse, modeled on a 7th-century Japanese shrine. On the surrounding 16 acres, Larsen planted more than 1,000 flowering species and rare conifers. As both Larsen's home and a public foundation dedicated to the arts, the house and surrounding gardens are available for public tours each summer.
These days, Larsen divides his time between LongHouse and his Manhattan loft. He sold his company in 1997 to Cowtan and Tout, but stays on as a consultant. At an age when most of his colleagues have retired to lead quiet lives, the 78-year-old Larsen keeps dreaming up new projects and pushing the limits in his life and art. "I like any extremes, the lowest or the highest," he says. "The middle ground has always been the least interesting."
-A native of Bainbridge Island, Katie Baker is a free-lance writer in New York who specializes in arts reporting.
Go To: Page 1 | Page 2