NEW YORK CITY, 1952-A hunger for modernist architecture had seized postwar Manhattan. On Park Avenue, the country's first International-style office building neared completion. Even before Lever House's opening, the press praised its 24 stories of blue-green glass and stainless steel as a "sea-colored jewel." Lever House was elegant, sleek and metallic. It was the perfect symbol of a modern city.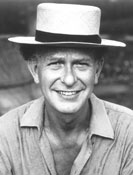 ---

Right: Jack Lenor Larsen. Photo by Dorothy Beskind, © 2005. Courtesy of LongHouse Reserve. Above: Two of Larsen's landmark fabrics-Nimbus and Solar Cloth-are folded together. Photo © 2005 Cowtan & Tout.

---
The building's architects announced a competition to design Lever House's interior wall curtains. In those years, design competitions had a media following and the winners attracted a wealth of future work. With all its pre-opening hype, Lever House drew the country's most renowned fabric designers to compete.
The winning design was clearly the work of a visionary. Made of translucent lace and intertwined with linen cord and gold metal, the curtain had a soft, hand-woven look that perfectly contrasted with the building's cool modernism. Yet when the architects revealed the winner's name, it belonged to an unknown young man fresh from the backwater of the Pacific Northwest: Jack Lenor Larsen.
As Larsen's big break, the Lever House commission jump-started a 50-year career that brought the Seattle native worldwide renown as the "dean of 20th-century textile design." At its peak, Larsen's company operated in more than 30 countries, employing several thousand craftspeople to weave his carpets, curtains and upholsteries. His fabrics are featured in the permanent collections of 16 world museums—including New York's Museum of Modern Art and the Victoria and Albert Museum in London—and he became the second American ever to have a solo exhibition at the Louvre.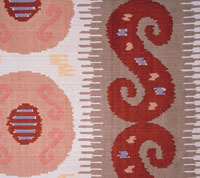 ---

Larsen's 1972 silk fabric Pomegranate was inspired by a trip to Afghanistan. Photo © 2005 Cowtan & Tout.

---
But his designs never looked as if they belonged only in museums. As the "Larsen Look" has changed each season, he has always managed to stay cutting-edge. "It's a contemporary look of the contemporary time you're at," says Lotus Stack, textiles curator at the Minneapolis Institute of Arts. "Maybe that's part of the magic."
Everyone from Frank Lloyd Wright to Marilyn Monroe has purchased his fabrics, and his creations have graced the lobbies of such architectural icons as the Sears Tower and the United Nations Building.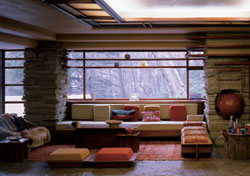 ---

Edgar Kaufmann Jr., son of the original owner of the Frank Lloyd Wright masterpiece Fallingwater, commissioned Larsen to redo the carpets, upholstery and wall hangings in his western Pennsylvania retreat. The fabric designer provided textiles for the house mostly based on his Doria patterns. Seen at right is the living room. Photo by Thomas A. Heinz, courtesy Western Pennsylvania Conservancy.

---
For his impact on the world of art and design—and for the joy and beauty his work has given to the world—the University of Washington and UW Alumni Association have named the 1949 graduate this year's Alumnus Summa Laude Dignatus—the highest honor the UW bestows upon its graduates. Larsen joins the ranks of 64 alumni who have been honored since 1938 with this award, including fellow artists and architects Dale Chihuly, Chuck Close, Imogen Cunningham, George Tsutakawa and Minoru Yamasaki.
Born in 1927 as the only child of Canadian immigrants, Larsen was inquisitive and industrious. Growing up in Bremerton, he spent class time dreaming up expeditions along Puget Sound's rocky beaches and through its cedar forests. From an early age, he craved his parents' approval—especially that of his father, a building contractor who showed little interest in his son's attempts to construct forts and watercrafts. Still, the young Larsen built incessantly: "Boats, kayaks, camps—anything I could," he recalls.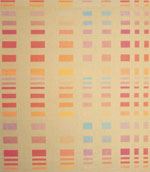 ---

Landis, one of Larsen's trademark fabrics, was originally woven in Switzerland but later manufacturing problems made him move the work to New Zealand. Photo © 2005 Cowtan & Tout.

---
At 18, Larsen's affinity for building led him to the University of Washington's architecture school. The freedom of college life instantly appealed to him, and he finished three years' work in under two years.
Larsen's first introduction to weaving came at the end of his sophomore year, in an interior design class. After two years of drawing boards and blueprints, Larsen relished making things again. "It was back to building and using materials and making something," he remembers. "I stayed in the studio the extra hours I had, and decided I'd be a weaver instead of an architect."
A man in weaving classes—then part of home economics—was a rare sight on campus. The female professors encouraged Larsen in his decision, but his father pressured him to stay in architecture. The elder Larsen wanted his son to be a success—but not in a "feminine" field like weaving, then regarded as a pastime for homemakers. So when Larsen informed his parents that he'd decided to drop out of school to be a weaver in Southern California, "I was disowned," he recalls. "My father said it was the 'garbage can of the nation.'"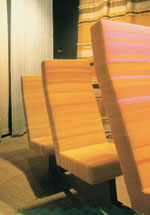 ---

Larsen's one-man show at the Louvre included a mock-up of Braniff Airlines' first 747 cabins featuring the designer's colorful upholsteries. Photos © 2005 Cowtan & Tout.

---
His father cut off his allowance and froze any inheritance money. But Larsen held out for almost a year, enjoying California's bohemian lifestyle. "Finally, my parents came down with a deal," Larsen says. "If I would come home, they would buy me a big loom."
The bribe worked. Larsen returned to the University in 1948 and became an assistant to weaving instructor Ed Rossbach—the only other male in the department. Rossbach recognized Larsen's passion for fabric and urged his assistant to teach private weaving classes at the Seattle Art Museum. Eventually, he recommended Larsen for a scholarship to Michigan's prestigious Cranbrook Academy of Art.
After graduating in 1949, Larsen moved "back East" to weave at Cranbrook. He finished the academy's two-year M.A. program in nine months, producing at twice the pace of the other students. Over spring break, Larsen traveled to New York to show his portfolio to several major design studios. They all turned him down, saying his style was too individual and wouldn't sell on the American market.
Larsen faced a difficult choice. He had offers to teach design at Midwest colleges, but he desperately wanted to return to New York—the "first place I'd felt at home," he says. One designer, Arundell Clarke, had shown modest interest in Larsen's work. While Clarke couldn't employ Larsen, he offered to put him up for a few months. So Larsen sent his looms and 39 cases of yarn to New York and started weaving. That fall, he won the Lever House contest. After that, the commissions never stopped.
Go To: Page 1 | Page 2