June 2005 -

David Dickinson, '90
Major, 65th Airlift Squadron, Air Force; Time of service: July 2004-October 2004; Stationed: Green Zone, Baghdad; Currently: Hickam Air Force Base, Honolulu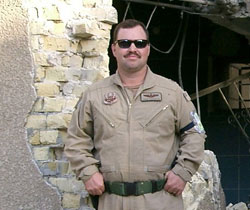 I started out as the approval authority for humanitarian airlift into Iraq. I worked in conjunction with the Regional Airlift Movement Control Center. And they basically control all commercial and military movements in and out of country. I was like the point of contact inside of Iraq any time commercial humanitarian movements came in the theater. They sent me information regarding the incoming flights, and I coordinated with the carriers, with Baghdad International Airport, stuff like that, to ensure de-confliction, that the runways were good, anything that dealt with civil-aviation type stuff.
I worked with some Iraqis. To me, it was really, really incredible that Iraqis on a daily basis were risking their lives coming into the Green Zone to help us help them. I talked to one of the guys who worked in my office. He had been a computer graphic artist. His two brothers had been killed by Saddam Hussein back in the early '80s. . When you actually meet these people, it's a whole different kind of deal.
On the 14th of July, the first car bomb went off. It had to be within about 500 meters of where I was. I'd been in the Green Zone for two days and nothing had happened. I was walking outside, and the explosion went off-when they go off, it's nothing like you see in the movies. Nothing prepares you for it. You can actually feel the air kind of vibrate. The ground shakes. And it's a heavy feeling. And that heavy sound-it was like that with the mortars and the rockets, just that heaviness to the sound and the air.
My first time being in an actual, if you will, combat zone, was on the 12th of September. I had just gotten up to start shaving, and my roommate had just gone down to do a little workout in the gym that we had right there in the compound. And you could hear it just go ssssshhhhvvvv. You heard that swoosh sound, and boom, I mean the whole house ... it just shook the shit out of the house. I actually had to duck because I thought the window was going to blow out. ... A 122-millimeter rocket had hit the house that I used to live in. I had just moved out about three weeks before, and I was literally just two houses down.
Return to War Stories: Huskies in Iraq.
Questions for the Vets. A web exclusive with questions to those serving in Iraq.
To Baghdad and Back: Page 1 | Page 2 | Page 3
Loss and Recovery: UW Expert Aids Army Amputation Units