June 2005 -

Scott F. Baker, '87
Chaplain, Captain, Air Force; Time of service: June-September 2004; Stationed: Camp Victory, Baghdad; Currently: Mountain Home Air Force Base, Idaho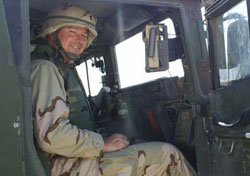 We showed up [at a lower-security unit of Abu Ghraib prison] and there were probably 200 men. Some of them were taking showers over on the side. Others were just lying low and trying to stay cool. And the guards were taking initiative with some of the younger Iraqi men [. . .] learning the language and trying to figure out ways to communicate. And as I stood there talking and watching, one of the guards broke out a Frisbee and had eye-contact with one of the young men across the barbed-wire fence. And he threw it over to him. And it went back and forth a few times. And pretty soon there was a crowd of men. And then another guard introduced a Nerf football. And pretty soon there was this game that just kind of transcended language. There was a sense that enough trust had been built up, and that this was a welcome diversion from, just, the hot, and the clear and kind of awkward situation in which one side has all the power. ...
I served for 16 years in the InterVarsity Christian Fellowship. During that time, I got my seminary degree, and as those things both came to a close, September 11 happened, and my wife and I looked at each other and said, 'Maybe it's time to make a change, and move from campus ministry-which we always felt was front-line ministry-to a different kind of front-line ministry. And I'd only been in [the Air Force] for about 15 months when I had the opportunity to volunteer to deploy. Occasionally-it doesn't happen very often-but occasionally you're in the right place at the right time, talking to the right people. And it was just one of those things where, I think, somebody they had tapped to go couldn't go for some reason, and I was having a conversation with the decision-maker, saying 'Boy, you know, I'd love to get out there and do something.' And one week later I got orders, and three weeks after that I was on the plane.
When I came into the military at age 38, I knew I was signing up for that, and I embraced that, wholeheartedly-I want to be where the action is. I want to be where people have needs. My day-to-day life here, on the base, is just practice, as far as I'm concerned. . I don't profess to know all of the politics of what's going on. And I didn't feel like I needed to be absolutely convinced that everything we expected to find there, we were going to find. It was easy for me: that's where our young men and women are, and they're going to be asking ultimate questions in that environment, and that's where I want to be: where people are asking ultimate questions.
During my visit to the hospital with one of our Muslim chaplains, we stopped by the ER on the way out, and a young man, a Marine, named Steve, had just been brought in-I don't mean to be graphic here, but his right foot had just about been blown off. It was still attached. And he was in a great deal of physical pain. And the Muslim chaplain and I went up toward his head, on each side of his bed. And I was definitely the apprentice, and my comrade, who did that day in and day out, kind of took the lead and introduced us and asked him if he would want me to pray for him. And he said yes, and he reached out this 20-year-old, strong as an ox, bloodied arm, and kind of pulled me in close. And I reassured him -the doctor actually said that he thought he'd be able to keep the foot. And it was just one of those moments where I thought, you know, this guy needs a word, and I'm here to give him a word.
Return to War Stories: Huskies in Iraq.
Questions for the Vets. A web exclusive with questions to those serving in Iraq.
To Baghdad and Back: Page 1 | Page 2 | Page 3
Loss and Recovery: UW Expert Aids Army Amputation Units