UNTIL THIS YEAR, if you asked Major General Peter Chiarelli, '80, about his most unforgettable day, he would tell you about Sept. 11, 2001. He was sitting in the Army's situation room in the Pentagon as American Airlines Flight 77 plunged into the west side of the building—killing 189, including about 15 of his personal friends and colleagues. "We were one wedge away from the impact," he says.
But now, after a year as commander of the U.S. troops in charge of security in Baghdad, the UW graduate has a new landmark in his life, a day when he saw tears in the eyes of his soldiers and Iraqis holding up purple index fingers to photographers from around the world.
For Chiarelli, head of the U.S. Army's First Cavalry Division, the Iraqi election of Jan. 30 was a turning point in his personal life, in the life of the Army, for the citizens of Iraq and perhaps for the people of the Middle East.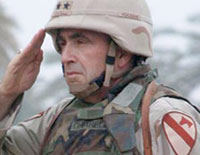 ---

Maj. Gen Peter Chiarelli, '80, salutes as he about to leave Baghdad after almost a year in charge of the city's security. Photo courtesy of the Dept. of Defense.

---
The highest ranking UW alumnus to serve in Iraq, Chiarelli says "the war has changed me in ways that I haven't even figured out yet."
From March 2004 to Feb. 2005, the First Cavalry was in charge of security for Baghdad. It also fought alongside Marines in Fallujah and Najaf. When its 18,000 soldiers (and 4,000 National Guard troops attached to the unit) left Iraq at the end of February, 165 didn't come back. Another 1,500 were wounded—many seriously.
A Seattle native, Chiarelli returned to his wife of 32 years, Beth, and three children who all graduated from the UW—Peter, '96; Erin, '00; and Patrick, who is a freshman. While it was a happy homecoming, he says the hardest part of being a general is meeting the loved ones of those who died in battle. "It's hard when I have to face the wife or the parents of a soldier lost in combat. When I came home, I went to see my soldiers at Walter Reed who have lost their legs or their arms. Those are the toughest times," he says.
Which is why Jan. 30 was so meaningful. To Chiarelli, it justified all the sacrifices they had made. "That Iraqis would risk their lives and go out and vote in such numbers," he says, "it was emotional."
But no one, including Chiarelli, thought it would go as well as it did. The Americans had done extensive polling of the Iraqi population prior to Jan. 30. "We knew that Iraqis were going to vote," he says, but the planners also knew both governments were taking a serious risk.
The insurgents, promising a wave of suicide bombings, had spread leaflets warning Iraqis to stay away from the polls or face death. Some Islamic leaders told their followers to boycott the vote. In the weeks leading up to the election, a few political figures in Iraq and the U.S. called for a postponement while others insisted it go on as planned.
WAR STORIES:
Huskies in Iraq

Scott F Baker, '87, Chaplain, Captain, Air Force; Time of service: June–September, 2004; Stationed: Camp Victory, Baghdad; Currently: Mountain Home Air Force Base, Idaho
"We showed up [at a lower-security unit of Abu Ghraib prison] and there were probably 200 men. Some of them were taking showers over on the side. Others were just lying low and trying to stay cool. And the guards were taking initiative with some of the younger Iraqi men, learning the language, and trying to figure out ways to communicate. And as I stood there talking and watching, one of the guards broke out a Frisbee and had eye-contact with one of the young men across the barbed-wire fence. And he threw it over to him. And it went back and forth a few times. And pretty soon there was a crowd of men. And then another guard introduced a Nerf football. And pretty soon there was this game that just kind of transcended language. There was a sense that enough trust had been built up, and that this was a welcome diversion from, just, the hot, and the clear and kind of awkward situation in which one side has all the power." Read more of Scott's story at: War Stories: Huskies in Iraq
Go To: Page 1 | Page 2 | Page 3
War Stories: Huskies in Iraq. On-going web exclusive about Huskies serving in Iraq.
Questions for the Vets. A web exclusive with questions to those serving in Iraq.
Loss and Recovery: UW Expert Aids Army Amputation Units