June 2004 -
For Matsuda, Childhood Hardships Held Lifelong Lessons
Larry Matsuda, '67, '73, '78, and his family suffered the indignity of being incarcerated in a Japanese American internment camp during World War II. He was born in one of the camps. But in those trying times, the lifelong Seattle educator learned perhaps the biggest lesson: how to live a life of dignity.
His dad lost two Seattle grocery stores he operated when the Matsuda family was first ordered to the Puyallup fairgrounds during the forced relocation of the entire Japanese community of greater Seattle. Later, the Matsudas were sent to Minidoka War Relocation Center in Idaho.
After the war, Matsuda's mother regularly sent packages of coffee, chocolate, shoes, clothing and other items to relatives in Hiroshima every month. As a child, Matsuda complained that his mother was always sending the best stuff to Japan. But she explained that their relatives desperately needed the help.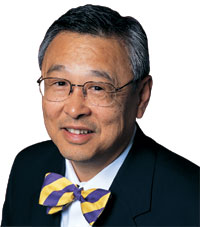 Matsuda learned a lot from this gesture. "My mother always volunteered, even late in her life. She lived a life with dignity, and that meant helping others," he says. "She passed it on to me."
It was a lesson well taken. The former teacher and school principal spent the past decade working to improve the lives of University of Washington students and promote diversity through his tireless volunteer efforts with the UW Alumni Association. For this, he was honored with the 2004 UWAA Distinguished Service Award.
Matsuda, currently a visiting professor of education at Seattle University, has served in several critical roles at the UWAA-all of which reflect his commitment to education for everyone.
For example, Matsuda, who first joined the UWAA Board of Trustees as an at-large member in 1992, helped found the Multicultural Alumni Partnership. This special-interest group, which will celebrate its 10th anniversary in November, promotes diversity at the UW and the UWAA. The group honors distinguished alumni and community members for promoting diversity and has raised hundreds of thousands of dollars for student scholarships through its annual Bridging the Gap Breakfast, held every Homecoming Weekend.
Later, as the UWAA's first Asian American president in 1996-97, Matsuda appointed the first UWAA Diversity Committee, which brought diversity and cultural values and priorities to the forefront of the association and the University.
A commuter student who occasionally played pinochle in the HUB with Bruce Lee, Matsuda provided vital management experience to the alumni organization during times of need. Taking over as UWAA president shortly after the resignation of executive director Jon Rider, '62, Matsuda took time out of his busy professional life to maintain an office at the UWAA to help oversee daily operations. He also helped negotiate a landmark affinity credit card contract that brought millions of dollars to the association. And he helped develop a strategic plan that brought badly needed consistency to the association's programming and leadership structure through a bylaw change.
But he is particularly proud of his role in creating the annual UWAA event "First Day at Red Square," in which the UWAA gives free coffee and bagels to students on the first day of classes in the fall.
"We had to create a bridge and build relationships with the students," Matsuda says. "Too often, students only saw us at convocation and graduation, and thought we were only asking them for money.
"I wanted to create a presence so students know that we are there to help them."
While Matsuda-who was honored last year by MAP as its winner of the Dr. Samuel E. Kelly Award-no longer holds a major role in the UWAA leadership, he has not stopped volunteering at his alma mater.
He is currently working on two projects sponsored by UW Libraries: one is "Interrupted Lives," which is attempting to locate the 450 Japanese American students who attended the UW during World War II and were forced to leave campus, and record their stories; the other project is digitizing back issues of Japanese American Seattle community newspapers and publications. Both projects are Web-based so students from all over the world can have access to primary documents about an event that is often overlooked in history books.
"I feel a debt to the University," says Matsuda, who had $550 to his name when he applied to college in the early 1960s. "I was so grateful that I could get in and afford to pay for my education. From then on, I was able to achieve. But I owe something to the UW. I am proud I was able to give something back."
---
Home / Current Issue / Archives / Talk Back / Advertising / Columns FAQ / Alumni Website / Search