June 2004 -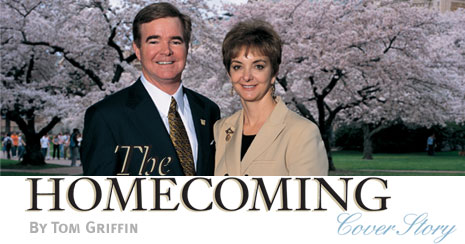 Hot Topics: Emmert on the Issues
The future of public higher education:
"I hope that we never, ever move away from the great tradition of public higher education in America. It is one of the great strengths of this nation. I am obviously one of the beneficiaries of it, as are millions of other people. Public higher education has been, for a century and a half, the social, cultural and economic ladder of our society. If we move to a quasi-public or quasi-privatized model, we'd better be sure of what we're doing-what its impact is going to be on our society."
The impact of rising tuition:
"Tuition will continue to rise. We need to make sure that we have appropriate financial aid structures in place that will always allow people to attend the University of Washington regardless of their financial status."
Reforming undergraduate education:
"We will be constantly, constantly improving the undergraduate experience at the UW. The real trick is to provide students with as many small-scale experiences as they can, so that they can break down that great big campus into discrete units. Their educational experience and their social experience become more personal."
Keeping the UW diverse:
"Diversity is critical to the educational experience for all students. We continue to be the ladder to social, educational and economic success for all of our citizens. That means we have to work at making the campus a welcoming and supportive environment for all people. I'm going to be aggressive about that. It isn't easy. At LSU, we had a campus that was segregated until the 1960s. There are enormous challenges here. The environment at Washington is quite a bit different in that context. The solutions have to fit the local culture and context."
The future of UW Tacoma and UW Bothell:
"This is one of the most important questions facing the University of Washington. We want these campuses to grow and flourish. Exactly what that model looks like has yet to be worked out."
Reaction to the $35 million paid for over-billing government health plans:
"My understanding is that the University has done all it can to respond appropriately. It has obviously been a big story. All we can do now is fix it and move on."
The place of sports on a college campus:
"I don't know of a single university president, if you could start all over again, who would recreate the model of collegiate sports the way it is today. I surely wouldn't. But the reality is that the University of Washington is not going to stop playing football any time soon. And it's not going to get rid of crew. And it's not going to stop playing women's basketball. They are going to continue to be important in the social and cultural lives of the people of the UW. I'm a hard core pragmatist about intercollegiate sports. We'd better be leaders in the way we conduct business. We'd better be leaders in whatever the reform movements are. We'd better be leaders in the way our program succeeds-and I don't mean win-loss records. We'd better be leaders in the way we win games, in the way everybody behaves, in our academic success, in our graduation rates, in everything that would make our faculty and students and staff and alumni proud."
Go To: Page 1 | Page 2 | Page 3 | Page 4 | Page 5 | Page 6
Sidebar - Hot Topics: Emmert on the Issues
---
Home / Current Issue / Archives / Talk Back / Advertising / Columns FAQ / Alumni Website / Search