June 2004 -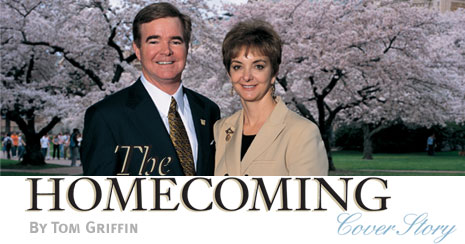 But some LSU professors have been critical about the amount of time Emmert spends on external affairs. "Chancellor Emmert has largely been occupied with relations between the university and the legislature and the governor and the community. He has been a representative to the outside first. That's his primary role," says Faculty Senate President McGehee. "He hasn't been around much in the campus and in the colleges."
Some faculty attacked Emmert's salary when their own pay lagged far behind their peers. In the spring of 2002, when the University of South Carolina tried to lure him away, LSU's trustees matched the offer, giving Emmert a 72 percent pay increase. His $490,000 salary plus annual $100,000 bonus made him one of the highest paid public university leaders in the nation. (At the UW Emmert will make $470,000 plus gets a $120,000 annual bonus if he stays for five years.)
One professor complained that the only places where LSU ranks No. 1 in the country were in the salaries of its football coach and its chancellor. The Faculty Senate voted 23 to 11 to condemn the increase.
"That vote was not a personal criticism of Chancellor Emmert," says McGehee. "It was a criticism of those who made the decision. The faculty was quite glad to have him stay."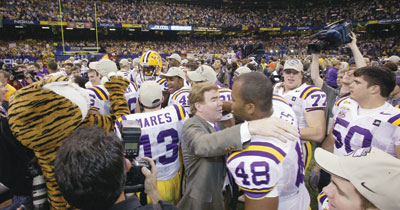 ---

LSU Chancellor Mark Emmert congratulates as LSU football player after the Tigers' 21-14 victory over Oklahoma in the 2004 Sugar Bowl. The win clinched the national championship for LSU in the BCS rankings.

---
What was lost in the salary dispute was that Emmert had used the South Carolina offer to get further commitments from the governor and lawmakers for Louisiana's colleges and universities. Gov. Mike Foster issued a statement that read in part, "All the talk about rolling back taxes while LSU is last in the SEC in investment mystifies me. We are going to have the best and the brightest and lead the future-or be dead last forever and be known for our mediocrity."
Even with his record-breaking salary, his pay was far behind LSU Football Coach Nick Saban, who he had recruited from Michigan State with a $1.2 million pay package in 2000. It is unusual for a university president to get deeply involved in the hiring of a football coach, but the LSU athletic director was retiring at the time, so Emmert stepped in after the Tigers stumbled to a 3-8 season under then coach Gerry Dinardo.
"He was very much personally involved in that," LSU Professor Kenneth Carpenter, chair of the LSU athletic council, told the press. "Had that not worked out, had Saban not been successful, there would have been a lot of criticism. But now it looks like he was the smartest guy in the world." Under Saban, LSU had an 11-1 record last season and shared the 2003 national championship, the team's first since 1958.
Saban is a big fan of Emmert's. When he heard that the UW was trying to hire him, the football coach told the Baton Rouge newspaper, "He is absolutely the best boss I have ever had. He's the most significant reason I was interested in this job. Never once has he disappointed me."
Emmert took advantage of the national championship spotlight to write an op-ed piece in the New York Times touting LSU's academic rise. Back on campus, he told anyone who would listen that "If we can be number one in football, we can be number one in physics."
Yet his emphasis on sports has its detractors. Some UW professors are concerned that Emmert maybe have his priorities in the wrong place, that he is too much of a "sports guy."
"Anyone who thinks that is just plain stupid. They ought to go jump into Puget Sound. It's silly," says LSU alumnus Carville. "There is no sense at all that that is the case."
Retired UConn President Hartley is more diplomatic, but makes the same point. "Mark understands the balance between academics and athletics. Primarily he is an academic scholar."
With his strong involvement in athletics, Emmert realizes some may get the wrong impression. "It looks like, 'Oh gosh, Emmert loves athletics.' When in fact, I like sports, but it is a vehicle for me for promoting the university," he explains.
It was at Connecticut that Emmert got his reputation as an institution builder. It was that promise that prompted the leaders at Louisiana State University to lure Emmert to Baton Rouge in 1999 as their new chancellor.
"Those professors who say I'm not focused enough on academics don't see that that's what I do all day long," he adds. "I always get a kick out of faculty who seem surprised when I stand up and give a talk on curricular reform or the value of the tenure process. They seem amazed that we're academics at heart. That's what I do all day long. That's why I work in this enterprise."
But there is no doubt that Emmert's record with sports was a factor in the regents' choice. With the UW program rocked by gambling violations by its former football coach and charges of illegal drug dispensing by a former team doctor, Emmert's reputation for keeping a watchful eye on athletics-and running a clean program-was a plus.
Jim Isch, his Montana State colleague, is now the NCAA's vice president for administration and finance. He says Emmert's reputation is impeccable. "Our folks have a great deal of respect for him," Isch says.
When there was a minor infraction at LSU involving tutors giving too much help to student-athletes, Emmert asked faculty and staff to come forward with any information about academic misconduct. He also invested an extra $1 million in the academic support program for athletes and moved its reporting lines to the provost's office. "The position he took at LSU, that gave him a lot of respect," says Isch.
Emmert will find out how much clout he has on June 11, when-even before he officially becomes UW president-he will be part of the UW team that presents its case to the NCAA over the recent gambling and recruiting violations.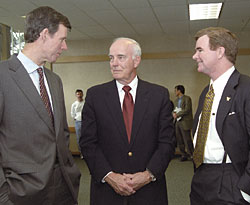 ---

Left to right, UW Medical School Dean Paul Ramsey, who was cho-chair of the presidential search advisory committee, Regent Dan Evans, '48, '49, and incoming President Mark Emmert confer during a March 22 press conference at the UW. Photo by Kathy Sauber.

---
Emmert once said that success for LSU football was "essential" for the overall success of that university. At Washington, he takes a slightly different approach. "We don't have to win football championships to be a great university at the University of Washington, but we need to have the programs reflect our values and reflect what we want people to see about the University of Washington. If they think the sports program is in disarray, they think the University is in disarray," he says.
Asked if he agreed with one newspaper columnist who said there was a "crisis of the soul" at the UW, Emmert replies, "The athletic enterprise is not the soul of the University. The faculty is the soul of the University. That has a great integrity. That soul is in very good shape."
While hiring a new athletic director will be one of his first steps as the new UW president, Emmert says his top priority is "to learn the University of Washington all over again. Sure, I know the place, I know the buildings, but I don't know many of the faces that reside in those buildings. I'm going to have to go on a crash course of 'U-Dub 101.'
"I'm going to go around listening to a lot of folks, everywhere I can."
When he reaches out to the campus and community, there will be a lot of curiosity over Emmert's style as well as his substance. "He's not a back-slapping kind of guy," says Carville, "but he's very smooth. In Louisiana, he knew how to get into the system right way. As soon as you met him, you knew this was the guy for LSU. You had confidence in him."
Vanderbilt University President Gee says, "Mark has a great sense of humor. He is also a fine decision maker. He understands at the end of the day the buck stops at his desk."
His cousin, Frank Spear, also touches on this Harry Truman-like quality. "Mark has incredible integrity. He is not afraid to buck the trends if he believes another direction is more appropriate."
When they voted on the new president, the regents keyed in on his decision-making abilities and academic leadership. Regent Shelly Yapp, who was on the search committee, said Emmert was a leader who could make institutions "reach beyond where they thought they could go for academic excellence." Regent Connie Proctor added, "He loves this institution, and that can only make him a better president."
For Emmert, becoming president of the University of Washington is the ultimate homecoming. "This is such a great honor for me," he says. "I can't imagine being at a better university than this. This is an extraordinary academic institution. This is my home. This is my last stop in that lap of America."
—Tom Griffin has been editor of Columns since it was launched 14 years ago. Since his started at the UW in 1981, he has worked with four UW presidents.
Go To: Page 1 | Page 2 | Page 3 | Page 4 | Page 5 | Page 6
Sidebar - Hot Topics: Emmert on the Issues
---
Home / Current Issue / Archives / Talk Back / Advertising / Columns FAQ / Alumni Website / Search