June 2004 -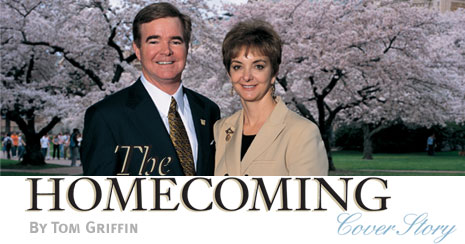 On top of the $1 billion building plan, Emmert lobbied for $4 million in state funding for an applied technology research center, upgraded the student experience with a new freshman transition program and a center for undergraduate education, and created an Office of Multi-Cultural Affairs, which boosted faculty and student diversity. The Connecticut Huskies also made their mark in athletics—the women's basketball team won the national championship in 1995 and the men won in 1999.
"We used to be the second or third choice for students—even those living in Connecticut," recalls Hartley. "Now everyone wants to come to Connecticut. We're no longer a regional school, we are a national school."
But UConn was also a destination for students throughout New England during spring break. Its annual Spring Weekend got wilder and wilder in the late '90s. After an unruly outbreak in 1997, campus officials thought they had a plan to keep students under control. Instead, in 1998, the weekend ended in a drunken riot with 2,000 students pelting police officers with rocks and bottles, and police responding with pepper spray. Three cars were overturned and one was burned. Rioters caused more than $20,000 in damage to campus property.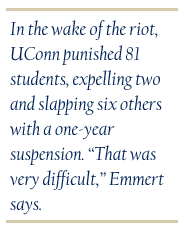 In the wake of the riot, UConn punished 81 students, expelling two and slapping six others with a one-year suspension. "That was very difficult," Emmert says. What was once a spring festival had become almost a "ritual riot" for students across New England. Among those arrested, about two-thirds were not UConn students, he says.
"We worked with student leaders to keep things under control, and the student leaders were terrific, but they weren't in control either. Unfortunately, nobody was in control," he adds. The following year UConn had community policing in place and better communication with students. The result: Spring Weekend was much quieter.
The spring riots at UConn sound similar to a Greek Row melee last September at the UW that saw $6,000 in damage and the arrest of eight people, though none of the eight were UW students. Emmert cautions against hasty comparisons. "What worked at Connecticut might be a disaster at UW," he says. "I don't know enough to say what the answers are. I'm going to work a lot with our students and the neighbors. We're not going to shy away from our responsibilities as the 600-pound gorilla in the neighborhood."
It was at Connecticut that Emmert got his reputation as an institution builder. It was that promise that prompted the leaders at Louisiana State University to lure Emmert to Baton Rouge in 1999 as their new chancellor.
LSU, like the UW, is the state's flagship research university. Its main campus has 32,000 students, a football stadium that holds 91,000 rabid fans and school colors of purple and gold. But it is not a top-tier public research university. In the last rankings by the National Research Council (regarded within higher education as the most valid poll of academic excellence), almost a third of the UW's doctoral programs were in the top 10 and almost three-fourths were in the top 25. None of LSU's doctoral programs were in the top 10 and only two were in the top 25.
Until 1988 LSU had an open admissions policy for Louisiana high school graduates and wasn't known for its academic rigor. Two years before Emmert's arrival, a fraternity pledge died of alcohol poisoning during a hazing ritual, and when the new chancellor stepped into his office, he found that LSU was ranked the No. 1 party school by the Princeton Review test prep service.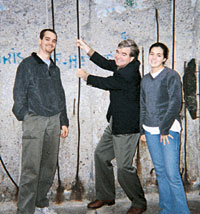 ---

Mark Emmert, center, tries to pull down a support rod in the Berlin Wall as his children, Steve and Jennifer, pose for the camera. Emmert received two Fulbright fellowships to the former East Germany in 1991 and 1994. Photo courtesy Mark Emmert.

---
LSU alumnus James Carville, the political consultant, best-selling author and Crossfire co-host, says his alma mater was "dispirited" when Emmert arrived in Baton Rouge and that "we weren't getting what we needed from the Legislature." Faculty morale was low and even the football team had a losing record.
With the help of faculty, regents, students, lawmakers, staff, parents and community leaders, Emmert started to turn LSU around. He created the LSU Flagship Agenda, aimed at making the university a "nationally competitive" research university. While state support for higher education was dropping in many states, LSU saw a 25 percent increase in state support over his first four years.
At the same time, Emmert was able to fund merit pay increases each year for LSU faculty-a cumulative 22 percent increase over four years, using tuition surcharges, state funding and money reallocated from some departments.
The new chancellor was able to raise about $100 million in new construction revenue from several sources. He conceived of the tuition surcharge—the Academic Excellence Fee—convincing students to accept a 40 percent increase that would decrease class size, open more sections and pay teachers a better salary.
The changes were remarkable. "Having a plan really provided a lot of hope for people," says LSU Provost Risa Palm. "The atmosphere improved," adds LSU Faculty Senate President Carruth McGehee. "The faculty pay increases came at a time when many other universities were not enjoying increases due to the economy."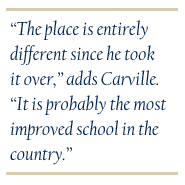 "The place is entirely different since he took it over," adds Carville. "It is probably the most improved school in the country." Even the party school ranking dropped.
Emmert is careful to credit many factors in the turnaround. He notes that during the recent recession, the Louisiana economy fared well compared to most of the country. He says the governor at that time understood the importance of higher education. "The most important piece was getting people to understand why higher education in general, and LSU in particular, must be stronger and better than it was, if it was going to help lead an economic transformation, lead cultural and social development, as well as being the champion of education," he adds.
Not that the road through LSU was free of speed bumps. His LSU Flagship Agenda listed 12 academic areas where there was going to be new investment—which created an atmosphere of "haves" and "have-nots" among LSU departments. "What amazes me was how accepted that list is," says Provost Palm. "Now departments are asking, 'How can we get on that list?'"
Emmert says his most difficult task was not dealing with discontented faculty or reluctant lawmakers. In the first years of the new century, Baton Rouge was being terrorized by a serial killer. By the fall of 2002 police had traced three deaths to the killer and signs were posted on the LSU campus warning, "Killer on the loose!"
"As female students, we were afraid to walk anywhere by ourselves at night," recalls Samantha Sieber, editor of the LSU student newspaper. "If we had to walk to our cars by ourselves, we'd call a friend on our cell phones first and talk to them all the way to the car."
In March 2003, the killer struck the LSU family. The body of 26-year-old LSU doctoral student, Carrie Lynn Yoder, was found in a waterway about 30 miles west of Baton Rouge.
"It was the most miserable thing I have ever had to deal with in my entire life," Emmert says. "It was horrible. I talked with the families. Consoling a family that has lost a daughter or a spouse and is going through this-I don't ever want to ever do that again in my life."
Emmert's open style came through in the crisis. "He was at the rallies and at the protection forums," recalls Sieber. She remembers one student complaining about the waiting list to get into personal safety classes. "He told her, 'I didn't know about that. You will get into your class.' And the next day they offered more classes and eliminated the waiting list," Sieber says.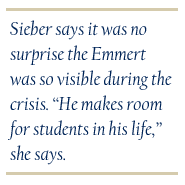 While some campuses might have tried to explain away the negative publicity, Emmert says he was frank about the problem. "It was very important that the university not try and hide from this. We said, heck yes, this is terrorizing our campus, and here are all the things we are going to do. Did that cause us some image problems? Yeah, I'm sure it did. And I'd do it again the same way, because it was the right thing to do."
Yoder was the last victim. In May of 2003, Derrick Todd Lee was arrested and charged with her murder. He is currently being tried for another Baton Rouge murder and faces charges in a total of seven killings.
Sieber says it was no surprise that Emmert was so visible during the crisis. "He makes room for students in his life," she says. "You can find the chancellor walking around campus with his jacket over his shoulder. If he's met you before, even if he can't remember your name, he'll remember your face and start up a conversation with you."
Go To: Page 1 | Page 2 | Page 3 | Page 4 | Page 5 | Page 6
Sidebar - Hot Topics: Emmert on the Issues
---
Home / Current Issue / Archives / Talk Back / Advertising / Columns FAQ / Alumni Website / Search