June 2004 -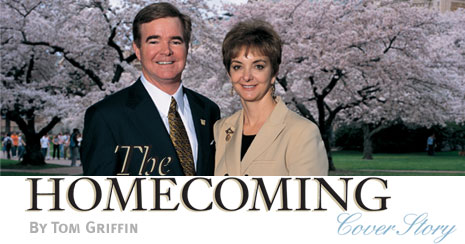 In 1976 they had a hometown wedding in their church in Fife and then Emmert brought his new bride back to his trailer in Wyoming. It was not what his wife expected. "We lived there for six months together. We almost had a very short marriage," he jokes. "One day she told me, 'I'm going back to school and you are welcome to join me.' "
Delaine enrolled in the college of education at Northern Colorado University in Greeley, Colo., and Emmert soon joined her. There and in Alamoso, Colo., where Delaine did her practice teaching, Emmert found jobs as a student counselor or financial aid officer.
When Emmert returned to Syracuse University in 1980, he was a changed person. He had spent 18 months living on the Wind River Indian Reservation, he got married, he helped put his wife through school and he became a father (son Steven was born in 1978). With his wife working to support the family, Emmert blazed through the doctoral program, earning his Ph.D. in 1983-only three years after starting.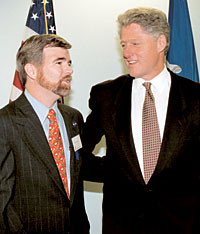 ---

A bearded Mark Emmert chats with then President Bill Clinton at a 1995 library dedication at the University of Conneticut. Emmert was the UConn chancelor at the time. On May 21, Emmert hosted another sitting U.S. president as President George W. Bush delivered the 2004 announcement address at LSU. Photo courtesy Peter Morenus, Jr., University of Conneticut.

---
Emmert's scholarly interest is organizational psychology. "One of the notions that fascinated me is how do you hold together organizations. How do you get people committed to and attached to an organization, when that's not the natural predilection of our species?" he says.
At that time the concept of social biology was entering the social sciences. "It was very controversial. There was some serious science going on and a lot of quackery," he says. "Social scientists were just beginning to discover that the tabla rasa of behaviorism was maybe not exactly right. Maybe we are living, breathing organisms after all."
His thesis title sounds dry and academic—"Coevolutionary theory and organizational commitment: an exploratory study in bureaucratic behavior"—but his research was excellent preparation for becoming the leader of a large university.
With his doctorate in 1983, Emmert began what he calls his lap of America, a looping dash across the Midwest, Far West, East and South that would see his academic career spiral upward.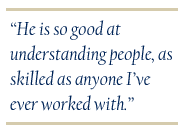 He started as an assistant professor of political science at Northern Illinois University in DeKalb, Ill. After two years of teaching public policy and administration courses, he jumped at the chance to move to Boulder, Colo., to join the faculty at the University of Colorado Graduate School of Public Affairs.
It was at Northern Illinois and Colorado that he sharpened his teaching skills. "I loved teaching. The vast majority of my experience has been in seminars and graduate programs. It's really hard not to like to do that. How can you not like sitting around with smart graduate students talking about the things you love?" he asks.
At Colorado he became a tenured professor and published more than 20 refereed articles in scholarly journals. He also wrote several book chapters and reviews and was an associate editor for one public policy journal. At the same time he conducted research and training for local public agencies, including Denver Public Schools, the City of Aspen and the Colorado Supreme Court.
But it wasn't long before Emmert caught the eye of the academic leaders at Colorado. His public affairs dean offered him an assistant dean's post and Emmert couldn't turn him down. Here was the nexus between politics, management and public policy he had so often talked about.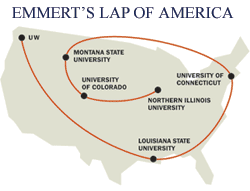 ---
1 Northern Illionois University
1983-1985, Professor
2 University of Colorado
1985-1992, Professor, Associate Dean and Associate Vice Chancellor
3 Montana State University
1992-1995, Provost
4 University of Conneticut
1995-1999, Chancellor
5 Lousiana State University
1999-2004, Chancellor
6 University of Washington
2004, President
---
Academic administration intrigued him, but he needed to know more. He found out about a fellowship sponsored by the American Council on Education, where an up-and-coming faculty member serves as a special assistant to a system leader. So Emmert asked Colorado President Gordon Gee if he'd agree to let him shadow the CU president for a year.
Gee was already an academic legend, having been appointed a university president while still in his 30s. After Colorado he would go on to head Ohio State, Brown and Vanderbilt. "We all but lived together, and living with Gordon is an education," Emmert recalls. "He is the most energetic person I've known. In one year, I got five years of experience."
"Most people who have been with me on this fellowship take one look at the work and decide to return to the faculty," says Gee. "But not Mark. He met and exceeded all expectations."
Gee says the fit with academic administration was near-perfect. "Here he was, a policy guy, and he had all the right kind of educational background and the right kind of instincts." Soon afterward Gee found an opening at Colorado's Denver campus and named Emmert associate vice chancellor for academic affairs. In total, Emmert spent seven years at the University of Colorado—the longest stay of his academic career—and still has a personal connection to CU. His daughter, Jennifer, just finished her freshman year at the Boulder campus.
In 1992 a call came to join Montana State University as its provost—the chief academic officer. At that time Montana was consolidating all of its public college and universities into two systems—one run by the University of Montana and the other by Montana State. There were plenty of battles in the legislature over where these schools would go.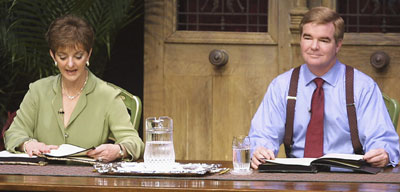 ---

At LSU, Delanie and Mark Emmert appeared on stage in the two-person play Love Letters by A.R. Gurney. The sold-out performance was a fund-raiser for LSU, costing $500 per ticket. The Emmerts enjoy all the arts and last October did a reading from Thornton Wilder's Our Town for a LSU drama class.

---
On top of the turf wars, the resource-based Montana economy was in trouble. "I was there from 1986 to 1994," recalls Jim Isch, who was vice president for administration and finance when Emmert arrived at Montana State. "We had nine budget periods and had to absorb cuts in eight of those nine budgets."
Isch recalls his first meeting with Emmert. "He looked young at the time. When you first met Mark, you wondered, 'Does this guy have the ability to do the job?' He hardly looked dry behind the ears," he says.
But Emmert's style immediately put the campus at ease. "He got up to speed immediately. Mark is a quick study. He is so good at understanding people, as skilled as anyone I've ever worked with," Isch says.
"It was a very tough place to make higher education work," Emmert says. He had to make several cuts, including closing two departments in the agriculture school. "The agriculture lobby in the state is very strong," notes Isch. "Mark has the ability to unarm people who come into his office and want to be upset."
When closing down academic departments, Emmert says, "There is no way to do it without leaving blood on the floor." It was the first time Emmert's management style took center stage. He opened up the budgetary process and made MSU's situation transparent. "We invited everybody to have ideas. But I told everyone it is not acceptable for you to say 'don't' unless you've got another option. If you've got another option, I want to hear it. I don't have perfect wisdom," he says.
In addition to closing and consolidating departments, some staff and non-tenured faculty were laid off. But at the same time, Emmert was able to launch a new engineering research institute, enhance undergraduate education and begin two major construction projects. "We hadn't had a new building on campus since the 1970s," Isch recalls. "Mark went out and got federal funding for a new plant sciences building and got a variety of sources to fund a new engineering building."
"It was a difficult job, but such a wonderful place. We love Bozeman," says Emmert, who still owns vacation property there. "But the relative wealth of Connecticut was a welcome change."
In 1995, Connecticut's flagship campus at Storrs needed a new chancellor. Then UConn President Harry Hartley was impressed the moment he met the provost from Montana State. "Sure he was young, but he was also a graduate of the top public affairs school in the country. He stood head and shoulders above the other finalists. He was personable, charming and already dealt with a multi-campus system in Colorado and Montana," he recalls.
Emmert arrived in Connecticut just as Hartley was pushing a $1 billion, 10-year construction plan through the state government. "We were kind of like the dog that chased a car and finally caught it," Emmert says. "We got the billion dollars and we didn't have a facilities master plan. What we had was essentially a laundry list." Emmert took control, breaking ground on two projects at the top of the list and hiring a firm that put together a comprehensive master plan in 12 months.
Go To: Page 1 | Page 2 | Page 3 | Page 4 | Page 5 | Page 6
Sidebar - Hot Topics: Emmert on the Issues
---
Home / Current Issue / Archives / Talk Back / Advertising / Columns FAQ / Alumni Website / Search