June 2004 -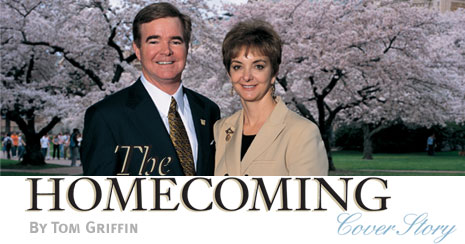 Fife was a small farming town when Emmert was born on Dec. 18, 1952. "It was more rural than suburban," recalls Jerry Herting, '75, '86, a childhood friend of Emmert's and now a sociology professor at the UW. "There were dairy farms and truck farms. Membership in the Future Farmers of America was a major source of status in high school."
Emmert's aunt and uncle lived down the block, and he roamed the neighborhood with brother, Steve, who is three years older and his cousin, Frank Spear, '79, '85, who is the same age as Emmert and now a dentist in Seattle.
"You might describe it as Leave It to Beaver in the country," Spear says. Cub Scouts, Boy Scouts, Little League, the youth groups at the family's Presbyterian church -it was the archetypal American boyhood. But there was hard work as well as fun and games. "I worked all the time," Emmert says. "I worked mostly for the local farmers such as Yamamoto's truck farm. I grew up pulling lettuce and cutting cauliflower." Later he raised pheasants for state game farm in Lakewood (he still occasionally goes bird hunting).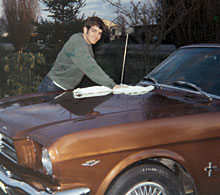 ---

An excited Mark Emmert polishes his family's 1965 Ford Mustang prior to driving it to the Fife High School prom. Photo courtesy Mark Emmert.

---
There were annual trips to the fair in Puyallup and several visits to the 1961 World's Fair in Seattle, his cousin recalls. But the trip with the biggest impact was a middle school excursion to the UW campus. "I was just stunned by it. I had never seen anything like it," Emmert says. "It was impressive and grand and scary all at the same time. It was like imprinting on a duckling. I remember thinking, 'This is very, very cool.'"
Spear says it was at that moment that his cousin set his sights on the UW. "He has talked about wanting to be president of the UW since he was in eighth grade," Spear says.
In high school Emmert says he was a "good student but not a great student." Herting sees it slightly differently. "He was a smart guy; he just wasn't breaking his back studying." One social studies teacher got the young student interested in government and social sciences and geography. "If we're lucky, we all have teachers who touched us, and I had Mr. Kitts," Emmert says.
Emmert ran for student leadership offices, wrote and sold ads for the student newspaper and played basketball and ran track. "At 5-9, I was a forward. That tells you a lot about my high school," he jokes.
It was in his junior year when Emmert met the most important person in his life—his future wife. Delaine Smith's father worked for the Milwaukee Road railroad. The family moved all over the state and in 1969 its new home was Fife. Although brand new, she was trying out to be a cheerleader.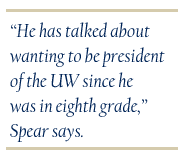 Fife High School had a democratic tradition for selecting its cheerleaders—the students got to vote on who would make the squad. Emmert enjoys telling the story about how he politicked with his friends in the Lettermen's Club to get "the cute new girl with the weird first name" elected. "My first-ever foray into political lobbying," he calls it. Like most of his lobbying efforts since then, it was a success.
When Delaine turned 16, he was allowed to take her out by her conservative parents—but only if it was a double date. They dated on and off through high school and college. Once Emmert left for the UW, Delaine dated other men, including Emmert's future college roommate, Randy Grab, '76. "There was no jealousy involved," Grab now recalls. "After all, I got to sing at their wedding."
Delaine would later attend the UW, majoring in education but not quite finishing her degree, which she later completed at Central Washington University and Northern Colorado University.
Even though he and his brother were the first members of their family to go to college, Emmert never considered other alternatives. "There never was a doubt; it was always assumed that I would go to college," he says. "My parents instilled in me the value of education at a very deep level."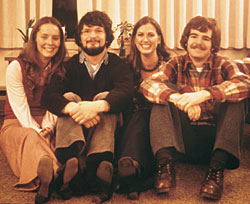 ---

This happy student foursome from the 1970s includes Mark Emmert's roommate, Jerry Herting, '75, '86; and friends who lived in the same apartment complex. Left to right, Marjorie Hames, '76; Herting; Molly Mitchell Hemingson, '74; and Emmert. Photo courtesy Jerry Herting.

---
Emmert's brother Steve decided to attend Washington State University and Emmert helped him move in. "I remember liking the campus a great deal but thinking, 'Gosh, this is a long way in the country,' " he says. Today Steve Emmert is a senior building inspector for the city of Kent and a Cougar fan. "We always tease each other unmercifully over the Apple Cup," Emmert says.
After graduating from high school in 1971, his friends and cousin went away to school, but Emmert had to stay behind. He attended Green River Community College in Kent for a year and a half instead. "He saw it as a cheaper way of going to college," Herting recalls. "If you look at his experience at that level, it does give him insight into the whole process of higher education."
The finances finally worked and in the spring of 1973, Emmert arrived on the UW campus. As the trees bloomed on the Quad that spring, so did his world. "What was wonderful and magical about it was the sense of place and mostly the intellectual awakening that came for me," he recalls. "It was just so much fun to have your mind opened up by all these fascinating people."
One of his first encounters was with Civil War historian Thomas Pressly. "He may have been the first real intellectual I had ever spent time with. He'd finish a lecture and students would literally rise to their feet and applaud like it was a performance," Emmert says.
Go To: Page 1 | Page 2 | Page 3 | Page 4 | Page 5 | Page 6
Sidebar - Hot Topics: Emmert on the Issues
---
Home / Current Issue / Archives / Talk Back / Advertising / Columns FAQ / Alumni Website / Search