June 2004 -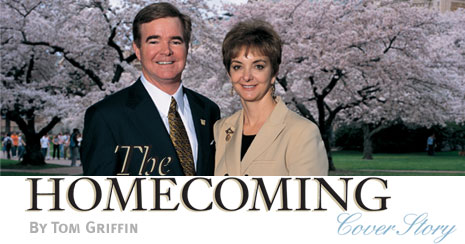 In a Classic Tale of Local Boy Makes Good, Mark Emmert Rose from a Modest Background to Remarkable Success at the Helm of Two Public Universities. Now He Faces the Greatest Challenge of His Career—President of His Alma Mater.
It is a story that hundreds of thousands of Huskies are living—but this one has a twist.
In this version, a local kid does pretty well in high school and looks at his options. He works on truck farms harvesting vegetables and in the summer raises pheasants at a state game farm. His older brother is already away at college. To avoid too much of a strain on family finances, the younger son spends his freshman year at community college.
Finally his time has come. In the spring, as the cherry trees bloom in the Quad, he arrives at the University of Washington. It is an awakening. He hadn't thought too much about his future—maybe he'd go to law school or maybe he'd race sports cars. But engaging with his professors and fellow students, he falls in love with the life of the mind.
That love of learning takes him to graduate school and launches a career in higher education. Running what he calls a "lap of America," he gradually rises on the academic ladder until he becomes the chancellor of flagship research universities in the East and in the South.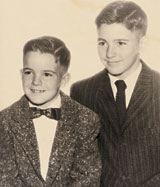 ---

Mark Emmert (left) smiles with his brother, Steve, in this late 1950s portrait. Photo courtesy Mark Emmert.

---
That rise to success could have been the end of the story, but there is one more plot turn. When he gets a call from home, he can't resist the opportunity to come back to where it all started.
And so, on June 14, 2004, Mark Allen Emmert, native of Fife and UW class of 1975, takes over as the 30th president of the University of Washington, the first time in 48 years that a UW alumnus will hold the reins of his alma mater.
Emmert's background covers 21 years in higher education as a professor, associate dean, provost and chancellor. His last two positions were leading flagship public institutions: the University of Connecticut and Louisiana State University.
Many of Emmert's colleagues say this is his "dream job," the one he has always wanted, even when he was in eighth grade. The normally articulate new president seems to hesitate when asked about coming back to Seattle. "I really can't explain adequately what a great honor this is," he says. "This isn't just another university, this is my home, my alma mater. This is a place that did so many things for me. What could be better than to make sure it is a place that continues do that for everybody else?"
While Emmert is thrilled to be coming home, the University community is also thrilled to have a 17-month presidential search finally come to an end. Since former President Richard McCormick left for Rutgers in the fall of 2002, the UW has been buffeted by violations in its athletic department and billing fraud in its academic medical center. A melee in Greek Row damaged relations between the neighbors and the UW. Unhappy with their working conditions, the teaching assistants voted to unionize. Enrollment pressure was so great that the admissions office had to end automatic transfers for qualified community college students.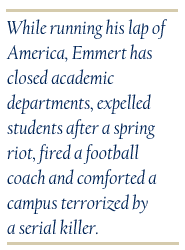 So while the 51-year-old Emmert is excited about the opportunity to lead one of the premier public research universities in the world—"the best on the planet," he said at his first UW press conference—he also knows that he is facing a host of challenges with no easy solutions.
"To champion the cause of the University of Washington—its impact on society is so enormous and so positive—I'll take that challenge," Emmert says. "I can't imagine doing anything else with my life. I think I am amazingly lucky to get a chance to do this."
Not that it's been an easy ride from the day in 1975 when he got his UW degree. While running his lap of America, Emmert has closed academic departments, expelled students after a spring riot, fired a football coach and comforted a campus terrorized by a serial killer.
He's also been able to attract federal research dollars to a cash-poor campus, map out a $1 billion construction plan, win for his faculty an average 22 percent pay raise over four years, convince a state legislature to pour money into higher education (when most states were cutting back), persuade students to support a tuition surcharge, watch his schools' teams win three major national championships—and help lure two sitting U.S. presidents to be speakers on his campuses.
He is constantly on the go, say his friends and colleagues, which may be why his 5-foot-9-inch frame shows no sign of a baby boomer's bulge. He's also avoided another curse of his aging generation—he has a full head of hair that seems to shift colors from brown to auburn depending on the light. He can be a stylish dresser and favors suspenders (several sets are reported to be purple and gold), but on the day of his interview he wore an open neck, short-sleeve shirt and khaki pants.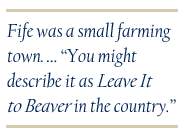 Even though he adores fly fishing, his office did not have a trophy trout mounted on the walls. Instead paintings on loan from the LSU art museum and a first edition of a book by Louisiana legend Huey Long. (Emmert says he's always been a history buff.) In addition to fishing, he relaxes by skiing (both cross country and downhill) and boating. He and his wife, Delaine Smith Emmert, enjoy all the arts and have even done a play reading together for a $500-a-ticket fund-raiser.
On stage or in a conversation, Emmert speaks in a soft, deliberate manner. Unlike many academics, he will let the questioner finish the sentence before he starts giving his answer. His sense of humor is one of his trademarks. Those sitting in the LSU chancellor's waiting area are often surprised to hear laughter burbling out of his office. He doesn't seem to take himself too seriously; the butt of his jokes is usually himself.
It is a style born of the Pacific Northwest. Emmert and his wife are both third generation Washingtonians. His parents met at Fife High School—where Emmert and his wife would also later meet—and his dad served as an optics technician during World War II. After the war, he spent a long career as an optician with Binyon's Optometrists in Tacoma. Emmert's mom was a teacher's aide and a homemaker. His parents are still living and still own his boyhood home.
Go To: Page 1 | Page 2 | Page 3 | Page 4 | Page 5 | Page 6
Sidebar - Hot Topics: Emmert on the Issues
---
Home / Current Issue / Archives / Talk Back / Advertising / Columns FAQ / Alumni Website / Search