June 2004 -
FIRST TAKE
UW News from Across the Campus and Around the World
Ramona's 'Mom' Earns a Medal

For decades, Beverly Cleary, '39, dazzled young readers through her children's books. Her stories about Ramona Quimby and her young sister Beatrice have been published in 14 languages in 20 countries, and held a soft spot in many a child's heart.
Cleary, who has been honored many times for her work, received the honor of a lifetime when she was presented with the National Medal of Arts by President George W. Bush. The award is the nation's highest honor for artistic excellence.
Cleary is one of America's most popular authors. Born in McMinnville, Ore., she lived on a farm in Yamhill until she was 6, when she moved to Portland. After graduating from the University of Washington in 1939 with a degree in librarianship, she became the children's librarian in Yakima. In 1940, she married Clarence T. Cleary. They are the parents of twins, now grown.
Her books have earned her many prestigious awards, including the American Library Association's Laura Ingalls Wilder Award, presented in recognition of her lasting contribution to children's literature. Dear Mr. Henshaw was awarded the 1984 John Newbery Medal, and Ramona and Her Father and Ramona Quimby, Age 8 have been named Newberry Honor Books.
Already honored as a "Living Legend" by the Library of Congress, Cleary's books have won more than 35 statewide awards based on the votes of her young readers. Her characters, including Henry Huggins, Ellen Tebbits, Otis Spofford and Beezus and Ramona Quimby, as well as Ribsy, Socks and Ralph S. Mouse, have delighted children for generations.
Cleary's motivation to become a children's author started when she was a student and found herself in the "low reading circle," an experience that has given her sympathy for the problems of struggling readers. By the third grade she had conquered her reading and spent much of her childhood either with books or on her way to and from the public library. Before long her school librarian was suggesting that she should write for boys and girls when she grew up.
She decided that someday she would write the books she longed to read but was unable to find on the library shelves, funny stories about her neighborhood and the sort of children she knew.
Thus Henry, Beezus and Ramona were born. And the rest is history.
---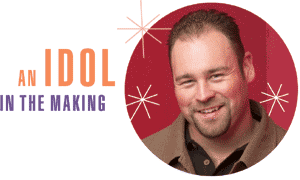 Matt Rogers, '01, first tasted the limelight when he played on the Husky football team that won the 2001 Rose Bowl. This year, he reveled in more adulation as a finalist on the TV show American Idol.
---

Former Husky football player Matt Rogers, '01, made quite a name for himself on American Idol. Photo courtesy Fox TV.

---
The 6-foot-5 Rogers, who transferred to the UW in 1999 from Iowa and played one year with the Huskies, was a big hit as a singer while on American Idol. He made it as one of 12 national finalists, but was eliminated from the show on March 24.
Rogers, 26, a loan officer by day, never took voice lessons but sang in junior high and for his church choir. In preparation for his appearance in the show's finals, he went to a song leader at his church in Southern California to learn stage presence and took three voice lessons.
"I've always wanted to be, not necessarily a singer, but an entertainer of some sort," says the former offensive lineman who makes his home in Rancho Cucamonga, Calif. "But I've always loved singing. At football practice, in the shower, or in the car, I was always the guy who was singing one song or another."
Rogers, who proudly wore his Rose Bowl ring and gave props to his time at the UW when he performed on the show, made the cover of the March 9 TV Guide. There are also many Web site shrines in his honor.
Although he didn't make it to the top of the heap (apologies to Frank Sinatra) this time around, he isn't about to give up on his dream.
"I just want to keep growing," the singing loan officer says. "With this experience, I will meet more people, make more contacts, and will just keep going one step at a time. I've always believed that if you have to keep your head on straight, start at square one and always remember where you started, you can succeed."
---
The Role of a Lifetime
One of the reasons Jim Caviezel came to the University of Washington as a student in 1990 was to play basketball. While the lanky 6-foot-2 lad from Conway didn't make much headway on the court, he did get lots of attention when, after he hurt his foot, he entertained his teammates by doing impersonations. One of his coaches suggested he give acting a try.
What an assist that turned out to be. Caviezel began a solid if not spectacular movie career, appearing in such movies as My Own Private Idaho and The Thin Red Line.
But this spring, he hit the big time playing Jesus Christ in Mel Gibson's controversial movie The Passion of the Christ.
Caviezel, who left the UW for Los Angeles before graduating, was told at least once in his early Seattle acting days that he just didn't have what it took to be an actor. But today, his name is a household word.
Playing Jesus in the box-office smash-which portrays the last 12 hours of Jesus' life-was an incredible undertaking. Caviezel suffered from hypothermia from spending so much time on the cross perched on the edge of a canyon, in winter, wearing nothing but a loincloth. He separated a shoulder. He got migraines from the crown of thorns wedged on too tight.
And he got hit by lightning one day on the set.
"I had to get to a place that was deeper than my head, I had to get into my heart," Caviezel says. "And the only way I could get there was through prayer. It was painful."
How does an actor prepare to play Jesus?
"I walked on my pool twice a day," Caviezel says. "It's hard to do."
---
Size Matters
When you think big, the UW Libraries immediately come to mind. Home to more than 6 million volumes, the UW Library system in February welcomed a rather impressive addition: the world's largest published book.
---

UW Libraries Director Betsy Wilson has her hands full turning a page of the world's largest book. One of the copies is now housed at Suzzallo Library. Photo by Kathy Sauber.

---
Bhutan: A Visual Odyssey Across the Last Himalayan Kingdom checks in at more than 5 x 7 feet and weighs 133 pounds. Certified by Guinness World Records as the largest published book in the world, it features 112 pages of spectacular images and showcases a variety of digital, photographic and printing techniques.
The book-which covers the kingdom of Bhutan, the last intact Himalayan kingdom-pushed the art of the possible, stretching image-processing systems to their limits. The portraits of people are life-size or bigger, and the panoramas convey some of the staggering sweep of the mountains and the ancient architecture.
The book's creator, Michael Hawley of MIT, squeezed the maximum image quality out of his professional-grade cameras and on-demand-printing equipment, challenged a bindery to make the big book and established that digital images are every bit as good if not better than traditional film photographs.
UW Library officials are still trying to figure out how to display the book on campus. It could be on display in the fall.
A limited edition of 500 copies of the book will be produced and can be purchased on Amazon.com through a $10,000 donation to Friendly Planet, a non-profit charity.
Just bring your credit card and a moving van.
---
Soundbite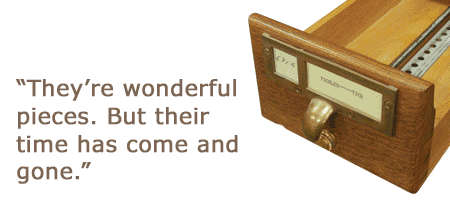 —Charles Chamberlin, deputy director of UW Libraries, after the February sale of 142 old oak card catalogs housed for decades in Suzzallo Library. They became obsolete iwht the advent of the computer.
---
Home / Current Issue / Archives / Talk Back / Advertising / Columns FAQ / Alumni Website / Search