June 2004 -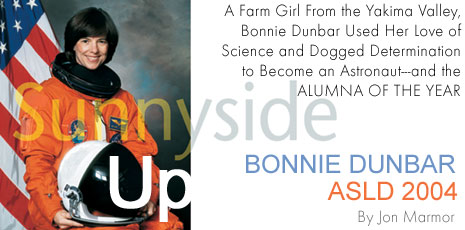 After Sunnyside High School—where she was a top student and was involved with sports, debate club, math club and cheerleading—she decided to attend the University of Washington. Deep down, she wanted to consider Caltech and MIT, since they were big-shot engineering schools, but Caltech was not coeducational at the time and MIT cost too much.
Still, coming to the UW was a momentous occasion for Dunbar, since she was the first in her family to attend college. Her father, who fought in World War II, ran the family ranch, and her mother, one of nine children, couldn't afford college.
At the UW, Dunbar, the oldest of four children, took her mission very seriously, often taking heavy loads of 18 credits or more, serving on the Engineering Student Council, playing for its baseball team, and serving as a volunteer for the coeducational auxiliary engineering program called Angel Flight. That was in addition to working as a waitress at the Greek Pastry Shop on the Ave and sometimes working at "U" District movie theaters.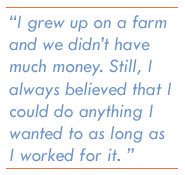 When her first engineering professor at the UW told her class that half of the incoming freshman class wouldn't make it because of the demanding curriculum, she didn't cringe at all. "I loved the challenge," she says. "I love working hard. It was fun."
"She wanted to be an astronaut from the start," says retired UW Ceramic Engineering Professor O.J. Whittemore. "She was a very good student and I knew she was going to be great. There was no stopping her."
Irene Peden, a retired UW electrical engineering professor, met Dunbar when she was a freshman. "She was very determined," Peden recalls. "She was upbeat, she stood up for herself, and knew what she believed in. You could also tell she was very smart."
Dunbar's big break at the UW was the chance to work with Mueller, a giant in the field of ceramic engineering. When other professors tried to dissuade her from studying ceramic engineering, Mueller encouraged her, introducing her to researchers working on the space shuttle tile project and other professors who could be of help to her.
---

Dunbar logged many hours flying jets in her training. Photo courtesy Bonnie Dunbar.

---
After earning her bachelor's degree in 1971, Dunbar took a job as a computer systems analyst at Boeing before returning to grad school at the UW to work again with Mueller. That led to work in London and later her job with Rockwell as a senior research engineer during production of the space shuttle tiles and thermal barrier material.
"I had my dream job," Dunbar says. "I was solving production problems. I understood the tile, and I was given a tremendous amount of responsibility."
She was honored as Rockwell's Engineer of the Year in 1978. While the recognition was thrilling, when she heard that NASA had opened the astronaut program to women, Dunbar applied (she had earned her pilot's license by then). She was a finalist but didn't get in—only female candidates with M.D. or Ph.D. degrees were accepted. The rejection only served to motivate her, so she earned a Ph.D. in mechanical/biomedical engineering at the University of Houston. The next time she applied, in 1980, her dream came true when she was accepted as an astronaut candidate.
"I thought going into space would be one of the greatest things to do," says Dunbar. With no television at home when she was a kid, she read H.G. Wells and Arthur Clarke, and spent time gazing at the clear night sky from her central Washington homestead. At 9 years of age, she watched the night sky for Sputnik, which gave her the bug to go into space.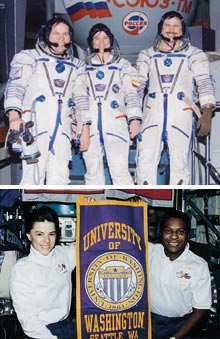 ---

Top: Bonnie Dunbar twice went to Russia to train for space shuttle flights that docked with the Russian Space Station Mir. Photo courtesy Bonnie Dunbar. Bottom: Dunbar and the late Michael Anderson, '81, showed their Husky pride on the 1998 mission of the Endeavor. Photo courtesy NASA.

---
In 1998, Dunbar went into space with another Husky, the late Michael Anderson, '81. They flew on the space shuttle Endeavor on the eighth shuttle-Mir docking mission. Anderson was a mission specialist while Dunbar was the payload commander, responsible for all payload activities, including 23 science experiments. They were photographed proudly displaying a purple and gold flag from the UW they took onboard.
Dunbar has great memories of flying with Anderson, who died in the tragic disintegration of the shuttle Columbia in 2002. "It was such a big shock," says Dunbar, who lost other friends and colleagues that day. "But I have no fear. Risks are just part of our business."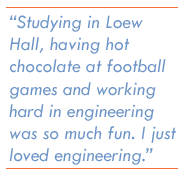 Despite living in a Houston suburb and spending her time in space, training, doing research, traveling to give speeches or teaching at the University of Houston, Dunbar has kept remarkably close ties with the UW. She regularly comes to Seattle to speak at the UW, and continues to wow audiences everywhere she goes.
"I thoroughly enjoyed my UW experience," Dunbar says. "Studying in Loew Hall, having hot chocolate at football games and working hard in engineering was so much fun. I just loved engineering. What a creative occupation. What you are doing is new and solving problems. What could be better than that?"
While she loves being an administrator at NASA—handling university research and affairs in the areas of outreach, managing university contracts, grants and collaborative agreements—she admits that she would return to space "in a heartbeat" if she got the chance. And she did say she is "thinking of building my own space station." Don't bet against her. You know what happens when people tell her no.
—Jon Marmor, '94, is associate editor of Columns
Go To: Page 1 | Page 2
Sidebar - High Times
---
Home / Current Issue / Archives / Talk Back / Advertising / Columns FAQ / Alumni Website / Search