June 2004 -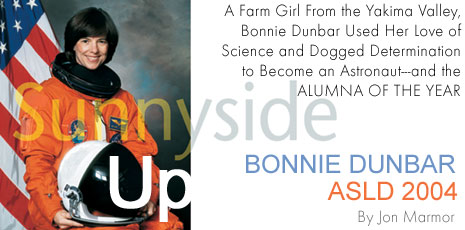 At the age of 10, she was hit in the eye with a baseball but refused to come out of a game. When she enrolled in ceramic engineering at the University of Washington in 1967, some professors tried to talk her out of it because it was "not a field for women."
When she first applied to be an astronaut, she was turned down.
Like that had any effect on Bonnie Jeanne Dunbar, '71, '75.
"I just don't see obstacles," Dunbar says matter-of-factly. "I see challenges. I like solving problems."
So it's no surprise that the young girl who grew up herding cattle and repairing fences on a 40-acre cattle and wheat ranch in the central Washington town of Sunnyside made good on the dream she had when she was 13. She indeed became an astronaut.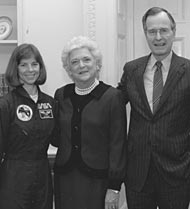 ---

Bonnie Dunbar meets with Barbara Bush and President George H.W. Bush at the White House following Dunbar's flight aboard the Columbia in January 1990. Photo courtesy Bonnie Dunbar.

---
But not just any old astronaut. Dunbar is one of the most experienced female astronauts in the world, with 50 days in space covering 20.4 million miles in five space shuttle flights.
It was only fitting that Dunbar flew on the space shuttle. As an undergraduate at the UW, she helped Ceramic Engineering Professor James I. Mueller develop the special ceramic tiles that NASA would use to coat the space shuttle to make it able to withstand re-entry into the atmosphere.
She also played a major role in the production of the shuttle's tile and thermal barrier coating, when, after earning her master's degree in ceramic engineering from the UW, she went to work for Rockwell International and helped build the Columbia.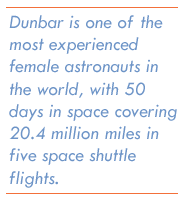 Her NASA career has touched several high points in the history of space travel. In 1979, she worked as a guidance and navigation officer and flight controller for the Skylab re-entry mission. (NASA hired her as a flight controller in 1978, two years before she was accepted into astronaut training.) In her first space flight, a mission onboard the Challenger in 1985 that was funded by the West German government, she became the first woman assigned to a laboratory mission to operate the Spacelab, its subsystems and experiments. In 1995, she flew in the first shuttle mission to dock with the Russian Space Station Mir. And in 1998, she flew in the last mission to deliver a U.S. astronaut to Mir. She also flew in both Challenger and Columbia before their tragic explosions.
Today, with five space flights behind her, she is NASA's deputy director in the biological sciences and applications division of the Space and Life Sciences Directoriate. She is one of the few "technical" women in leadership positions within NASA, and though her flying career is probably over, she remains head over heels in love with her job.
Dunbar, the holder of many prestigious engineering, academic and space awards, has another one for her mantle: 2004 Alumna Summa Laude Dignata. Presented by the University of Washington and the UW Alumni Association, this honor recognizes her as the alumna of the year. Started in 1938, the award is the most prestigious honor the UW bestows upon its graduates.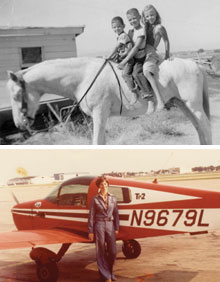 ---

Top: Bonnie Dunbar (right) joins two of her younger brothers for a ride on the family farm near Sunnyside. Bottom: Determined to fly in space, Dunbar earned her pilot's license before she applied to be an astronaut in 1978 when NASA opened the astronaut corps to women. Photos courtesy Bonnie Dunbar.

---
How in the world did a young girl who grew up on a farm in the Yakima Valley and faced a steady stream of roadblocks—"No science for girls"—reach the top of her field?
"I grew up on a farm, and we didn't have much money," says Dunbar, whose family didn't have indoor plumbing until she was a teen-ager. "Still, I always believed that I could do anything I wanted to as long as I worked for it.
"It was a message from both my grandparents and parents."
She credits her father for her ambition and drive. He helped start a 4-H program when Dunbar was only 9, and he encouraged her to remain involved in the program throughout school. "She was just the common, ordinary girl," Robert Dunbar says.
"When I went into engineering, being the only female was never unusual to me," Dunbar says. "I had a lot of preparation for that in my youth, particularly with my involvement in the 4-H program." There she learned a lot more than animal husbandry-it's where she found out about responsibility and character development.
Go To: Page 1 | Page 2
Sidebar - High Times
---
Home / Current Issue / Archives / Talk Back / Advertising / Columns FAQ / Alumni Website / Search