June 2004 -

Distinguished Teaching Award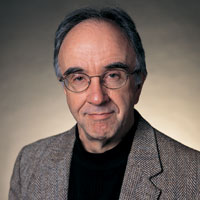 Alan Wood
Professor, Interdisciplinary Arts and Sciences, UW Bothell
Alan Wood, '76, '81, teaches classes on big topics, such as his new course, History and Globalization. But the secret to the UW Bothell professor's success is that he makes his classes feel like a tightly knit community to deal with issues on a grand scale.
He takes the time to meet individually with every student in his classes for 10 minutes in his office at the beginning of each quarter to get to know them as individuals.
Wood also keeps connected to his students by not focusing on narrowly defined subjects, as many academics do. Instead, he bridges the gap between the scholarly world of the professor and the practical world of the general public. The result: his courses tackle real-world issues that his students can get their arms around: business, health care, education, terrorism, disease, migration, population and other subjects from a global perspective.
"His class not only stretched my thinking," one student says, "it provided context and a framework to consider local, regional and global events."
Over the course of his 20-year teaching career, Wood has completely reinvented himself as a teacher. He decided to broaden his boundaries beyond his original training in traditional Chinese political thought. By doing so, he resolved to write and teach about the most fundamental problems facing the modern world. That resulted in him designing even his world history courses to bring the broadest possible perspective of human experience to bear on contemporary issues.
"Dr. Wood brings in higher education what is lacking-listening," recalls a student of his who came from Africa. "In listening to stories of those so seemingly different from us, we find similar but unexpressed voices inside ourselves. Hearing one another's stories is the beginning of new understanding and the foundation that inspires excellence in the achievements of all students."
Wood believes that dealing with students on a personal level is the way to get people to think critically and analyze the world around them.
"What fascinates me, and therefore makes its way into all my classes, is the question of what exactly it means to be human," he says. "If the human race is to have any hope of overcoming the twin challenges of the modern world-war caused by nationalism and environmental degradation caused by pollution-we must learn to accept responsibility not only for our own individual nations, but for the world as a whole."
Wood, one of the original faculty members at UW Bothell, maintains an open-door policy to help students with their writing, thinking and speaking skills. But he does far more. The student from Africa, who came to UW Bothell after experiencing "a lot of injustices," is now a second-year law student, thanks to Wood's encouragement.
"Getting to know students, hearing their stories, thinking through the great issues of our day together, is so much fun I sometimes marvel at how I contrived actually to be paid for doing this job," Wood says. "It's almost too good to be true."
---
Home / Current Issue / Archives / Talk Back / Advertising / Columns FAQ / Alumni Website / Search