June 2004 -

Distinguished Teaching Award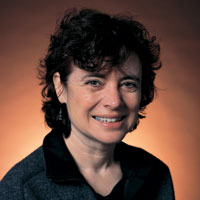 Beth Kalikoff
Assistant Professor, Interdisciplinary Arts and Sciences, UW Tacoma
For Beth Kalikoff, teaching transcends the present.
In any 10-week quarter, students will learn volumes from their professor. It's what they take with them after the term, however, that can really change their lives, Kalikoff says.
"I'm interested in what happens after the class is over," Kalikoff says. "I want students to learn things that will have meaning after they graduate."
Kalikoff, an assistant professor who teaches writing in UW Tacoma's Interdisciplinary Arts and Sciences program, says she designs her teaching to improve students' abilities as writers and scholars and enhance their abilities to become informed, engaged citizens.
"My courses support active and lifelong learning," she says. "The courses support the development of a student's abilities as well as the products of those abilities."
A faculty colleague wrote that Kalikoff exemplifies the spirit of the Distinguished Teaching Award.
"Kalikoff is truly brilliant in front of a class. She has a sparkling and engaging personality and she spreads her enthusiasm for literature and writing like a contagion," the colleague wrote.
Kalikoff has been a senior lecturer at UWT since 1998, teaching courses in argument, writing and American studies. Previously, she was an associate professor at the University of Puget Sound and assistant professor at Eastern Illinois University. She holds a Ph.D. and M.A. in English from Indiana University and a B.A. in English from Johns Hopkins University.
Before she began teaching full time at UWT, Kalikoff developed UWT's first campus-wide writing center and recruited and taught about 40 peer consultants who offered hundreds of undergraduate and graduate in-class presentations on writing.
Kalikoff was named an assistant professor just this year. She focuses her service on teaching and learning and frequently sponsors faculty development workshops for colleagues. In addition, she is well-known for her efforts to create "linked" courses with other disciplines. With Professor Kima Cargill, she is currently studying the effects of linking courses across disciplines on students' grades.
Kalikoff says that each course she teaches develops uniquely as students react to her leadership.
"I relish the noisy and sometimes untidy learning opportunities that teaching provides," she says. "Every group of students changes your teaching."
Many UWT students are older and more experienced than traditional college students, Kalikoff says.
"Most UWT students have jumped a lot of hurdles to get here," she says. "They're determined to get as much out of their education as they can, and they're not shy about telling me how I can help them do that."
"Rather than rehashing the same material year after year, she transforms herself and has become a 'master teacher,' " one faculty member says. "I have never known a teacher who can equal Professor Kalikoff in her capacity to inspire excellence in her students."
---
Home / Current Issue / Archives / Talk Back / Advertising / Columns FAQ / Alumni Website / Search