June 2004 -

Distinguished Teaching Award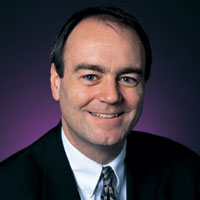 Stephen Hanson
Professor, Department of Political Science, Jackson School of International Studies
While it's true that some undergraduates take introductory courses just to earn credits toward their degree requirements, if they take Political Science Professor Stephen Hanson's courses, they are in for a shock.
"He has the uncanny knack of making students really care about politics and want to learn more," says Political Science Chair Stephen Majeski. "It is because of teachers like Steve that our department attracts so many students and keeps them as majors."
Hanson, who is the Boeing International Professor in Political Science and the director of Russian, East European and Central Asian Studies in the Jackson School, often gets the highest student evaluation scores in the entire College of Arts and Sciences.
Majeski says these ratings are "unbelievable" for such huge introductory courses. Hanson teaches both Introduction to Politics and Introduction to Comparative Politics-each drawing about 300 freshmen and sophomores.
The political science professor makes a connection from the moment his students enter the lecture hall. "What struck me on the first day of class was his contagious enthusiasm for the course and his vivid humor," says UW student Candice Faber. "I had to arrive early for a seat near the front."
Adds another former student, Jen Howk, he "transformed one of the most impersonal, alienating rites of passage in the university experience-the introductory lecture course-into something that directly engaged and challenged every student in a uniquely meaningful way."
"How did he do it?" asks Political Science Professor Jamie Mayerfield, who audited one of his large lecture courses. "By building each lecture around two or three carefully formulated theoretical ideas, and the illustrating those ideas with a wealth of illuminating, unforgettable and frequently hilarious examples. He did all this with verve, humor and imagination (and nary a glance at lecture notes)."
His method is not a one-way process. "My students take positions on important political debates, which includes writing always and class discussion from the first level right up to graduate school," Hanson says. "No one can solve these problems unless individuals take a stand. Who else is going to solve them if not well-educated students from UW?"
But Hanson is not just renowned for teaching introductory courses. As director of Russian and East European studies, he introduced a new system of faculty mentoring that matches incoming students with professors who have similar interests. And his teaching in upper-level courses and graduate seminars has left its mark across the academy.
A specialist on the Soviet Union and post-Communist Russia, Hanson has mentored many future political science professors. "Sitting in Steve's Soviet Politics seminar, grappling with Lenin's quandary of how to be true to Marx in an unanticipated political context, I fell in love with the discipline," says Lewis and Clark College Professor Cecilia Chessa, '93, '98.
Current events are always part of Hanson's recipe for engaging his students. "We live in a time of heightened partisanship, so students find it difficult to find their own voice when confronting the complexities of modern politics," says Hanson.
"I am convinced," he says, "that students today need to understand the entire world of contemporary world affairs. "We live in an era of globalization. I came here at the end of the Cold War and I've been witnessing the world change rapidly every year."
A graduate of Harvard and Cal-Berkeley, Hanson has been teaching at the UW since 1991. While also a leading researcher and scholar, the teaching award is particularly meaningful. "I'm thrilled, " he says. "I've always considered myself a teacher. It's an important part of my identity."
---
Home / Current Issue / Archives / Talk Back / Advertising / Columns FAQ / Alumni Website / Search