June 2004 -

Distinguished Teaching Award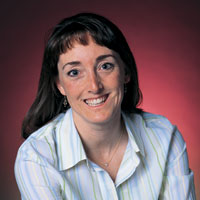 Teresa Evans-Campbell
Assistant Professor, School of Social Work
Once a high school dropout, Tessa Evans-Campbell is amazed at her transformation into an assistant professor in the UW School of Social Work.
"Growing up, I never even thought that I would go on. I was a high school dropout. But I had mentors. All along the way, someone has mentored me," says the Seattle native and member of the Snohomish Tribe.
Raised by her mother and grandparents, tribal ties kept her grounded. She says her grandfather was "a good encourager," even though she's uncertain whether he finished the eighth grade. "He didn't know if you could trust education, but he wanted it for me," she says.
The encouragement paid off. "I had to make up a few classes to get my high school equivalency, so I went to Seattle Central, which had a program in the 1980s," says Evans-Campbell. "If you got your A.A. you also got your high school equivalency."
Then she transferred to the UW, where she earned a bachelor's in art history in 1989, while volunteering at a crisis clinic and serving on her tribal council. Her next steps took her to UCLA, where she earned her master's and doctorate while working as children's social worker.
As soon as she arrived at the UW in 2000, the school knew it had a star teacher on its faculty.
Mentoring and sharing her own stories with students, as well as teaching classes such as the master's-level "Community Practice with Native American Communities," Evans-Campbell has helped to bring Native-American perspectives and students to the forefront of the school's curriculum, notes Associate Dean for Academic Affairs Margaret Spearmon. Evans-Campbell was instrumental in strengthening Native American student recruitment .
Like those who mentored her in her years as a student, Evans-Campbell is proud to give back by mentoring and encouraging students from underrepresented populations- "students," she says, "who have the spark but who need the extra support." She also appreciates the mentoring and teaching process because she believes that learning is an interaction- she learns from them just as they learn from her.
She teaches both hands-on courses and theoretical subjects, such as "Historical Trauma."
"Social work," she says, "is about taking ideas, grappling with them, then taking them out into the world and practicing them. "
She thrives on using experiential classroom work, including presentations and role-playing, all with an open-minded approach that is a constant process of developing and changing ideas.
Her course, "Historical Trauma," for example, covers community-level disasters, such as massacres, relocation and "re-education," that continue to affect descendants of those who suffered. The effects of "cumulative intergenerational traumas" are on-going, and students are prompted to explore the implications in the past and present.
"Historical Trauma" also covers healing from such atrocities. Based on the Jewish Holocaust model of trauma, her class also embraces the African-American experience and other cultural traumas. "We're not just talking about Native-American communities," she adds.
Teaching at her alma mater is a special thrill for her. "I'm from here and always knew I wanted to come back," she says. "I definitely wanted to come back and raise my kids here. The UW has nice ties with native communities."
---
Home / Current Issue / Archives / Talk Back / Advertising / Columns FAQ / Alumni Website / Search