June 2004 -

Distinguished Teaching Award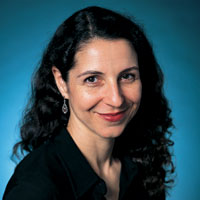 Elizabeth Cooper
Director, Dance Program
When students take "Betsy" Cooper's dance classes, they'd better bring a pen as well as their ballet shoes. Cooper, director of the UW Dance Program, is known for being an innovator in dance education - including starting the first writing lab for dance majors in the nation.
Versatile and patient, she has a teaching style that one of her students calls "a breath of fresh air."
She is a dance historian who clearly enjoys teaching majors how to research, rewrite and clarify their thoughts in formal papers-something not typical of a dance curriculum. She also spends a large chunk of time teaching the basic mechanics of writing and research methods.
"It's something I care about a lot," she says. "You see some students who are so ready to write a discipline-specific paper."
"We were challenged to be more thorough and articulate than we ever imagined possible," says Kelly Knox, '03, who since having her as a teacher has become one her self at Bucknell University.
Cooper's writing class exemplifies her commitment to new methods of teaching ballet and modern dance. In fact, Cooper is known to have never taught the same class the same way.
She also is innovative in her style of teaching. When students have a hard time attaining perfection in a movement, such as an "impossible adagio," which requires excessive control, but also grace, Cooper positively encourages them, expressing her love for the art form. She is unlike many dance trainers who use humiliation and degradation to push students, Knox says.
She makes students feel confident and comfortable and has prompted many to explore the dance artistry. She even helped one student become a 2003 Mary Gates Scholar.
"Without her support and trust in my capacity as a leader, I surely would not have the honor of being a Mary Gates Scholar this year," says UW student Michael Helland. "Betsy provides the impetus for so many things, but she still leaves it up to the students to discover personal success on their own merits."
Cooper extends herself beyond dance instruction, as well. She spends a lot of time mentoring students . "I work with majors and non-majors and wonderful graduate students who are professional dancers," says Cooper.
She also works to improve student-faculty relations and maintain the standards of the prestigious department, specializing in graduate seminars, research methods and dance administration instruction.
T-hrough her teaching, mentoring and other efforts, Cooper has inspired those in the dance community to have a passion for dance which stretches beyond physical goals. For instance, she is a great enthusiast for dance culture and the history of dance, which includes examining dance's role in cultural evolutions.
Her seemingly effortless approach in teaching dance, and ballet in particular, stems from a lifelong devotion, in which ,at one time, she trained at the School of American Ballet in New York City
"I've danced my whole life. When I look back to the things I enjoy most, I had a passion for it."
Cooper's passion for dance deepens as she gets older, and she says that although she could endlessly talk about the techniques and mechanics of dance, "at the end of the day, it's about expressing something, being an artist."
---
Home / Current Issue / Archives / Talk Back / Advertising / Columns FAQ / Alumni Website / Search