June 2004 -

Distinguished Teaching Award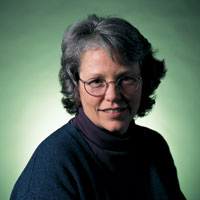 Ann Baker
Senior Lecturer, Department of Philosphy
If you sign up for one of Ann Baker's philosophy classes, be prepared to be prodded and pumped for information, even in her popular, 200-student Introduction to Philosophy class, half of which is comprised of freshmen.
What is Baker's trick?
"I walk around a lot," says the senior lecturer in the Department of Philosophy. "It's a big lecture hall and I have a wireless mike. I make eye contact, and I talk to them. Especially if they're kind of dull one day, I'll look around and ask them 'What's up?' "
On a day like this, with students quiet, Baker will ask creative questions, relating the course material to everyday life and will explain elementary ideas in a simple way, often drawing diagrams to help visual learners grasp the information.
She realizes, too, that the best way to be a good teacher is to be to a good student, and continually asks her students and peers how she can improve; one faculty member says, "She is always grading herself."
The payoff of Baker's effort is significant. "I have not seen any other lecture class of that size in which such a large percentage of students actively, spontaneously participate," says Joan Graham, a colleague and director of the Interdisciplinary Writer Program.
It's obvious that Baker has a love for teaching that goes beyond her love for philosophy. She stresses that making personal connections with students, even via e-mail, is a passion. She likes undergrads for their idealism and optimism and graduate students for their depth and willingness to test open-ended questions.
"The thing that I am most proud of is students who leave who contact me later when they do something they are proud of," Baker says. "That's something I didn't expect when I came here."
Baker's "vigorous interaction" with students is coupled with "rigorous analysis" to prompt new ways of thinking, Graham has observed.
One example is her presentation and examination of philosophical distinctions, such as the paradox of Hedonism, the distinction between ethical egoism and psychological egoism, and the difference of a motive's being selfish and a motive's being one's own.
Her also work includes teaching a philosophy department teaching seminar for graduate students twice a year and teaching "Personal Values in Human Good." The latter examines what constitutes a good life, with students developing their own conceptions. They study philosophers from Aristotle to NYU Professor Thomas Nagel, who writes about death and the absurd.
Her teaching method and her interest in students has won her a legion of fans, and has had some colleagues comment that they are shocked at the number of students coming in and out of her office to ask for advice or discuss class material; she is even popular with those who are non-majors.
"She is charismatic, but it isn't charisma that brings them," says Graham. "They want to learn, and they know she will find ways to answer their questions."
When she first stepped on the UW campus, Baker feared that she would not be able to connect with students on such personal level.
Her first teaching job after getting her Ph.D. at UW was at a small liberal arts college in Illinois, where it was easy to know all her students. Four years later, she returned to UW as senior lecturer. "I thought that I'd have to give up that personal connection," she says, "but here at UW I do have that."
Uncomfortable with the acclaim of winning a Distinguished Teaching Award, Baker is nevertheless happy about being honored. "I'm delighted! I'm really proud of it because teaching is where I spend the bulk of my professional energies," she says. "It's being recognized for the thing that I care the most deeply about."
---
Home / Current Issue / Archives / Talk Back / Advertising / Columns FAQ / Alumni Website / Search