June 2004 -

Distinguished Teaching Award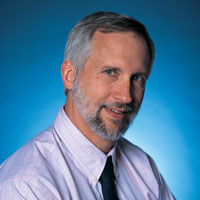 David G Allen
Professor, School of Nursing
Professor David G. Allen stepped down as chair of the Department of Psychosocial Nursing in the UW School of Nursing to return to teaching full time for one important reason: he missed teaching and daily contact with students.
Although his career has spanned more than 30 years, Allen remains consumed with the idea that faculty are held accountable to what students are taught and how learning takes place.
"My teaching, in all its fascinating aspects, is the core of my life here," Allen says.
Known school-wide as a terrific classroom teacher, Allen devotes much of his classroom time to imaginative exercises in group learning and active participation. For instance, when he teaches his "White Privilege and Racism in Health and Human Services" course, he talks about his own privilege as a white male professor to deconstruct the idea of privilege and make room for difference in the classroom.
A master of articulating and clarifying difficult ideas, Allen offers many hours of individual instruction, provides students with consistent support, works extensively to improve their writing, and even hosts dinner parties for students and their families to celebrate the completion of their degrees.
"He teaches me in our interactions to respect and value my knowledge and abilities," says Doris Boutain, '00, a former student of Allen's who is now on the faculty of the Seattle University's College of Nursing. "He freely shares his insights, his feelings and his challenges as a professor with me. His enduring commitment to me is just plain awesome - and does not end with my career pursuits."
Allen has created other courses, such as "Who Am I? Difference and Identity" that are so popular they draw students from such majors as social work, education, women studies, communication and anthropology. He also created "Autobiography" and "Frame of Reference" assignments for graduate nursing students as a way to "wade into territory that is new, perplexing and potentially divisive," says Debbie Ward, associate professor and vice chair of psychosocial and community health nursing.
Allen is "unusual in that he is not only an inspiring and excellent teacher who draws students from all over the University," adds Carole Schroeder, associate professor of nursing at the UW, "but also a caring and committed educational activist.
"For the past 10 years, I have advised graduate students to take anything Dr. Allen teaches, and students have never been disappointed," Schroeder says. "Highly challenged, maybe, forced to think in highly unusual and critical ways, but always stimulated and changed by the experience."
Allen also maintains a steady commitment to collaboration with the women studies department, where he has an adjunct appointment. He is also affiliated with the College of Education, where he teaches and is active in that school's multicultural education group.
Allen, who serves on the nursing school's curriculum transformation board, chairs the departmental diversity task force and helps recruit minority students, loves most of all to bond with his students. "I rarely invite anyone in to guest lecture and even-perhaps too rarely-use media," he explains. "Students' time with me is too precious. A sure sign to myself that my priorities have gotten out of whack is if I experience class time or an appointment as a burden. Sharing their lives is priceless."
---
Home / Current Issue / Archives / Talk Back / Advertising / Columns FAQ / Alumni Website / Search