One area where Bolcom gets much of his inspiration is literature. While at the UW, he was a student of Theodore Roethke, the Pulitzer Prize winning poet. "I learned how to write poetry and see how it was made," he says. Bolcom has gone on to compose many works from plays, including his most recent venture, A View From the Bridge based on the great Arthur Miller work, that the Metropolitan Opera performed in New York in December. "The song 'New York Lights' is performed with a melting tenderness. The song offers the audience a sudden pungent taste of a melody so enticing it could turn into a pop standard. When was the last time an American opera produced such a tune? Porgy and Bess?" wrote New York Times critic Stephen Holden.
Bolcom used his considerable talent to put himself through school, earning money by playing gigs at fraternity dances, stag parties and Saturday night burlesque shows-followed by Sunday morning church recitals. And that was in addition to a job he had as night operator at the Meany Hotel.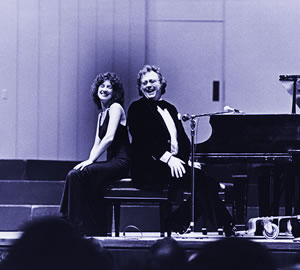 ---

Bolcom and his wife mezzo-soprano Joan Morris, perform at the National Press Club in Washington, D.C., on Oct. 7, 1976. Photo courtesy William Bolcom.

---
Not the most graceful person, Bolcom often showed up late to class after working at the Meany. He would tiptoe into class but negate his good intentions by doing something clumsy like dropping a book on the floor. "I was never very athletic or coordinated," he says. "If there is a table in the room, you can be sure my shin will find it."
He also has found success at every turn as well. In addition to his prolific composing, he and his third wife, Joan Morris, a renowned mezzo-soprano, perform as many as 50 concerts a year, dazzling audiences and critics alike with a repertory of American popular songs, from vaudeville numbers of Lillian Russell's era to the show tunes of Broadway's heyday. "She sings them straight, her mezzo-soprano aglow with wonderment at the simple dramatic beauty of a Kern or a Gershwin phrase. He provides an elegant partnership at the keyboards that transcends the rather denigrating recital-hall term 'accompanist,' " crowed Newsweek magazine. "Don't worry about whether this is classical or popular, they seem to be telling us. 'Just listen; isn't it wonderful?' Yes, it is."
Bolcom, who has been a professor of music at the University of Michigan for the past 30 years, returned to the UW in 1994 for a two-week residency as the Hans and Thelma Lehmann Distinguished Professor. In addition to working closely with UW music students, he put on a concert, "William Bolcom: A Music Homecoming," that won rave reviews. "Bolcom is rare among today's performers, with successes in fields as intimate as the cabaret song and as mammoth as grand opera," wrote the Seattle Times' Melinda Bargreen.
"Music is not just about sound," explains Robin McCabe, '71, director of the UW School of Music who still relishes the memory of a private impromptu session in which she sat down at the piano with Bolcom and his wife to play several tunes from Follies and Company. "It's about form, shape, gesture, tension, release. And Bill is able to talk about what he does. Many composers are not articulate about it."
Or, as Virginia Katims, the wife of the former Seattle symphony director and a world-famous violist herself says, "Bill's music is from the heart, mind and soul."
Bolcom surprised many observers by his success in American music-ragtime, mostly. He came upon this direction while a UW student, while in the throes of wondering what to do with himself as far as music was concerned. "One reason I'm involved with American popular song is that it exists close to the real choices that make us who we are," he explained in an earlier interview. "I always reject the American composer with the flag in his piece. That's not my way, but I do realize one has to be what one is. In order to be universal, you have to be particular. Maybe there's a little nationalism in that."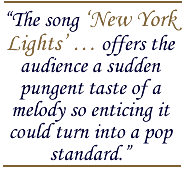 Bolcom, who calls himself an "omnivore" who fed on the Beatles, Gershwin, Kern and Berlin, is credited with reviving ragtime in the 1970s with nonchalantly elegant recordings of rags by Joplin, Lamb, Scott and himself. But he has never liked being called eclectic. "I am not a synthesizer," he says. "I'm interested in showing how different elements relate. My music tries to make the relationships clear. The more I look to the future, the more I keep coming back to the past. They come together. Maybe if we can find these axes between old and new, serious and popular, we can keep music afloat."
Today, at age 64, Bolcom keeps on full speed ahead, in spite of recent surgery on an arthritic right hand. His routine is the same as it's been for years-he's up at 6 a.m., has espresso and toast with jam and a glass of juice, and while in his skivvies that he wears around the house, puts in four hours of work on a score. He has been known to work all day and all night. "I'm such a workaholic. It's not healthy, but my head is working in the middle of the night and I can't ignore that," he says. "Ideas hit you. They just come. Then comes all the practical stuff, like craft and the hard work."
What's next? Who knows? But you can be sure it will be dazzling. Everything he has done-from opera, to piano quartets to the terrific cabaret song "Lime Jello," inspired by a dish served to some fellow diners at a Portland home style restaurant-is sure to enrapture and tickle his listeners. After all, music is in his veins.
Go To: Page 1 | Page 2 | Page 3