"He was very precocious," says Ken Benshoof, a classmate of Bolcom's at the UW in the late 1950s who later taught at the UW School of Music for more than three decades. "He just had a natural facility for music. He had all the facilities that the rest of us were working hard to get." What also made him great, Benshoof says, is that Bolcom "is totally unbounded by the conventions of his generation. He wasn't trapped at all."
"Bill is a genius, no doubt about it," says Milton Katims, the former conductor of the Seattle Symphony who gave Bolcom his big break by commissioning him in the 1960s at a workshop in La Jolla, Calif. "He can move into different areas of music. Whatever he is doing, he does it so brilliantly you don't know which is his best foot forward."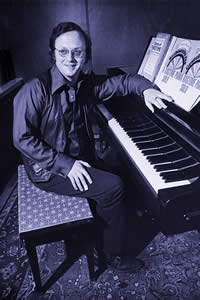 ---

Ragtime master William Bolcom, circa 1969-1970. Photo courtesy John Pollock.

---
"If you mix popular and classical forms, it brings life to both genres," says Bolcom, who can sit down at the piano and play anything in perfect pitch from the get-go. "By making them touch, something fresh, new and organic grows. I like the traditional and the newest culture coexisting in the same piece. The classical masters had that possibility-Haydn is full of pop tunes-and I want it, too."
Voted most likely to succeed as a senior in high school, Bolcom-who refined his talent at home when his grandmother bought him a small Baldwin piano from the Sherman Clay Music Store in downtown Seattle-has been one half of one of the more fruitful and long-lasting collaborations in American classical music. Since the 1960s, he has worked with librettist Arnold Weinstein to produce some of the most interesting and unique works in American music, including the operas Dynamite Tonight (1966), McTeague (1992), A View from the Bridge (1999) and The Wedding, which will have its premiere in 2004 at Lyric Opera of Chicago.
"Bolcom's music is a wordless rebuttal to ideas of rank and category," says New York Times music critic Bernard Holland. "He works hard to erase the lines between the elite and the vulgar, the intellectual and the visceral, the select and the popular. Music, he seems to be telling us, has pulled itself apart from both ends of the cultural spectrum: the classical extremity eager to isolate high-mindedness and rise above the everyday; the pop end cornered by a concern for the bottom line."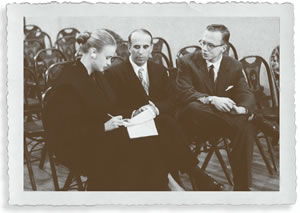 ---

UW student William Bolcom (right) meets with his piano teacher, longtime UW music professor John Verrall (center) and an unidentified woman in this UW room in 1957. Photo courtesy William Bolcom.

---
Despite his evident talent as a youngster, not everyone quite knew what to make of Bolcom. "He was a brilliant young man," recalls David Lamb, who was a grad student in music at the time Bolcom was an undergrad. "But we once had a squabble. He begged me to criticize a piece he composed, and I did. He had just done a first draft and didn't think it needed any revisions. I told him it did, and he wouldn't speak to me for a while." The hard feelings didn't last long-Bolcom sold his bike to Lamb for $25 in 1957, and Lamb rides it to this very day.
The self-effacing Bolcom came back to the UW to teach for a year in the 1960s, but felt out of sorts. "He would walk into the faculty mailroom and be among the professors he studied with, and he felt he didn't belong," retired UW music professor James Beales recalls. Little did he know.
In the 1960s, Bolcom got his big break when Katims, then the director of the La Jolla Musical Arts Society, presented a series of summer concerts with a chamber orchestra. Each program included the premiere of a work by an American composer commissioned with the financial help of the association's men's committee. He had already conducted new works by William Bergsma, David del Tredeci, Benjamin Lees and others when he was told about a young Seattle phenomenon named William Bolcom. Katims called.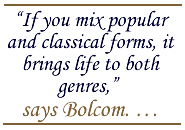 The result, the first of many collaborative efforts between the composer and conductor, was called "Fives." It so impressed Katims that he later arranged to have the Seattle Symphony play it.
"It has been my experience," says Katims, now in his 90s, "that composers generally fall into two categories-those who are flexible and are quite willing to listen to suggested changes and those whose reaction is, 'No, I want it the way I wrote it!' Bill Bolcom belongs to the first group, always eagerly listening to different ideas and then deciding whether his muse accepts the change. That may have a lot to do with the tremendous success he has enjoyed."
Bolcom himself isn't quite sure where it all comes from. "I don't know how I compose-I just do it," he said in a 1997 interview. "I can't help doing it. If I ever stopped feeling that way, of course it would be a great relief to stop. Composing is very labor-intensive and the reward is getting a piece played, I guess. I mean, it doesn't make any money, it doesn't necessarily get you girls. We all seem to have rather nice wives, but I think the reason they stay with us is they know where we are most of the time. You know, we're available for taking out the garbage."
Go To: Page 1 | Page 2 | Page 3