Volunteering Is in Her Blood

Vivian O. Lee, '58, '59, started out poor. In terms of role models, however, she has always been rich beyond belief.
Her grandmother (first generation post-slavery) ran her own catering business. Her stepfather, a career military man, was known for his decisiveness and determination. And her mother, in addition to raising five children, always held a job, be it scrubbing floors or working in a sawmill. She also took classes at local community colleges, and always found time to volunteer for one cause or another. She dragged Lee to fund-raising luncheons, awards banquets and meetings all over town. But Lee, who soaked up what she learned from her parents, drew the line there.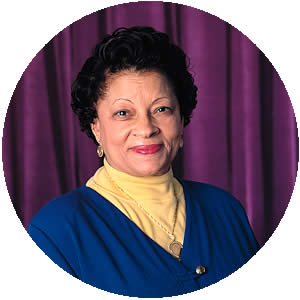 ---

Vivian Lee, '58, '59, is carrying on the volunteering tradition she learned from her community activist mother. Photo by Kathy Sauber.

---
"I decided then that I would never volunteer like that when I grew up," she recalls. "It was too much."
She says that with a hearty laugh today. Lee, a retired nurse, was honored with the UW Alumni Association's Distinguished Service Award in 2003 for-you guessed it-her impressive record as a volunteer for the UWAA.
Her volunteer duties have run the gamut from serving on the UWAA's Board of Trustees, where she helped shape the alumni association's policies for much of the past decade, to dishing up ice cream to students at the UWAA's annual ice cream social in the HUB lawn. She has mentored minority students, provided career advice at the annual Husky Career Luncheon and volunteered at other alumni association events. But she is primarily known for her work promoting diversity at the UW.
As a founder of the UWAA's Multicultural Alumni Partnership, she has helped raise more than $170,000 for student scholarships, honored more than 40 distinguished alumni for their diversity efforts and given underrepresented minority students and alumni an official voice on campus. It's really just a continuation of her lifetime fight to make sure students of color have access to higher education.
When she was first asked by former UWAA President Larry Matsuda to head up a new diversity committee at the UWAA, she was about to retire from a distinguished career as a public health administrator working to make sure underrepresented populations received outreach and services in the clinics she funded. At first she said no, but changed her mind. Still, she didn't figure to be around very long. "I don't like to just sit in meetings," she says.
"Then it occurred to me how many possibilities there were to get scholarship money for students and build their morale. They needed mentoring, they needed people who were willing to help students. I was always excited about the energy and resources that the UWAA had invested to support the University, and I realized the possibilities.
"I need to be helping someone. So I decided to stay."
She took all the talk about diversity and translated it into action. She helped create MAP from the ground up in 1995 and was a key volunteer in putting together its signature event, the annual Bridging the Gap breakfast, held every Homecoming Saturday, to honor distinguished alumni of color and to raise scholarship money for students from disadvantaged backgrounds.
Her work caught the eye of former UW President Richard McCormick, who appointed her to the UW's Minority Community Advisory Committee and Diversity Coalition. She has served on numerous campus committees, and even has a scholarship in the UW School of Nursing named in her honor for her longtime support of the school.
Not bad for someone who never thought she would volunteer.
"My training as a nurse really fed into what my parents taught me," says Lee, who as a member of a military family spent much of her childhood in Japan and donated blood every two weeks for critically injured servicemen at the height of the Korean War. "My parents taught me to be tough, to make decisions, to help those who need it and not be deterred by obstacles. And I guess volunteering was in my genes."
Her mother would be proud to know her volunteering legacy is being carried on.
-Jon Marmor