'Spheres' is Theme of Fourth Annual Summer Arts Festival
The Fourth Annual Summer Arts Festival at the UW devotes four days examining "spheres" as a powerful force in art, history and science. From July 16-19, the campus will be filled with performances, exhibits, lectures, workshops, readings and symposia by faculty, students and internationally renowned artists from the fields of art, dance, drama and music.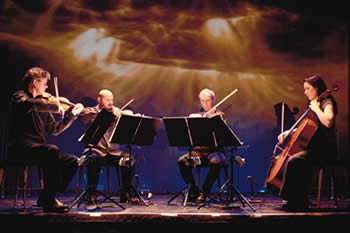 ---

The Kronos Quartet will play the Northwest premiere of "Sun Rings," featuring video taken in outer space, at the UW Summer Arts Festival. Photo courtesy Kronos Quartet.

---
Highlights include performances by the Seattle Repertory Jazz Orchestra, the electric string band Psychograss, a Stan Brakhage film retrospective, the Pulitzer Prize-nominated play Three Days of Rain by Richard Greenberg, the Chamber Dance Company, and a reading by Northwest treasure Ursula Le Guin.
The festival closes with the Kronos Quartet performing the Northwest premiere of Sun Rings, a multimedia extravaganza for string quartet, chorus, space sounds and video. The performance is dedicated to the memory of the crew of the space shuttle Columbia. Tickets cost $45 general admission; $40 UWAA members, students and seniors; and includes a $10 donation to the Michael P. Anderson Memorial Scholarship Fund. Anderson, who received his bachelor's degree in physics and astronomy from the UW in 1981, was a mission specialist on the Columbia.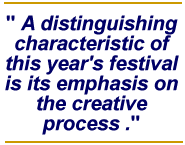 The festival opens with the first Summer Katz Lecture, featuring Antonio Damasio, author of Descartes' Error and the recent Looking for Spinoza, as he muses on the relationship between the feeling brain, emotion and creativity. Other lectures discuss ideals in Western art, Kepler's music of the spheres and the impact of Heisenberg's uncertainty principle on the arts.
"A distinguishing characteristic of this year's festival is its emphasis on the creative process that lies at the heart of both art and science," says Festival Director Hannah Wiley. "From the majesty of planet Jupiter to Stan Brakhage's visual quest for a luminous truth, spheres takes us on a fascinating, multi-layered journey."
Tickets for "Spheres" and additional information is available at , by e-mail at or by calling (206) 685-6696.