Letters to the Editor
June 2003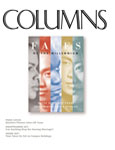 Teachers and Heroes
As John Hawk states in the opening of his letter in the most recent issue of Columns, I also was "somewhat surprised and disappointed" that Mr. Hawk's name was left out of the list of UW graduates who are also Medal of Honor recipients [Letters to the Editor, March 2003]. As one who had the honor of spending my sixth-grade year under John Hawk's tutelage (1964-65), I can tell you firsthand that Mr. Hawk did not finish being a hero after the 1945 events which led to his receipt of the Medal of Honor. Ascribe it to my then-youthful impressionableness if you will, but John Hawk was then, and remains still, a personal hero of mine for the humanity and strength of character he taught his students, along with the more mundane subjects of math, science and history.
All teachers are, in my world view, heroes to a greater or lesser degree. Having now shepherded three sons of my own through educational careers-including one scheduled to graduate from UW this year-I have come to a much fuller understanding of how much molding and shaping it takes to turn a toddler tyrant into a fully educated (and therefore, functional) human being. I have also learned, from watching my sons move through school, how some teachers stand out, rising above the rest through some undefinable combination of dedication, hard work and inspiration. John Hawk is one teacher who stood very tall among his peers, and in the eyes of his students. I count myself fortunate to have spent that year as his student. And I relish the opportunity, all these years later, to say what I at age 11 didn't know to say: For both a year of education-and for your lifetime of service to your country and to humanity-thank you, Mr. Hawk.
Brian Jaybush, '75
Bellevue

Lessons from a Patriot
I read your article "Lasting Legacies, 101 UW Achievements" in the December 2002 issue with interest, especially the section on Medal of Honor winners. I always associate the Medal of Honor with John "Bud" Hawk, who was the principal at two elementary schools I attended in Bremerton. Mr. Hawk was a tremendous influence on our family. He truly personified not only military valor and American spirit, but also the opportunities and growth that a good teacher can provide to a young person. I remember him as firm and strict when needed, but always approachable; he was a constant and friendly presence in classrooms and hallways. To this day whenever I see a movie or read a book that mentions the medal, or even see the "Medal of Honor Recipient" license plate, I think fondly of Mr. Hawk.
As I started to read the letter to the editor titled "Honoring Those Who Serve" in the March 2003 Columns and realized the subject matter, I immediately thought of him and realized that he had actually written the letter! I did not know that Mr. Hawk was a UW alumnus-another pleasant surprise. It was a great opportunity to reflect on the experiences I had in school and what an influence Mr. Hawk had made on us. I shared the letter with my mother and siblings and we all remembered how much we respected him as a person, a teacher and an American. I do not use the term "American" lightly in these days of bandwagon patriotism; I immigrated to the United States with my family as a young child, and I am very glad that we had the chance to learn many life lessons from a great patriot.
If possible, please forward my warmest regards and thanks to Mr. Hawk not only for his service to our country, but most importantly for his work as a leading light for children throughout many years of service as an educator.
Veronica Carrillo Simpson, '94
Las Vegas

Talents and Dedication
I was gratified to read the respective bios, and of the talents and dedication, of the outstanding recipients of the Gates Millennium Scholarships: Morris C. Johnson Jr., Moon Ki Hwang, Yarun Luon, Lorin Baker and Michael Look. I am gratified these five all are part of the University. My thanks to the Bill and Melinda Gates Foundation for making the scholarship opportunities available for these deserving individuals.
Walter L. Wagenhals, '56
Monterey, Calif.

Dubious Achievements
Your "Faces of the Millennium" made a few things clear about affirmative action.
How? Each person communicated a sense of wonder at having been fortunate enough to have the vicissitudes of education opened to them.
In most of the cases, their words made clear why that was so. No white person with that lack of writing skill could even dream of achieving the experience they have had handed to them. Their writing makes clear what preferential treatment means, and it makes equally clear that the word "achievement" is undergoing dramatic demographic change.
What all the effects of this will be ... only time will make clear.
Richard Pelto, '61, '68, '72
Bothell

Editor's Note: The article "Faces of the Millennium" was a series of five transcribed conversations, not a formal written essay. Columns Intern Nicholai Kovesnikov wrote the final version of these interviews.
Husky Pride
My father, Torrey L. Wickman, '63, recently passed away at the age of 62. I remember growing up in a household where learning was strongly emphasized. My dad was a school teacher for the better part of 28 years in the Tacoma area, and loved his affiliation with UW. I recall, as a young boy, sitting with him, watching the Huskies play football and listening to Dad sing "Bow Down To Washington". He would wear his Husky sweatshirts regularly and watch every game he possibly could. If he was busy around the house and couldn't watch it on TV, he would have the radios going throughout the house so he could listen to the game wherever he was. If we drove anywhere, the game was on the radio. We were a UW household, no doubt about it.
His passing has left a void in my life. He was diagnosed in November of 2002 with a very aggressive form of thyroid cancer and, within six weeks, he was gone. I have many tangible reminders of who he was and what he believed in, but his pride in his association with the UW is one of the things that I am most proud to carry on. When my career allows, I am going to attend UW to complete my bachelor's degree, so that I can carry on the traditions he instilled in me. My job in the Washington State Patrol is taxing at times, and often requires strange shift work that isn't conducive to regular school hours, but I will make it happen, no matter how long it takes.
I have always associated UW with my Dad because of his thirst for learning and education, and his pride in his alma mater. I would like to thank the University of Washington for working so hard to maintain the proud traditions of excellence in education, community involvement and great sports. My Dad was proud to be affiliated with the UW and every time I watch a game or see a sticker or a sweatshirt, it's a reminder of the wonderful man he was and, to a great degree, the man I am.
Erik Torrey Wickman
Tacoma

Trailblazer, But Not a Legacy?
I was very surprised and disappointed to read in the December issue that [Athletics Director] Barbara Hedges was selected by the magazine as one of the UW's "lasting legacies" ["Lasting Legacies, 101 UW Achievements," Dec. 2002]. True, she is a trailblazer in being a woman heading a major athletic department. To be considered a lasting legacy the inquiry should go beyond gender. Her record as athletic director at the UW has been subpar, and that is troubling to this alumnus.
First, under her oversight the football team has become mediocre and the men's basketball team less than mediocre. Second, she has entered into a long-term, and now surely regretted, contract with [Football Coach] Rick Neuheisel in a year where he has been the state's more prolific repeat offender. Finally Coach Neuheisel has just been caught lying to his players, the press, the public and even Hedges regarding his seeking employment elsewhere. In response she has taken no action. Hedges is not a lasting legacy.
David Jensen, '66
Vida, Ore.

Five Year Plan?
To Barbara Hedges: Normally, I would have been outraged at the continuation of the Building for Excellence Fund, since you said five years ago it would only last five years, and now you are continuing it. I wrote you a letter back then expressing my displeasure at the way the fund was implemented, but you assured me, in writing, that it would only last five years. I knew back then, it would not last only five years. This is so typical of this athletic department administration, it hardly phases me.
I know of the athletic department's need to constantly upgrade everything, and if there wasn't an indoor practice facility, the program wouldn't be competitive. I will offer the same view point I did five years ago. I played on the 1981 and 1982 Rose Bowl teams. We won back-to-back conference championships with no indoor practice facility. When it rained, we got wet. Now we have an indoor facility, and we are less competitive than we have been in several years.
You conveniently leave out a time frame for when this fund will cease. Is that so you don't have to ever justify again why it did not last as long as you originally said it would? Heaven forbid, Husky fans go the way of Arizona State fans. Here in Phoenix, they are lucky to get 55,000 fans a game. If they tried to establish a fund like this, it would be a laughing stock.
David Matthews, '88
Phoenix

A Physical Education
The refresher on good basketball was good reading ["Rarified Air," March 2003]. Bob Houbregs, Joe Cipriano, Gloria Elixson, "Hurrying Hugh" McElhenny and too many others to mention made games essential to undergrad life. We could be scholars who cared, not snobs who were too busy to look up and see others doing something good. I can remember when Houbregs would pound past our spot as he went for a basket and I think we called him "Thunder Thighs." It was, I hope, more than a rumor that he had been a premie who weighed about 3 pounds at birth. I loved that littlest-to-biggest tale.
I am very sorry that as a physical education major, our history is dissolved forever in the UW annuals. In trying to trace alumni, I discovered that looking up P.E. majors is impossible because the School of Kinesiology was cut in the 1980s.
The University has changed much in technology and its economic demands. I liked paying $50 a quarter for what I got. I think that the greatest goal is to make all that is known to all who want to know.
Barbara Cathey, '54
Colville

Correction
In the article "Faces of the Millennium" in the March 2003 issue, we incorrectly identified Gates Scholar Michael Look's age and class year. Look was 19 when the article was published and is a junior.