Extras
Carol Williams

When Carol Williams was 11 years old, she wanted to be a foreign correspondent when she grew up. "I thought it was a glamorous profession," she says.
Today, Williams, '77, a reporter for the Los Angeles Times, is with U.S. ground troops covering the war inside Iraq. Before that, she spent six weeks on the aircraft carrier U.S.S. Abraham Lincoln, the Navy's command ship in the Persian Gulf, during the opening phase of the war.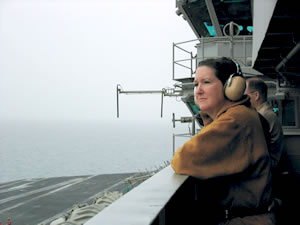 ---

Los Angeles Times reporter Carol Williams, '77, watches flight operations aboard the U.S.S. Abraham Lincoln during the Iraq war. Photo courtesy Carol Williams.

---
Williams, the daughter of a career Navy man, is well-versed in covering war, having reported on fighting in Slovenia, Croatia, Bosnia, Kosovo, Chechnya and Afghanistan. Her first foreign assignment was in the Associated Press' Moscow bureau in the 1980s. She then went to Bonn in 1988 and covered the opening of the Berlin Wall and other Eastern European revolutions before joining the Times in 1990. Since then, she has covered Eastern Europe, Russia, Germany, Kosovo and Afghanistan. Last October, she got a new assignment as the Times' Miami Beach-based Caribbean correspondent-but has spent most of her time in the Persian Gulf.
Williams, who studied Russian and editorial journalism while a UW student in the 1970s, was in between assignments when she was sent to attend a U.S. defense department media training session last November. "Because I'd spent time covering other wars, I think I came to mind," she says. "I look at the assignment as the story the world most cares about now, so I want to be part of it."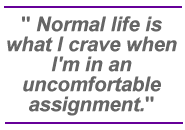 But war isn't her favorite topic to cover. "Despite the unfortunate run of conflicts I have been involved in covering, they all simply emerged within my beat or to help out in areas where the newspaper didn't have enough correspondents to handle a big story," she says. She volunteered to cover the U.S. military's actions in Afghanistan while based in Berlin and was later asked by her editors if she would be interested in being part of the Iraq war coverage.
Being an "embedded" reporter is a strange sensation for a journalist attempting to preserve objectivity, she reports. "It feels uncomfortable eating, sleeping and working inside [the military's] floating bubble," Williams explains.
She has been shot at in Bosnia and encountered hostile armed forces in other places around the world. While it's exciting to be a part of a major story, she also relishes coming home to her husband, a Florida newspaper editor, in Miami Beach. "Normal life is what I crave when I'm in an uncomfortable assignment," she says, "and it takes me no time at all to get used to it."
-Jon Marmor