Extras
George I. Quimby
1913-2003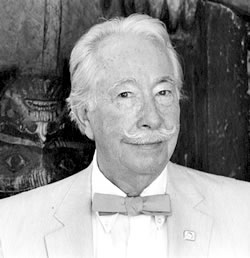 ---

George I. Quimby, 1913-2003. Photo by Eduardo Calderon.

---
George I. Quimby, longtime director of the Burke Museum of Natural History, died Feb. 17. He was 89.
Quimby came to the University of Washington in 1965 as professor of anthropology and curator of ethnology after serving 23 years at the Field Museum in Chicago. In 1968, he was named director of the Burke Museum, the Pacific Northwest's preeminent collection of cultural artifacts from the region, Asia and the Pacific Islands. He served in that position until 1983, when he retired.
"He took out some crazy exhibits from the past and turned it into a modern museum, with exhibits with purpose and points to be made," said Robert Dunnell, former chairman of the UW's anthropology department and a longtime friend of Quimby's. "Visitors came away learning a lot about the Pacific Northwest."
A prolific author of scholarly articles, Quimby wrote several books on archaeology, including Edward Curtis in the Land of War Canoes, about the Kwakiutl Indians, and several other books on archaeology in the Great Lakes region of Michigan, where he grew up. He was a recipient of the 1989 Distinguished Service Award from the Society for American Archaeology.
Quimby is survived by his wife, Helen Quimby, of Seattle; daughter Sedna Helen Quimby Wineland, of Boulder, Colo.; and sons Ed, John and Robert Quimby of Seattle.
Memorial donations can be sent to the George I. Quimby Memorial Anthropology Fund at Grand Valley State University, Development Office, Allendale, Mich., 49401.
-Jon Marmor