FIRST TAKE
A collection of newsworthy items from the pages of Columns.
Bernie Mac and the Huskies
The Bernie Mac Show (Wednesdays at 9 p.m. on Fox) stands out for the way it portrays an African American family dealing with real-life issues, its quality (it has earned one Emmy Award, one Peabody Award and two NAACP Image Awards in two seasons)-and a writing staff that features three graduates of the University of Washington.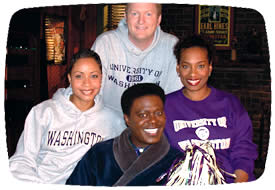 ---

Joining the star of the Bernie Mac Show (center) are the three UW graduates who write for the show (from left): Nguyen Orange, '96; Jerry Collins, '88; and co-executive producer Kriss Turner, '84. Photo by Stephen Carmona.

---
Kriss Turner, '84, the show's co-executive producer, earned a communications degree in 1984 and waitressed in Los Angeles (much to her parents' consternation) before getting into show business as a writer for such TV shows as The Gregory Hines Show, Living Single and Sister to Sister. Now in her third year with Bernie Mac, she just sold a movie script titled 42.4 Percent, a romantic comedy, to Focus Features.

Jerry Collins, '88, a Seattle native, got into the biz in a roundabout way. Working as a car importer after getting his creative writing degree in 1988, he finagled a transfer to Los Angeles, studied with the famous Groundlings improvisation group, and wrote scripts for animated shows by Disney and Hanna Barbera. He was a writer for Saturday Night Live for two years before landing a writing gig on Bernie Mac. Collins, who also acts and does stand-up comedy, sold a screenplay to Paramount as a vehicle for an old roommate of his, comedian Will Farrell.

Nguyen Orange, '96, a former Husky cheerleader who has a social work degree, gave up that field after three years to move to L.A. as an executive assistant to a TV producer. After making it into a highly competitive comedy workshop at Warner Bros., she landed writing jobs on Parenthood and The Parkers before joining Bernie Mac last season.

"It's amazing to find three Huskies all on one show," says Turner, noting that the UW has no film or TV school. "It was just a coincidence. We didn't even know it until we met each other."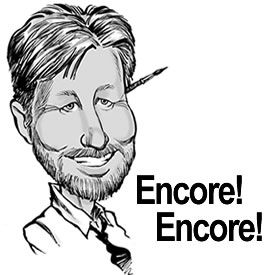 ---

Encore! Encore!
David Horsey, '75, of the Seattle Post-Intelligencer was awarded the 2003 Pulitzer Prize for Distinguished Editorial Cartoons on April 7, his second Pulitzer in the past four years. Horsey, who won his first Pulitzer in 1999, was recognized for work "executed with a distinctive style and sense of humor," the judges said. "Just like in '99, I owed it all to Bill Clinton, so maybe this time it's all W," Horsey said, referring to President George W. Bush. A former Daily editor, Horsey joins an exclusive group of 12 editorial cartoonists who have won the prize two or more times.
---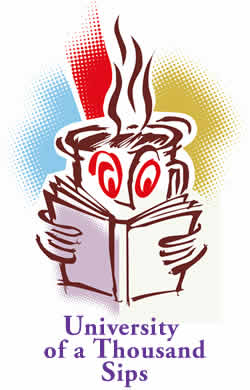 University of a Thousand Sips
After nearly a century of prohibiting all food and beverages, even the University Libraries have succumbed to Seattle's coffee craze. In October, an espresso bar opened on the first floor of Suzzallo Library and users can take drinks in covered, reusable containers almost everywhere in the library.
---

Soundbite:
- Comedian George Miller, a one-time University of Washington student, who appeared on David Letterman's "Late Night with David Letterman" and CBS' "Late Show with David Letterman" 56 times, more than any other comedian. Miller, 61, who was Letterman's closest friend, died March 5 of leukemia.
---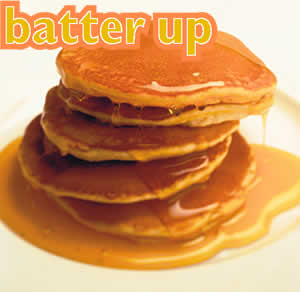 Batter Up
Leave it to a bunch of UW engineering students to turn a pancake scarfing contest into a debate about the engineering flaws of flapjacks.
Some UW electrical engineering students recently dropped by the International House of Pancakes restaurant in the "U" District to take advantage of a promotion offering bottomless pancakes for $3.99. Naturally, talk of a pancake-eating contest ensued but not before the conversation took a scientific turn and the students decided the contest couldn't be considered official because "the size of the pancakes wasn't consistent," one student observed. "We'd spent most of the day working on a problem set, which had all types of probability problems, so I guess we just had that on the brain," said Andrew Morabito, a first-year electrical engineering student.
That led students Scott Philips and Jennifer Price to devise a model for the size of a typical pancake. That was no easy chore given the imprecise batter dispenser, how the batter splatters on the griddle and the height from which it is poured. That led to more debate because of "uneven mass inside the pancake because of bubbles," one student said.
But the flapjack flap didn't end there. Electrical engineering faculty also bit into the head-scratcher. Professor Bruce Darling said, "Because of the insoluble globs of goo in the batter, the diameter of the pancake would be roughly quantized to integer multiples of the mean glob size."
The flapjack fisticuffs didn't stop the pancake-eating contest after all. Morabito won the contest with 13 (Philips was second with eight). And the scientific debate fueled a second contest, with nine student competitors downing a total of 100 pancakes. "We pretty much took over one whole side of the restaurant," Morabito said.
---