Citizens of the Modern World
Universities love ceremony. Even here, where we pride ourselves on innovative education and cutting-edge research (and casual attire), we begin and end the academic year in full medieval regalia.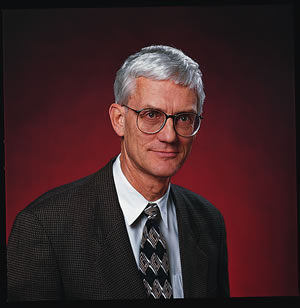 ---

Interim President Lee Huntsman, Photo by Mary Levin.

---
In the fall there is freshman convocation, the ceremony that welcomes new students to campus. Amidst ritual and color, students are invited to join the academic community and begin the educational journey they will take here. Convocation celebrates the life of the University and the promise it holds out to students.
And now in June, of course, there is commencement, which sends our graduates back out into the world. For this final ceremony, they themselves put on the caps and gowns that were reserved for faculty at convocation. Formal rituals usher them onto the larger stage for which their education has prepared them. In celebrating their progress toward lives of achievement, we also celebrate the University's contribution to society.
So at this time of year we look outward. We watch prized students-prized for many different reasons, not all of them academic-leave to take up lives beyond our three campuses. Our pride in these students, our deep satisfaction in having helped shape and equip them, our hopes for their future, lead inevitably to thoughts about the University's role in the world at large.
There are many ways to describe and quantify that role-the more than 10,000 graduates we send off each year, the lives saved by UW medical research and treatment, the companies formed from UW technologies and inventions, the part played by UW artists in Seattle's flourishing cultural life, the leaders who have cut their civic teeth as UW undergraduates or students of law or public policy.
But for a person-by-person account of this university's reach and influence, I urge you to read the faculty, staff, and alumni profiles in this issue [see "Gallery of Distinction," p. 34]. These are the people honored in the UW's annual recognition ceremony, another of our June rituals and one that I especially treasure. While every one of the award-winners is extraordinary, I am struck especially by the many whose work has served and changed the city, the region, the nation, and the world. For example:
Professor Tony Ishisaka, who for 30 years has been forging links between our School of Social Work and Seattle's Asian immigrant and refugee communities.
Jennifer Mas, a young staff member in the medical school whose SPARX program (Student Providers Aspiring to Rural and Underserved Experiences) connects UW health-science students with medical needs all over the state.
Math Professor Jim Morrow, whose annual Mathday brings 1,200 Washington high-school students to the UW campus for imaginative encounters with the beauties and uses of mathematics.
Dr. Dena Brownstein of the pediatrics faculty, who created, first for Washington and then for the nation, life-saving programs that train paramedics in the emergency care of children.
Anthropology Professor Biff Keyes, whose former Thai and Vietnamese students hold prominent faculty positions all over Southeast Asia and send their own students back to the UW to study with him.
Composer and pianist William Bolcom, '58, whose exuberant life in music includes a Pulitzer Prize, an opera performed at the Met last winter to great acclaim, and international praise for music that gives voice to a rich variety of American traditions.
However medieval our ceremonies, then, the University of Washington is very much a citizen of the modern world. That was true when I arrived here 35 years ago and it is even truer today. Not only the state of Washington, but places and people far away are better off for the work of the UW. And that is worth celebrating, at any time of year.

Lee Huntsman, Interim President
Return to June 2003 "Columns and Departments"
Return to June 2003 Table of Contents