ALUMNOTES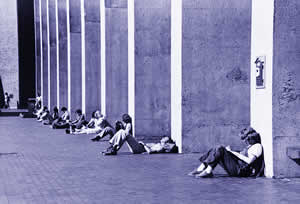 ---

A row of students relax against the concrete posts of Kane Hall on a sunny day in Red Square in this 1980s shot. File photo.

---
Bertil E. Johnson, '25
Tacoma, celebrated his 102nd birthday in May. He enjoys seeing his three children, eight grandchildren and eight great-grandchildren. His ninth great-grandchild was due last month.
Helen Goldblatt Rogoway, '28
Redwood City, Calif., reports that her grandson, Michael Rogoway, is in his first year of the UW's M.B.A. program.
Carl M. Franklin, '31
Los Angeles, was honored in March for his 50 years of employment and philanthropy at the Univ. of Southern California. Hired on the USC faculty in 1953, he served as professor of law, VP of financial affairs and VP of legal affairs until his retirement in 1991. He has given more than $12 million to USC including $4 million to the USC law school. Along with his late wife, Carolyn, he raised more than $150 million in private donations for the school.
Margaret M. Henriksen, '32
Lewiston, Idaho, recently celebrated her 92nd birthday and her husband George's 94th birthday with their children and grandchildren. She reminisces about her days at the UW School of Nursing and considers them her fondest memories.
Wm. Ellis Ripley, '40
Carmel, Calif., participated as the "surviving scientist of Cannery Row" at a symposium held at the Maritime Museum of Monterey, which reviewed the rise and fall of the sardine industry. "The nonfeasance of industry and officials in allowing the California Sardine Fishery to collapse made Cannery Row a hollow shell of the once greatest fishing port of the United States," he writes.
Tom Coad, '42
Seattle, is the former president of Washington Newspaper Publishers Assoc.
Attention, Class of 1943
The Class of 1943 will celebrate its 60th reunion with a sit-down lunch on Sunday, Sept. 7 at the Seattle Yacht Club. The cost is $30 per person, and spouses and drivers are invited. A notice and registration form will go out in July, but if you don't get one by July 20, please call Tom Allen, '43, at (206) 522-4723 or the UWAA office at (206) 543-0540.
Herb Bridge, '47
Seattle, and his wife, Shirley, '45, have been selected to receive the E. Donnall Thomas Medal of Achievement by the Fred Hutchinson Business Alliance group. The group honors local business leaders for their extraordinary contributions to society. Bridge, co-chairman of Ben Bridge Jeweler, and Shirley, an advocate of women, children, health and human rights, will be honored at a June 14 black-tie dinner at the Washington State Convention and Trade Ctr. in Seattle.
Tau-Chao Fan, '49, '51
Seattle, is a visiting scholar at the UW, sharing his research and creative concepts in engineering. His daughter, Laurie, '84, a graduate of the UW School of Dentistry, also lives in Seattle. The Fan family is proud to have two generations of UW graduates.
Dona Lee Anderson, '50
Marysville, has been named Snohomish County's artist of the year.
Ark Chin, '50, '52
Seattle, was featured in Bill Moyers' March TV special, Becoming American: The Chinese Experience, a PBS feature on the historic saga of Chinese immigrants. Chin is a member of the UW Board of Regents.
Richard C. Wright, '50
San Rafael, Calif., recently welcomed his 12th grandchild. He has seven grandsons and five granddaughters.
Dick Hill, '51
San Carlos, Calif., is a business owner in Northern California. He enjoys skiing and never misses a Husky game in California.
Ralph Rudeen, '51
Olympia, is the former chief of interpretive services for the Washington State Parks Dept. The agency honored him by creating the Ralph Rudeen Legacy Service Award, which recognizes current or retired state parks employees or commissioners who are devoted to preserving the state's park resources.
Art Gollofon, '52
Woodinville, recently enjoyed two 50th anniversary celebrations: He and his wife, Jackie, commemorated their 50th wedding anniversary and they attended the Husky Class of 1952's 50-year reunion.
Rollin L. Hurd, '52
Kirkland, a retired dentist and author of the World War II novel Promise to Mellita, was honored by the Retired Fighter Pilots Assoc. for bravery above and beyond the call of duty while risking his life to save others.
Bob Smith, '52
Palm Springs, Calif., has completed a four-part video series on amateur defensive wrestling. His company, Legacy Productions LLC, is marketed nationally as "The Defensive Edge." His Web site is www.legacyproductions.tv.
Joseph Buckner Sullivan, 52
Seattle, had his work featured in the PBS special The Perilous Fight: America's World War II in Color, which was broadcast in February. He entered active service while he was a fifth-quarter student at the UW in May 1943, returned in 1945 and graduated with his bachelor of pharmacy in 1952. Sullivan shot thousands of feet of 16mm color film during World War II and much of his footage was broadcast in the special. Now 78, he is a retired Seattle pharmacist and 34-year Army and Army Reserves veteran.
Attention, Class of 1953
Your 50th class reunion will be held Friday, Oct. 24 during Homecoming Weekend. The planning committee is working on a series of events, including a lecture and an evening banquet. For more information, contact Suzanne Mercier at 1-800-AUW-ALUM.
James G. Newbill, '53, '60
Yakima, completed his 50th year of teaching, mostly at Yakima Valley Comm. College, where he is on adjunct status. His last publication was an article on Federal Judge J. Stanley Webster of Spokane.
Karen Wahl Hemingway, '56
Vista, Calif., retired after almost 30 years as a risk manager for the Los Angeles Unified School Dist., moved to north San Diego County and is now enjoying time with six of her nine grandchildren.
Kjell N. Holmes, '59
San Diego, retired as a construction manager in 1993 and is now involved in playing music and promoting the piano accordion. He is the president of the Local Accordion Club in San Diego.
You must be a member of the UW Alumni Association to be listed in the Alumnotes section. To join, call (206) 543-0540 or 1-800-AUW-ALUM, or visit UWalum.com on the Web.
Lee Copeland, '60
Seattle, has joined Seattle-based Mithun Architects as a consulting principal, marking his departure from Weinstein Copeland Architects, a firm he co-founded in 1993. The former dean of the UW College of Architecture and Urban Planning, he is the campus' architectural adviser.
Richard A. Perry, '61
Auburn, retired after 34 years as a general insurance agent and five years of teaching high school English and journalism. He and his wife, Sheila, have been married for 43 years and have two children and two grandsons.
Don Rhodes, '61
Santa Barbara, Calif., and his wife, Alita, '62, are happily ensconced in Santa Barbara, where Alita was born. His practice in urologic surgery is busy and challenging, and he just opened an outpatient surgery center. Alita plays the cello with the Santa Barbara Symphony and teaches.
Les Minear, '62,
Aledo, Texas, is a consultant at Lockheed Martin in Fort Worth, designing computer systems for the Joint Strike Fighter program. He previously spent 30 years in the U.S. Air Force and several years with SAIC and General Dynamics. Last year he and his wife hiked the Grand Canyon for their 45th wedding anniversary.
David F. Musto, '63
New Haven, Conn., is editor of Drugs in America, published by New York Univ. Press in 2002. He is professor of the history of medicine and child psychiatry at the Yale Univ. School of Medicine. He also teaches history and American Studies. He is also the author of The American Disease: Origins of Narcotic Control.
Richard W. Hobbs, '64
Roche Harbor, returned to the Northwest after serving as VP, professional practice, of the American Inst. of Architects in Washington, D.C., since 1990. He is now president of Strategy Design Inc.
H. Jon Runstad, '65
Seattle, has been appointed to the board of governors of Fred Hutchinson Cancer Research Ctr.'s Business Alliance, which assists the cancer center in cultivating supporters from various industries. Runstad is co-founder, chairman and CEO of Wright Runstad & Co., developer and manager of large-scale and suburban office buildings in the western U.S. He was a UW regent from 1987-1998 and president of the UW Alumni Association in 1982-83.
Ron Van Pool, '65
Federal Way, was elected president of USA Swimming, the national governing body of swimming for the U.S. Olympic Committee. A swimming official for the 1996 and 2000 Olympics, he is on the USOC board of directors. He retired from Weyerhaeuser after 34 years and enjoys time with his wife, Jackie, '72.
Bob Gerth, '66
Mercer Island, has been appointed to the board of governors of Fred Hutchinson Cancer Research Ctr.'s Business Alliance. He was the chief operating and financial officer for AuBeta Networks Corp. and previously was office chairman and managing partner of Deloitte & Touche in Seattle.
Tulin Baydar Idemen, '66, '89
Seattle, celebrated a memorable 60th birthday with his old dorm roommates. They took a trip to Long Beach in an old '78 VW Rabbit to celebrate with his younger son, Relia. He works as a school psychologist for the Everett School Dist.
Clayton J. Radke, '66
El Cerrito, Calif., received the 2003 Award in Colloid Chemistry from the American Chemical Society for his innovative research of interfaces-surfaces such as those between a contact lens and the eye. He is professor of chemical engineering at the Univ. of California, Berkeley.
James Baird, '67
Denton, Texas, was elected president of the Robinson Jeffers Assoc. Jeffers, a California poet, lived from 1887-1962.
Larry L. Dykes, '68
Bellevue, is a radio talk show host, producer and reporter for radio station KOL 1300 AM. He also works as an executive recruiter for Bellevue Specialty Financial.
Georgie Bright Kunkel, '68
Seattle, was honored in the ceremony "Homage on the Hill," which was excerpted for a TV spot during Mother's Day Week last month.
Eleanor Elizabeth Owen, '70, '73
Seattle, received the Jefferson Award in 2000 from the Seattle Post-Intelligencer for her work on behalf of the mentally ill. She was named outstanding member of the Natl. Alliance for the Mentally Ill in 2000 and founded the Washington Advocates for the Mentally Ill.
Jim Whitesel, '70, '73
Kirkland, was an athletic trainer for 32 years, including 23 years as head trainer for the Seattle Seahawks. He now owns and operates Whitesel Pro Therapy, a physical therapy and athletic training service facility in Kirkland.
Nancy Nicholls Sutherland, '71
Mill Creek, works as a school nurse at Cedar Valley Comm. School and coordinates nursing services as the health services dept. chairperson for the Edmonds School Dist.
Ron Zinter, '71
Littleton, Colo., retired from Safeway after a 38-year career. He started as a store manager and worked his way to corporate VP of retail operations. He plans on a second career in legal and business consulting while perfecting his fly-fishing skills in his spare time. He and his wife, Lorri, '83, have two children: Brett, 19 and Katie, 18.
Jocelyn Curry, '72
Shoreline, had her art exhibit "Uncommon Manuscripts" on display at Edmonds Comm. College through mid-February. Her daughter, Emily Asher, is a 5th year music student and was named a Mary Gates Scholar.
Jim Dotson, '72
Everett, has marked 30 years of work in the electrical utility industry. He and his wife, Wanda, have been married for 33 years and have five children. Daughter Angela is a dental student at the UW.
Andrew Michels, '72, '75
Gig Harbor, joined the Port of Tacoma as risk manager. He is responsible for safety and accident prevention programs, insurance and works compensation claims.
Tita Montero, '72, '74
Seaside, Ore., earned a master's degree in librarianship to fulfill a goal of being a children's librarian-but it never happened. She spent 24 years in health-care administration before fulfilling a longstanding dream by opening up Montero Sisters Fabrics & Creative Inspiration with her sister-in-law in 2002. The company provides fabrics for fashion sewing, quilting and home décor as well as yarns, notions, book patterns and classes for textile arts.
Geoffrey William Rowe, '72
Normandy Park, will celebrate his 40th wedding anniversary soon. He has two daughters and four grandchildren. He negotiated government contracts for Boeing, served as director of sales and marketing for Advanced Technology Labs and is supporting various start-ups now.
Marilyn Bennett, '73, '82
Tacoma, taught theater for 18 years in New York but moved back to the Pacific NW and is now a director of Kemper Ctr. Theatre at Annie Wright School in Tacoma. Her husband, Peter Pendras, '76, is a teacher and musician.
Anne Church, '73
Boise, Idaho, returned to her hometown as a pediatric nurse practitioner at the Developmental Pediatrics Clinic at the Children's Hospital at St. Luke's. She earned her Doctor of Nursing at Case Western Reserve Univ. and worked on the Navajo Indian Reservation for nearly three years.
Peter Hardwick, '73
Brechin, Ontario, is the author of British Organ Music of the Twentieth Century, published in January by Scarecrow Press. His book focuses on composers' works, musical styles and possible influences on specific compositions. Although retired since 1998, he continues to play the organ and direct music at the Church of the Master in Toronto.
Sharon Prieve, '73
Everson, reports that after retiring a few years ago, she has a new career as a volunteer long-term care ombudsman and as a Delta Society Pet Partner, Pet Partner Evaluator and Instructor. Pet Partner teams arrange for people to bring dogs or cats to visit residents of long-term care facilities. She visits with her English Mastiff, Chai.
Janet Quimby, '73, '76
Vashon, has been promoted by the Port of Tacoma to director of contracts and risk management. She is responsible for all port purchasing, risk management programs, safety and all port contracts.
Anne L. Ellington, '74
Seattle, received the President's Award from the Natl. Assoc. of Women Lawyers. She has served as a judge of the Washington State Court of Appeals since 1995 after 11 years as a King County Superior Court judge. She was named Outstanding Judge by the Washington State Trial Lawyers in 1992, Washington Women Lawyers in 1994 and the King County Bar Assoc. in 1994.
Nancy J. Johnson, '74
Seattle, professor of children's literature at Western Washington Univ., received the Arbuthnot Award from the Intl. Reading Assoc. This award is given to a college or university teacher from around the world for inspiring the reading of children's literature.
Barbara Laws-Vanderpool, '77
Ketchum, Idaho, is the broker and owner of Vanderpool Properties Real Estate in Sun Valley, Idaho. She sells primary and vacation homes as well as condos. "Please give me a call if you are in Sun Valley," she writes.
James Hirsh, '78
Dunwoody, Ga., is professor of English at Georgia State Univ. His latest book, Shakespeare and the History of Soliloquies, will be published this year by Fairleigh Dickinson Univ. Press.
Betty Houchin Winfield, '78
Columbia, Mo., was appointed as a Univ. of Missouri Curators' Professor in January. A professor of journalism and adjunct professor of political science at Missouri since 1990, she is a nationally known White House scholar and is the author of three books, including FDR and the News Media.
You must be a member of the UW Alumni Association to be listed in the Alumnotes section. To join, call (206) 543-0540 or 1-800-AUW-ALUM, or visit UWalum.com on the Web.
Brian J. Park, '80
San Diego, worked in quality engineering for more than 20 years before becoming a regulatory specialist for the Interventional Technologies Div. of Boston Scientific's San Diego office. He and his wife, Sue, have two daughters, Carissa and Emily.
Michael Eshelman, '81
Seattle, and his business partner, Rob Danforth, '77, head up Seattle-based FSI Consulting Engineers. The company provides mechanical engineering services for the U.S. Navy, state of Washington, city of Seattle, the UW, and other commercial, institutional and industrial clients.
Kevin Hansen, '82
Kirkland, and his wife, Kimberlee, had a baby boy, Kallen, in July. He has two other siblings, Kyle and Kaylee.
Ann Suter, '82
Seattle, is the new executive director for Seattle Community Access Network, a non-profit developing community TV for the King County region.
Keith Lehto, '84
Victoria, Texas, has become publisher and majority owner of The Sporting Times. He previously served as a publisher, GM and joint venture partner with the Hearst Corp.
Sean Harrington, '85
Yakima, is president of Developing Human Capital, Inc., a consulting firm that helps individuals and business meet their true potential. In 2002, he was named a senior consultant of the Global Consulting Partnership.
Bradley Kitchens, '85
Plantation, Fla., has been named chief human resources officer of NCCI Holdings, a Boca Raton-based company serving the workers compensation industry. She worked in financial services, retail, electronics and manufacturing. Most notably, she served as VP of human resources for Starbucks Coffee.
Patti Howell, '86
Seattle, celebrated the first anniversary of her business, PJ's Paws and Claws, a "unique gift shop for dogs, cats and people" in Magnolia. Despite the shaky economy, she reports that PJ's sponsored two charity events during the Magnolia Village Summer Festival and Holiday Open House, raising nearly $1,000 for the Help the Animals Fund at the Seattle Animal Shelter. PJ's Paws and Claws donates 5-percent of its profits to animal rescue and adoption agencies in King County.
Alan Huston Rawn, '86, '93
Seattle, returned to Seattle after teaching at the Univ. of Alberta. He helped start up the NW Society for Classical Studies, a non-profit organization devoted to the classics.
Debra Hemingway, '87
Seattle, is a financial assistant for the Foundation for Russian American Economic Cooperation after devoting 15 years in business and as a home-schooling parent.
Todd T. Wallace, '88
Anchorage, Alaska, is senior director of sales-Alaska for Evergreen Intl. Airlines, Inc. His wife, Janet, works for Alaska Airlines, and his son, Tim, 18, attends Notre Dame on a hockey scholarship.
Agnes Borbely, '89
Honolulu, is deputy director of base training and education services at Hickam Air Force Base while her husband, David, '89, finishes his tour as a flight safety officer. "Believe it or not, we miss the Northwest climate! Eighty-five degree temperatures get boring after a few years," she writes.
Bob Ferguson, '89
Seattle, is taking a leave of absence from his work as an attorney at Preston Gates and Ellis LLP to run for King County Council. A former ASUW president, he is seeking a council position in Dist. 2, which includes the "U" District.
Calvin Johnson, '89
San Diego, is assistant professor of physics at San Diego State Univ. In 2000, he married Donna Perdue, '99, in Florence, Italy.
Mike Quigley, '89
Danville, Calif., left Infospace last summer to become VP of marketing for PC Studios for Electronic Arts, a Redwood City, Calif., company that is known for such products as Sim City, The Sims and EA Sports Madden NFL Football.
You must be a member of the UW Alumni Association to be listed in the Alumnotes section. To join, call (206) 543-0540 or 1-800-AUW-ALUM, or visit UWalum.com on the Web.
Stephen J. Ogden, '90
Reynoldsburg, Ohio, married Amy Vollmer on May 11, 2002. They are expecting their first child in June. "I cannot wait until Aug. 30, when the Dawgs invade Columbus," he writes.
Shelby Varden, '91
Renton, has been promoted to human resources director for Cucina! Cucina! restaurants.
Mitra Ehsan, '92, '96
Bellevue, opened a private practice in colon and rectal surgery at Overlake Hospital with her husband, Harold Prow, a radiologist.
Melissa Harris, '92
Kent, is engaged to Marcus Rohlfs of Tacoma. The couple will marry at the Thornewood Castle in Lakewood this summer. The castle was the star in the recent Stephen King movie Rose Red.
Tamara Strickland Rogers, '92
Seattle, and her husband, Keith, celebrated the first birthday of their second daughter, Nicole, on Sept. 24, 2002.
Michelle Walker Rudd, '92
Seattle, joined Wells Fargo Private Client Services as a VP and private banker. A Seattle native, Rudd has 13 years' experience in financial services.
Tracey Calkins-Lassus, '95
Port Angeles, is a deputy prosecutor for Jefferson County. Her younger sister, Stephanie, is a UW freshman and member of the Husky Marching Band.
Rob Ciro, '95
University Place, is regional director of Frank Russell Securities.
Zia Uddin, '95
Spokane, operates an online business called Cobalt Cable with John Coleman, '98. The company specializes in premium audio and video cables for home theater and audio enthusiasts.
Ben Martinez, '96
Whittier, Calif., teaches business education at Lynnwood High School in Lynnwood, Calif.
Kari Lawler Walker, '96
Kent, was named the 2002 Internal Wholesaler of the Year for Safeco Life and Investments. She married Mike Walker in 2001 and they are now remodeling their West Hill home.
Michael Myers, '97
Cosmopolis, has been the wastewater systems manager for the City of Aberdeen since 1997. He recently was awarded the Pacific NW Clean Water Assoc.'s Lyman Ketcham Award for his outstanding contributions to wastewater maintenance and operation.
Jennifer Strohl, '98
Kirkland, and her husband, Mike, '98, announce the arrival of Tyler Josef Strohl on Dec. 26, 2002. They also have a son, Colby, 2. Mike works at Braxton (formerly Deloitte Consulting) while Jennifer is taking time away from the business world to stay at home with their two children.
Heather Alexia Wellons, '98, '00
Los Angeles, is engaged to Benjamin Ezra Andrews, '98. She is an editor and writer for Universal Studios' creative department. He is a writer and Web designer at Comcast. They plan a May 2005 wedding.
Keisha Griffis-Frost, '99
Bloomington, Ill., is director of communications for the Girl Scouts of Centrillio Council. Her husband, Rashan Frost, coaches the defensive line for Illinois State Univ.'s football team.
Allison Marquardt George, '99
Bellingham, is working on her master's degree in counseling at Western Washington Univ. She and her husband, Edd, '99, live in Bellingham with their three cats and four birds. In her spare time, she works for a crisis hotline for the homeless and at-risk youth.
Carrie Norbeck, '99
Beibei, China, married Brandon LaDoux, '01, on April 28, 2002 in Tacoma. Both are serving as Peace Corps volunteers in China. Carrie is an environmental education volunteer and Brandon teaches English at China's Southwest Agricultural Univ.
Sarah Dulaney, '00
Portland, Ore., joined Portland's L'Arche Nehalem community, where she lives and works with developmentally disabled adults. She performed her own solo work this spring for The Dance Cartels' Spring Choreographers Showcase. She also teaches dance to grade-school students and teaches aerobics at the YMCA.
Gwen Gyldenege, '00
Belleville, Mich., is finishing up her second year at Ford Motor Co. She enjoys watching the sunset on the lake with her two kittens.
Natalie L. Kimball, '01
La Paz, Bolivia, is in South America researching women miners and religious traditions under a Fulbright Grant.
Andrew Hicks, '02
Seattle, is the winner of the Inn at Deep Canyon/Columns Sweepstakes found in the December issue of Columns magazine. He won a Wilson golf bag, a titanium Redbird driver, a two-night stay at Inn at Deep Canyon in Palm Desert, Calif., and a $150 Made in Washington gift certificate.
Lauren Selig, '02
Seattle, is a trustee on the Seattle Repertory Theatre board. She works for Martin Selig Real Estate.
Jasmin Weaver, '02
Seattle, has been selected from 11 George J. Mitchell Scholars in a nationwide competition for a year of postgraduate study at universities in Ireland and Northern Ireland. She plans on studying equality studies at University College in Dublin. She was president of the ASUW.
You must be a member of the UW Alumni Association to be listed in the Alumnotes section. To join, call (206) 543-0540 or 1-800-AUW-ALUM, or visit UWalum.com on the Web.
---
Submit a Class Note
Tell us what major events have happened in your life: a new job, marriage, children, retirement, advanced degrees, you name it.

Submit an Obituary
Please let us know if a UW alumnus has died. Be sure to include date of death, place of death and age along with the UW class year (if known).

Update Your Records
Moving soon or know someone else who has? Let us know so that we can keep Columns coming to you.

Contact Information
Columns Magazine
1415 N.E. 45th Street
Seattle, WA 98105
Phone: (206) 543-0540
Fax: (206) 685-0611.
E-Mail: columns@u.washington.edu