From the President
The Liberating Power of Private Scholarships
Does the phrase "financial aid" make your eyes glaze over? Does it conjure up a gray realm of forms, bureaucracy and accounting?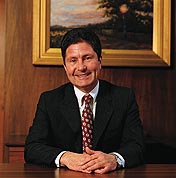 ---

UW President Richard L. McCormick. Photo by Mary Levin.

---
Think again. Some of the most vital issues in higher education today are bound up with questions of financial aid. Whom should we be educating? How do we balance the legitimate claims of "merit" (we've learned to be careful of that term), need, and diversity? How can we make sure the low-income, first-generation student from Omak gets as much from his years at the UW as the daughter of a Microsoft executive? When can creative uses of financial aid help advance our larger educational goals?
All these questions are made more urgent by the current economic situation. At the UW, as at public universities all over the country, cuts in state funding will mean significantly higher tuition. For many Washington families, UW tuition will remain very affordable. And, commendably, the Legislature also increased the state's need-grant program.
But as tuition goes up and more of the cost of public higher education shifts to students and their families-a long-term national trend-private scholarship funds become a crucial tool for achieving the goals of public education.
For example: in our current financial-aid program, which depends largely on federal and state funds and their aid formulas, 64 percent of aid is awarded in the form of loans. For many needy students, loans are a second-class ticket to the UW. To minimize their eventual debt (now averaging $15,000), these students take outside jobs, have less time to study, participate less in campus life, and don't even consider studying abroad or participating in faculty research or majoring in "impractical" fields. The University, in turn, loses the full engagement of these students. In fact, it loses many of the best of them altogether. Other universities can offer full scholarships to low-income, high-achieving students. Here, with only about 10 percent of our financial aid in the form of private scholarships, we can make such offers only to a very few.
This is the reality behind our dream of raising a large endowed scholarship fund for undergraduates. What if we could offer full scholarship support to every student with significant need for his or her first year? How might that boost both the quality and the diversity of our student body? How might it expand the intellectual horizons of students who would otherwise be hemmed in by financial concerns? What impact might it have on classroom atmosphere and campus community-that is, on the education of all our students?
And what if we could give needy students, throughout their UW careers, the extra support that would open up to them the richest, most meaningful educational experiences we have to offer? A quarter in South Africa with the Comparative History of Ideas program, a year working in a faculty lab in biochemistry-these are the kinds of opportunities that UW students consistently credit with their deepest learning. At a public university, such opportunities should be accessible to all who seek them.
The great success of the University's Mary Gates Endowment has opened our eyes to the value and possibilities of imaginative financial aid. Since 1996, honors scholarships, research grants, leadership grants and venture grants funded by the endowment have helped more than a thousand undergraduates discover their true potential. And through that relatively small number, the endowment has changed the University itself. It has been, in effect, a pilot program for raising student aspirations and expanding faculty ideas about how to prepare students for a changing world.
Privately funded scholarships can meet needs and leverage innovations that public financial aid, essential as it is, cannot. I applaud the UW Alumni Association for making scholarships one of its three main areas of focus. There is no better way to keep the UW moving forward.

Richard L. McCormick, President