Couple Who Died Tragically in Plane Crash Honored for Their Service to UW
Over the 31-year history of the UW Alumni Association Distinguished Service Award, this honor has gone to alumni volunteers, regents, UW administrators, retiring alumni directors and even to organizations such as the Husky Marching Band or the University Book Store. It is the highest honor the UWAA bestows upon its volunteers and members. But it has never been given posthumously, which makes this year's honor a bittersweet occasion.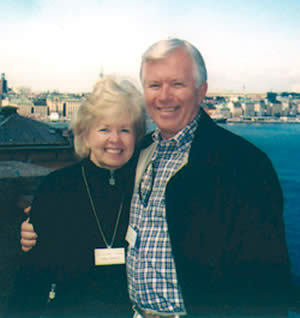 ---
Judy, '62, and Geoff, '65, Vernon.
---
For their three decades of service to the University and the UW Alumni Association, the UWAA is presenting its 2002 Distinguished Service Award to Geoff, '65, and Judy, '62, Vernon, who made a difference in the alumni organization and the University through their volunteer work. The couple, along with 14 other UW alumni and fans and three crew members, died Sept. 12, 2001, in a sightseeing plane crash in Mexico (see "Remember the Huskies," Dec. 2001).
At the time of their death, President Richard L. McCormick noted that both were "enthusiastic and prominent" members of the UW community. "Their death, and the deaths of those traveling with them, is a heavy blow to us all," he said.
Geoff Vernon served as president of the UWAA Board of Trustees in 1999-2000, a time of transition for the 50,000-member organization. "He had to make tough decisions," recalls his brother, Bart Vernon. "He improved the professionalism and made it more community friendly."
Prior to that, he had served as vice president and president-elect of the organization, taking the lead on two projects: plans for a new Gateway Center to house alumni offices, a student welcome center and other UW outreach services; and a strategic plan to take the UWAA into the new century.
During his first term on the alumni board, from 1989-92, Geoff Vernon was a founding member of the Columns Advisory Committee. As a magazine publisher himself (CEO of Vernon Publications in Bellevue), he knew the ins and outs of publishing and guided the magazine in its early stages.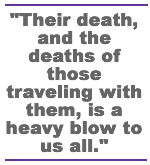 He and Judy also had been members of the Tyee Club since 1977 and held season tickets to Husky football for 26 years.
"Judy was heavily involved in all his decisions and where they should spend their volunteer time," Bart Vernon recalls. "As much time as they spent with volunteer organizations, they always felt they got more good out of it than they gave. They really loved what they were doing."
The Vernons were members of many public service organizations and Geoff Vernon served in leadership positions or on the boards of Seafair, Seattle Rotary, Seattle-King County Red Cross, the Greater YMCA of Seattle, 101 Club, Hope Heart Institute, Seattle University and Associated Construction Publications. Bart Vernon said that his parents instilled the value of public service in all three of the Vernon children.
Their father also instilled a love for the University of Washington, even though he was not a alumnus. "My father was a Husky fan. He was enamored with the UW and its football team. Every Saturday we would park by Greek Row and walk across campus to the football games," says Bart Vernon.
But there was one point where that Geoff Vernon might not have attended the UW, his brother says. "Geoff had been accepted to West Point, but he turned it down. He would have been separated from Judy." Judy Kjellberg and Geoff Vernon were high school sweethearts and the distance was too great to bear. That romance continued all their lives-they had been married 38 years at the time of their deaths. They are survived by their two sons, Greg and Trevor.
In their honor, a memorial fund has been established by the University of Washington Alumni Association. Donations may be sent to the UW Alumni Association, 1415 N.E. 45th Street, Seattle WA 98105.