Karen Sullivan-Schwebke
Tri-Cities
Karen Sullivan-Schwebke, '78, '87, had barely unpacked her bags after moving back to her native Eastern Washington (she'd been away for more than 20 years) when she called the UW Alumni Association offices in Seattle.
---
Karen Sullivan-Schwebke, '78, '87.
---
"It was the second call I made after moving back," she says. "I got involved with the local alumni chapter the minute I got here."
After helping out at local alumni chapter events such as Coaches Tour for a few years, Sullivan-Schwebke took over as the leader of the Tri-Cities chapter a year and a half ago. Today, the self-employed arts promoter is working to get new, young UW graduates who relocate to the area involved in chapter events-just like she did in 1998 after living in Seattle and Orlando for two decades.
"There are a lot of new Huskies in the area, and most of them are scientists being recruited to work here in the Tri-Cities," she explains. "We have to find a way to attract them."
Toward that end, she is spearheading an effort to broaden the range of programming, which traditionally has been sports-oriented. "We need to diversify from football and golf parties," she says. She wants to add events like wine tastings and lectures.
"I really want people to remember and recognize how great the UW's academic programs are," she says. "It's really important for us to expand our profile here in Eastern Washington."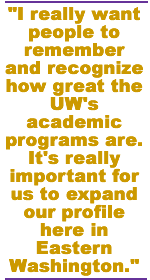 That's a challenge, given that the Tri-Cities are in the heart of Cougar country. But it's one the determined mother of two is sure she can overcome. After all, her lobbying efforts brought radio broadcasts of Husky football games to a local station that carried the Cougars for years, forcing Cougar broadcasts to another station.
She regularly sends out e-mail updates on what's happening at the UW to the 350 dues-paying UWAA members who live in the area. And she writes personal notes to all new UW graduates who relocate to the Tri-Cities. "It's really important to engage new alumni," she says.
The next big UW gathering in the Tri-Cities will be a visit by President Richard L. McCormick and about 30 new UW faculty members. The "Welcome to Washington" event will be held at 6:30 p.m., Wednesday, June 19 at the Red Lion in Richland. New students, current UW students, parents and alumni are invited to meet with President McCormick's group. To contact Sullivan-Schwebke, call (509) 582-2732 or e-mail schweet4@msn.com.