Young Alumni Connect through New Services
The University of Washington Alumni Association is embarking on a major effort to better serve alumni who graduated from the UW in the past 10 years. The UWAA recently conducted a survey of nearly 4,000 young alumni to get their input about the alumni association, find out what kind of programs they want, and ask how the association could serve them better. The survey couldn't have come at a better time. Attendance at events for young alumni has fallen off in recent years. And with 46,000 young alumni--who graduated from 1992 to the present--in King County who are not regular participants in UWAA events, the alumni association needs to devise new ways to serve this growing group.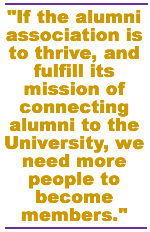 Results from the survey show that recent graduates want discounts to entertainment in the Seattle area and more member benefits geared to their age group, such as e-mail services, home buying and investment strategy classes, grad school preparation and career programs.
Younger graduates also said they want more diversified programming instead of events oriented around Husky sports. Many said they were interested in arts and sciences lectures, museum tours and other UW learning opportunities. Many also reported not being aware of current UWAA programming.
In response, alumni staff will develop new communications-including print pieces and e-newsletters, as well as making a concerted effort to collect e-mail addresses-and events specially geared for younger alumni, such as career programming and educational lectures put on by the UWAA and College of Arts and Sciences. In addition, the UWAA will offer significant discounts on Seattle-area entertainment venues, attractions and events through The Fountain, a newsletter for UWAA members.
The alumni association is also staging a wide range of on-campus events-social events, networking opportunities and "life after college" seminars for seniors-to introduce students to the UWAA, show the benefit of membership in the organization and demonstrate that alumni care about the student experience.
"If the alumni association is to thrive, and fulfill its mission of connecting alumni to the University, we need more people to become members," says UWAA Executive Director John Buller, '69, '71. "The revenue we get from memberships allows to us develop more programming for young alumni."
UWAA officials plan to further explore the reasons young alumni have not participated in events and activities by talking with young alumni and former board members of the Young Alumni Club.
Alumni who have graduated from 1992 to the present are still invited to fill out the Young Alumni Survey. It is available on the Web at UWalumsurvey.com.
For more information on the UWAA, its programs for young alumni, Husky Career Advantage, contact Courtney Acitelli, the alumni relations manager for special interest programs, at (206) 543-0540 or visit the UWAA Web site at UWalum.com.