Letters to the Editor
June 2002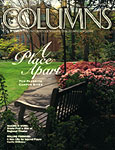 ---

Cover of March 2002 Columns

---
Block the View? Never!
As a longtime Husky-in-exile in the East, I nearly wept with nostalgia while looking at the beautiful photos of the 10 favorite campus sites (""A Place Apart"). I can suggest no change to the list. The pictures evoked a thought: Have you noticed that no one ever suggests (1) a building that would block the view from Rainier Vista, or (2) closing the east end of the stadium to provide more seats?
Don Mack, '48
Truro, Mass.
Monstrosity Butts In
Interesting that you should feature Rainier Vista as the first of your 10 favorite campus settings. When I returned to campus recently, I was startled to see the new Computer Science/Electrical Engineering Building butting up against the southeast corner of Frosh Pond. This monstrosity has totally changed the wild, wide-open feel of the view down to Rainier. It's probably no accident that your photo was taken along a narrow path on the west edge of Red Square.
Paul Murtaugh, '81, '89
Corvallis, Ore.
Trees for Peace
Thank you for the article recently on the special places, like the Quad, at the University of Washington. In the article, there was a request to nominate additional places for attention. I would like to call one location to your attention which was not mentioned. On N.E. Campus Parkway, the median includes an International Peace Grove of Trees. This grove originated during the World's Fair in 1962 and the Fifth International Forestry Congress. In the parkway, there are trees from many countries of the world. Because it is in the parkway, there may be no recognition of the role of the University in the grove, yet it graces the median between Terry-Lander and Condon halls. Because the grove was planted to emphasize world peace, it is symbolic of the need for international friendship. The signs on the trees have, in many cases, fallen into disrepair. In some cases, the signs are no longer there. The trees themselves have grown at differential rates, so that some trees are more mature than others. Some trees naturally grow larger than others. I do hope that more attention to this grove can put it back into shape for display. It is an important potential symbol of the interest in international peace, friendship and respect.
Dave Gaarder, '88
Seattle
Editor's Note: Accoring to Campus Landscape Architect William Talley, there are no plans at present to restore the International Peace Grove.
Why Grieg Has a Shiny Nose
The statue of composer Grieg has a shiny nose because he used to sit on a lower pedestal in the HUB Yard at the end of what was known as "Hello Lane" and, yes, freshmen were supposed to rub it for good luck. Hello Lane was so named as freshmen were supposed to introduce themselves to each other, welcoming each other to campus. Hello Lane (which went from the steps between Smith and Miller diagonally across to the Hub Yard) was there until about 1991, when that corner was used by the construction company as a staging area for the building of the Allen Library. (Plants were wrapped and shoved into this area for "storage" during construction; the Grieg Garden is the result of a new landscape design.) I've noticed that his nose is not as shiny as it used to be!
Dean Speer
Seattle
Editor's Note: We have found no record of "Hello Lane." According to the campus art administrator and UW Police, some fraternity members polish the nose as part of their chapter's campus traditions.
Splendid Spots
The March 2002 issue of Columns was particularly enjoyable to me. Since graduation in 1948, it has been a delight to visit the UW campus and show it off to friends and relatives. It is truly a beautiful place and I know how difficult it was to select only 10 of the many splendid spots.
However, I experienced two disappointments three or four years ago when, during commencement Saturday, I saw hundreds of people crossing the campus. Everything was closed tight, except the dreadful Henry Art Gallery, where the addition looks most like a cheap subway station. Beautiful Suzzallo Library was locked and the HUB might have had a Coke machine, but no food service. I would think it would be nice to show off the campus at least during festivities of commencement. This should be a prime concern of the UW Alumni Association, not only for alumni members but also to attract graduates who are not now members.
But I was delighted to read that the Suzzallo Library is being renovated. The last time I visited, before renovation started, the wonderful main reading room with unkempt shelves, plywood partitions and general tackiness looked totally abandoned. I hope now it will not be an embarrassment to visit.
Allen J. Johannesen, '48
Portland, Ore.
Splendid Spots
The March 2002 issue of Columns is beautiful, outstanding. Thank you. How well I remember enjoying the Quad, especially in springtime during my daily passages to the art building. You are right, it "is a spiritual experience."
Mary Balcomb, '71
Silverdale
Splendid Spots
I wanted to thank you for your article "A Place Apart" in the March Columns on favorite campus sites. In July of 1995 my husband and I were married in the Grieg Garden, so imagine our surprise and delight when your magazine arrived with the picture of the garden on the front cover. Our reception was held in the Faculty Center, as was the reception of my sister and brother-in-law in 1983 and my grandparent's 50th anniversary party many years ago. As a member of an extended family of alumni and the daughter of a UW professor, I grew up enjoying all of the special places you showcase so beautifully in your story. The University of Washington is truly a place apart. Thanks for the wonderful trip down memory lane!
Lara Konick Mann, '86
Ashland, Ore.
Everything Was Fascinating
The March edition of Columns came yesterday - the best one I can remember. You asked for "favorite places." As a transplanted Californian, back in 1935 the whole campus and everything in between the fountain and where I was living in Montlake was fascinating.
In those days there was an overgrown woods somewhere down a hill from the music building. I was told the rotting bleachers amid the wild vines had been a part of a celebration that welcomed President Theodore Roosevelt to the campus. That wooded "dell" was the favorite picnic spot for a group of us from the music department spring and summer quarter. I am sure there are three or four buildings there now.
Like you, I came across the columns accidentally-and was completely charmed. They looked so pristine in front of those dark trees in the background. Seldom were there any people there.
Grieg's bust was in a nook beside Old Meany Hall amid a group of either aspen or poplar trees - the kind that have the scintillating leaves that were like golden coins in the autumn. Grieg's nose often was the perch for birds, but was not shined, as it seems to be in your picture. My sanctuary was in the Meany basement, where my practice piano was a Chickering concert grand that had been on the stage during the Alaska-Yukon-Pacific Exposition in 1909.
I discovered canoeing during summer quarter. My date (a Navy ROTC) was a lousy paddler - but canoeing remained a favorite pastime when my husband and I returned to Seattle a few years later.
Keep up the excellent work on Columns!
Dorothy D. Stotsenberg '36
Malibu, California
Where's the Sequel?
I thoroughly enjoyed your article on the best campus spots. It brought back several memories of campus life and will entice a future visit with my family in the spring. So folks, when's the sequel coming: 10 favorites places inside buildings on the campus? I'll start it off for you: the cubby holes in the South Campus Center (if they are even still there), and the second floor lobby of Kane Hall under the powerful WPA mural. Take it away...
Doug Thomas, '85
Mountlake Terrace
Another Viper at Our Bosom?
Killing and torturing innocent civilians are abominable acts. Doing so in the name of God is the ultimate blasphemy. But to stop these abominations, military action is not enough. Neither is unilateralist "hard power," as Joseph S. Nye Jr., dean of Harvard's Kennedy School, points out in his new book, The Paradox of American Power. We must understand what motivates the terrorists and why large numbers of the world's population support or sympathize with them.
To think that the latter are prompted by mere envy of our materialist riches, Cadillacs, TV watching and church going is na´ve in the extreme. They, too, have their ideas about religious truth, freedom and justice and they resent it when we preach to them, but don't live up to our own. President McCormick was absolutely right in pointing out that we have work to do in these areas.
By now it has become perfectly clear, contrary to Mr. Clocksin's assertions (see "Of Good and Evil," Letters, March 2002), that this is indeed a war--albeit unconventional--about differences in culture and politics, even territory and economics. After all, the Pax Americana is extended into the oil- and gas- rich central Asian states as we speak. Only this time, the same people against which our CIA organized the al Quaeda and Islamic Movement (see Ahmed Rashid's illuminating book, Jihad) are now our friends. Unfortunately, some of these friends still preside over dictatorial governments that still torture and imprison people without due process or benefit of trial.
When the U.S. "remands" prisoners to some of our allies for interrogation, including torture, because these folk have no legal constraints on violating human and civil rights, we too, become complicit in crimes against humanity. Yesterday, we overlooked the savagery of Saddam Hussein and Osama bin Laden as the price for doing our bidding. Today we fete criminals like A. Karimov of Uzbekistan in Washington. Are we nourishing another viper at our bosom that will later bite us? So much for Mr. Clocksin's simple-minded and disjunctive division of the world into good and evil.
Franz Schneider, '59
Aberdeen