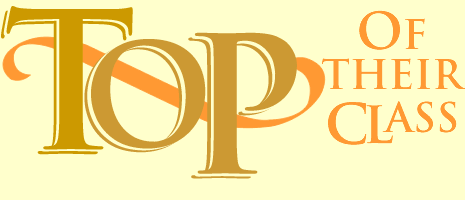 Distinguished Teaching Award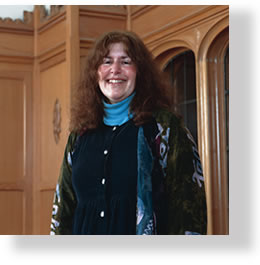 Carol Zander
"My approach to education can be summarized as a 'tough love' approach," says Carol Zander, senior lecturer in the computing and software systems program at UW Bothell. "My teaching efforts center around sharing my joy of computer science and mathematics, and helping students to develop the skills that enable in-depth problem solving and continuous learning. And I don't believe you can acquire these skills without a lot of hard work and effort. So I am demanding, but I also strive to be approachable, supportive, and caring."
Zander says that while she does have high expectations of her students in the classroom, she finds that they not only rise to the challenge, but ultimately excel because of those expectations. "I try to instill in them a sense of pride in their work," she says.
In other words, she demands that students care. In return, she cares more. "They want me to care enough to give them good work so that they can learn," she says. "They want me to care enough to explain things differently until they get it. They want me to care enough to answer e-mail on the weekend and all hours of the night." Ultimately, Zander says, "my students want to know that I think that they can succeed in this difficult field."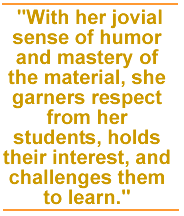 Numerous letters of support from students and faculty mentioned Zander's supportive classroom skills for teaching complex material and her significant out-of-class availability. It is this support and industry know-how, along with the confidence that she instills in her students, that makes her so popular.
"With her jovial sense of humor and mastery of the material, she garners respect from her students, holds their interest, and challenges them to learn," says student William Kallander. "She grades herself constantly by the success of her students. I have darkened her door at ten at night to seek guidance on a project or assignment and have been received with a smile and helpful advice. I am not unusual in this regard."
Zander says she takes a special interest in helping female students navigate the sometimes difficult waters of a male-dominated field. "In a male-dominated field, I assure female students that it is okay to communicate and collaborate as they do."
UWB student Camille Scott has found Zander's mentoring skills and teaching commitment to be invaluable in her journey toward a degree in computing and software systems. "As a female in a male-dominated field, Dr. Zander is a refreshing and remarkable mentor and adviser," says Scott. "I have often sought her counsel when making academic and career choices. Her voice gave me support, encouragement, and excellent guidance. My experience in the CSS program was infinitely better because of her involvement."
For Carol Zander, it all comes down to helping students achieve their potential without losing sight of the elegance that remains at the core of computer science.
"Along the way, I try to always interject this field as an art," says Zander. "Besides the technical concepts, there is beauty in many of the problem solutions. I never want students to lose sight of the beauty."—Cynthia Scanlon, UW Bothell