Extras
HANS NEURATH
1909-2002
Hans Neurath, one of the towering figures in the field of biochemistry and the founding chairman of the biochemistry department at the University of Washington, died April 12 of heart failure. He was 92.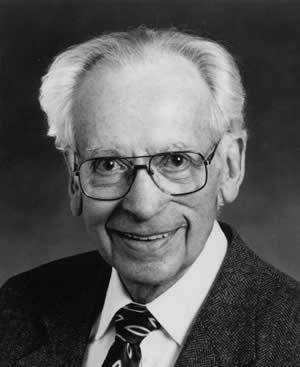 ---

Hans Neurath. File photo.

---
Born in Vienna, Austria, in 1909, Neurath taught at Cornell and Duke before joining the UW School of Medicine faculty in 1950 to head up the new department. Under his guidance, the UW biochemistry department grew to be one of the most respected in the nation. Three faculty members from Neurath's department went on to be awarded Nobel Prizes in physiology and medicine. Says Professor Emeritus Edwin Krebs, who shared the 1992 Nobel Prize with colleague Edmond Fischer: "He created the type of scientific environment that enabled us to do the work we did."
Neurath became scientific director at the Fred Hutchinson Cancer Research Center in 1975, doing research on proteins and enzymes at the UW. His research included the study of proteolytic enzymes or protein catalysts that digest protein in the foods people eat. His research was supported for more than 46 years by the National Institutes of Health, which ranked him as the longest recipient of its research grants in the nation.
Neurath was named scientific director of the German Cancer Research Center in Heidelberg when he was 71. He spent two years there before returning to the UW as professor emeritus.
In 1961, Neurath, author of more than 400 publications, and founder and editor of the journal Biochemistry for 30 years, became the first UW faculty member to be elected to the National Academy of Sciences. At the age of 81, he founded another journal, Protein Science, where he was editor until 1998.
An avid mountaineer, he loved to ski and hike and was an accomplished pianist. He also served on the national science planning board of the 1962 Seattle World's Fair.
He is survived by his wife, Susi, his son Peter, stepchildren Margaret Albrecht and Frank Meyer, and three step-grandchildren. Remembrances should be sent to the Medic One Foundation, 325 Ninth Ave., Seattle, WA, 98104 —Jon Marmor