Extras
William L. Dwyer
1929-2002
William L. Dwyer, '52, a preeminent figure in the Northwest legal community during a career that spanned nearly half a century, died Feb.12 in Seattle after a two-year battle with lung cancer. He was 72.
Dwyer, who was appointed as a judge to the U.S. District Court in Seattle after spending 37 years as a trial attorney, had a dramatic impact on life in the Northwest during his celebrated career.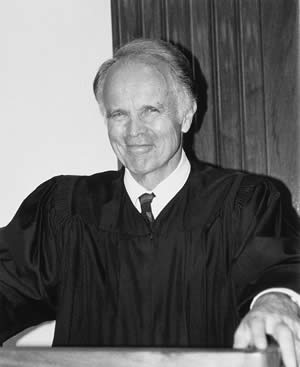 ---

Judge William Dwyer, '52.

---
One of the nation's most respected federal judges, he authored numerous landmark opinions, including a controversial 1991 decision ordering the U.S. Forest Service to adopt a conservation plan to ensure the survival of the spotted owl. His decision, which withstood numerous appeals, forced government officials to draft a plan that reduced timber harvests by 75 percent.
In other major cases, Dwyer—who saw his job as "simply to uphold the law and the Constitution"—ruled that Washington state term limits were unconstitutional and ordered state officials to provide adequate mental health care for civilly committed sex offenders.
Of the role of a federal judge, he said, "You are not in it to try to please those who brought about your appointment or to try to displease those who were opposed to it. None of that has anything to do with it."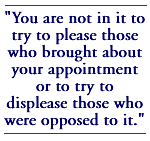 Dwyer first attracted national attention in 1963 when, as a lawyer, he defended a Democratic state legislator who had been falsely accused of being a communist. He also had a big hand in Seattle's landing of the Mariners in 1977. Then-state Attorney General Slade Gorton hired Dwyer to represent Washington in a suit against the American League and baseball owners. The suit, which challenged baseball's antitrust exemption, was inspired after the Seattle Pilots left for Milwaukee in 1969. While that team remained in Milwaukee as the Brewers, the legal action led to a settlement that produced the Mariners in 1977.
Though many of Dwyer's cases were controversial, his fairness, legal knowledge and civil libertarianism made him so well-respected that the UW School of Law established the William L. Dwyer Chair in Law in his honor.
Dwyer, who was born March 26, 1929 and grew up on Queen Anne Hill, earned a bachelor's degree from the UW in 1952 before getting his law degree at New York University the following year. He worked his way through school as a waiter, truck driver and copy boy at the Seattle Post-Intelligencer. While attending law school, he met his wife, Vasiliki, to whom he was married for 49 years. In addition to his wife, Dwyer is survived by his three children and five grandchildren —Liz Waite