Briefings
Campus Mourns as Football Player Curtis Williams Dies at 24
Former Husky football player Curtis Williams, who was paralyzed below the neck after an injury in the 2000 UW-Stanford game, died of natural causes May 6 at the home of his brother in Fresno, Calif. It is the first death of a student-athlete in UW history due to a sports-related injury.
The exact cause of death was not known, but his brother, David Williams, believes that his brother's body temperature plunged during the night, shutting down his organs. Problems regulating body temperature are common among quadriplegics, he explained in press interviews.
"Although he was confined to his wheelchair, Curtis taught all of us associated with Husky football the true meaning of the word courage. I think anyone who met or was associated with that kid, they will find it hard to ever feel sorry for themselves," said Football Coach Rick Neuheisel.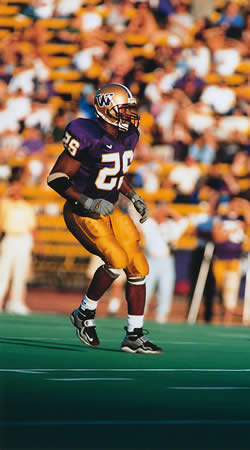 ---
Curtis Williams, "C-Dub", played safety for the Huskies in 1999 and 2000. Photo by Ethan Janson.
---
Williams, who played strong safety for the Huskies, had celebrated his 24th birthday two days before his death. He had recently returned from his first trip to campus since his injury to watch the Husky football spring game on April 27.
On that trip Williams also delivered the first pitch at a Seattle Mariners baseball game and was the guest of honor at a KJR radio benefit that raised $30,000 for his support fund. "I've been lucky," he told reporters at that time. "I'm thankful for the support of the city and the school."
Safety Greg Carothers, who replaced Williams on the field, spoke with Williams during his visit and said he was "the happiest I'd ever seen him. The guy lived and died for football."
On Oct. 28, 2000, Williams tackled Stanford running back Kerry Carter in a helmet-to-helmet collision. He suffered a spinal cord injury between the C1 and C2 vertebrae-the most serious spinal injury a human being can sustain and still stay alive.
Williams was hospitalized at Stanford Medical Center and later transferred to a rehabilitation center where he stayed for more than three months. Despite his injuries, Williams was able to travel to Pasadena and meet with his teammates prior to the 2001 Rose Bowl, where the Huskies named him one of the team captains and went on to beat Purdue 34-24.
After his discharge, Williams lived with his brother, David, in his hometown of Fresno. David was determined to keep his brother at home rather than in a nursing facility. After battles with the NCAA and insurance companies, the family was able to secure more at-home nursing care.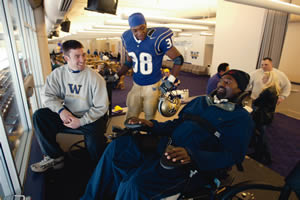 ---
Curtis Willams, right, visited with Jimmy Newell, left, who played with Williams, and freshman safety James Sims Jr., during his trip to campus in April. Photo by Harley Soltes 2002 Seattle Times.
---
A year ago, doctors performed a relatively new procedure, implanting a pacemaker in William's diaphragm. This allowed Williams to stay off his ventilator during the day, giving him enough air to speak at length (see "Rolling Forward," March 2002). Williams planned to take UW correspondence courses to complete the six classes he needed for his bachelor's degree in American ethnic studies. His long-term goal was to coach football or work as a scout.
Williams was a highly recruited running back at Fresno's Bullard High School, having rushed for more than 1,400 yards and 31 touchdowns as a senior. Recruited for the Husky offense, Williams languished on the team until Neuheisel arrived and suggested he try defense instead. He finished the 1999 season as a free safety with 69 tackles and an honorable mention All-Pac-10 selection. For the 2000 season, he moved to strong safety and at the time of his injury was ranked 18th in the Pac-10 in tackles.
Williams is survived by a 7-year-old daughter, Kymberly, who lives in Anchorage, Alaska, with her mother, Michelle.
Since Williams' injury, the UW has raised approximately $400,000 to support his long-term care and assist with expenses over and above those covered by family, University and NCAA catastrophic insurance. Remaining funds will be used to establish the Curtis Williams Scholarship in his honor. Contributions may be sent to the Curtis Williams Fund, c/o University of Washington, 1200 Fifth Ave., Suite 500, Seattle, WA 98101.