Briefings
New Dawghouse On The Dial
Seattle -- Action Sports Media, the exclusive rights holder for University of Washington's football, men's basketball and women's basketball live radio broadcast rights and ancillary programming, has named Seattle's Sports Radio 950 KJR as the flagship station for its Husky Network.
KJR-AM is a 50,000 watt station that is owned by New Century Media, a wholly owned subsidiary of The Ackerley Group. New Century Media also owns or operates KUBE-FM (93.3), KJR-FM (95.7), KFNK-FM (104.9) and KHHO-AM (850) in the Seattle/Tacoma region.
KJR-AM will carry all regular-season and postseason Husky football games and men's basketball contests.
Washington's women's basketball games will be broadcast by a third-party station. This season KKNW (1150 AM) carried all of the Husky women's games.
Weekly radio call-in coaches shows for football and men's and women's basketball for the Husky Network will originate from and be broadcast by KJR-AM. University of Washington's annual Windermere Cup/Opening Day Regatta will also be aired by the station. KJR-AM will also produce other original Husky programming and features during the week and as a part of pre- and post-game broadcasts.
KJR-AM is currently the rights holder and flagship station for the Seattle SuperSonics radio network. In the event of a conflict between a Husky men's basketball game or the Windermere Cup and a SuperSonics broadcast, the University of Washington game will be moved to another radio station among the New Century Media affiliates.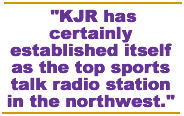 "KJR has certainly established itself as the top sports talk radio station in the northwest, so this should be a good opportunity for the Husky athletic program to grow and gain more coverage," said Washington athletic director Barbara Hedges. "We are excited about the ever-growing Husky Network and feel KJR provides Washington with a solid flagship station. Their management team presented a very strong proposal that included a number of innovative marketing and broadcast feature opportunities. While Washington's athletic program is well established, we feel this relationship will provide further opportunities for growth with our electronic media rights."
"KJR can help Washington to attain its goals of building a strong regional radio network for its athletic programs," said Ralph McBarron of Action Sports Media. "Their on-air personalities have given Washington a tremendous amount of attention in the past, and that will only be magnified in the station's role as the flagship for the Husky Network. I think KJR is firmly committed to providing a great service to Husky fans in the region."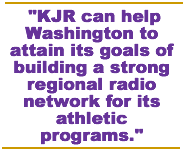 "KJR looks forward to offering our listeners and UW fans the most comprehensive Husky coverage available. We are thrilled to be the new home of Husky football and basketball broadcasts," said Michele Grosenick, president of New Century Media. "Combined with our stewardship of all Seattle Sonics broadcasts, a task that we've handled with tremendous pride since 1987, KJR has firmly solidified its position as the market leader in sports broadcasting."
"KJR is very appreciative of the Sonics willingness to work with us and the UW to accommodate Husky football broadcasts," said Grosenick. "Combined with our stewardship of a premium product such as the Seattle Sonics broadcasts, a task that we've handled with tremendous pride since 1987, KJR has firmly solidified its position as the market leader in sports broadcasting."
"The Sonics have enjoyed a longstanding relationship with Sports Radio 950 KJR and we are extremely pleased that Husky athletics are a part of the KJR broadcast family," said Sonics & Storm President and CEO Wally Walker. "We share a common mission to serve as community partners and to strengthen Seattle's reputation as one of the country's premier sports cities, filled with passionate fans."
Washington's contract with ASM is a four-year agreement from July 1, 2002 through June 30, 2006. The contract can be extended, upon mutual agreement of both parties, for a total of up to five additional years.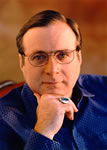 ---
Paul G. Allen, owner of Action Sports Media.
---
Action Sports Media's guaranteed rights fees included $2 million in 2002-2003, $2.08 million in 2003-2004, $2.163 million in 2004-2005 and $2.249 million in 2005-2006. The total rights fee for the four-year agreement is $8,492,000.
Action Sports Media is a Paul Allen company, and is a leader in collegiate sports marketing. ASM's network of universities currently includes 16 institutions participating in intercollegiate athletics. The company's expertise includes radio, signage and corporate sponsorship and promotion. Action Sports Media is headquartered in Portland.
Action Sports Media will utilize the resources of Sporting News Radio network to deliver programming to the Husky Network.