Briefings
Seattle ARCS Receives UW Award for Graduate Student Support
For Marcela Gonzales, the looming question wasn't if she would get in to graduate school but where she would go to graduate school.
Financial support was a key factor. Gonzales, a graduate student in materials science and engineering, chose the University of Washington over the University of California, Berkeley because UW offered her a fellowship given by the Seattle chapter of ARCS (Achievement Rewards for College Scientists).
"I knew that the fellowship would allow me to focus on my classes and research without the additional stress of finances," says Gonzales, whose current research focuses on developing biomaterials that can be implanted into the body to stimulate the re-growth of amputated fingers and finger tips.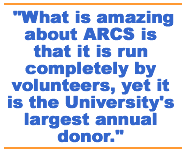 Gonzales is one of approximately 9,000 UW graduate students and one of 117 UW students receiving Seattle ARCS fellowships this year. Since it was established in 1978, the Seattle ARCS chapter has given the University nearly $5 million for graduate education in the natural sciences, mathematics and engineering. In honor of its generous support, the Seattle ARCS chapter will be presented the 2002 University of Washington Recognition Award. ARCS is the first organization to receive the award, which is normally given to individuals.
"What is amazing about ARCS is that it is run completely by volunteers, yet it is the University's largest annual donor," says Marsha Landolt, dean of the graduate school. "Seattle ARCS fellowships account for a large percentage of the total graduate fellowships we are able to offer. Those fellowships enable us to attract outstanding students-students who often make significant research contributions to their fields while earning their degrees here."
ARCS fellow and fourth year medical student Lee James is a prime example. The genetic research done by James and his supervisor, Bob Eisenman, affiliate professor of biochemistry and member of the Fred Hutchinson Cancer Research Center, may someday help prevent and treat Burkitt's Lymphoma as well as some types of breast and colon cancer.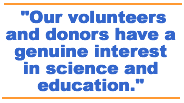 James, who earned his Ph.D. in molecular and cellular biology in August of 2000, says his fellowship from ARCS is different than one given by a large foundation. "ARCS is unique in that every dollar from donors goes to students. I have had the opportunity to get to know the donors who support my fellowship and they know me," he says.
"Our volunteers and donors have a genuine interest in science and education," says Seattle ARCS President Camille Uhlir. "We want to create the best pool of talent we possibly can in our region."
Seattle ARCS is one of twelve chapters of the ARCS Foundation, a women's organization formed in 1958 to advance science in the U.S. In addition to fellowships at the UW, the Seattle ARCS chapter supports 10 graduate students enrolled in the Washington State University. Seattle ARCS chapter members are currently raising funds to increase the permanent endowment for ARCS fellowships from $1.5 million to $5 million. The endowment will be a perpetual source of graduate support in addition to the fellowships raised annually.