"It blew my socks off," he recalls. "I had never seen anything like that. No one had. These were not vague images, but high-resolution, high-frequency, real-time images—and the best part was that the diagnosis could be made in a non-invasive manner. You didn't have to give a patient an injection of a contrasting agent. It was totally safe. We never had anything like that before."
Doppler ultrasound was off and running, and so was Baker. He developed a worldwide network of researchers and clinicians who could go out to teach physicians about this new diagnostic tool that was effective and not that expensive. "I was like an evangelist," he says.
By the late 1970s, Baker had created a bioengineering juggernaut. As a research professor at the UW (he joined the faculty soon after he graduated in 1960), he was one of the UW's superstars in receiving federal research funds, and had a staff of 40 working in his lab, which consumed half of the electrical engineering building's basement. In 1979, he asked for and received a $1.3 million grant from the National Institutes of Health—an astonishing figure back then.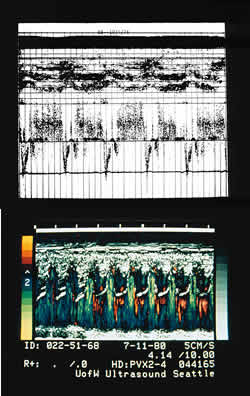 ---

Early black and white echocardiography images (top) didn't provide much information. Today's color Doppler echocardiography scans (bottom) show not only biological structures, but blood flow, giving physicians much more information when they diagnose heart problems. Images courtesy Dr. J. Geoffrey Stevenson
---
Then everything came to a screeching halt. When Ronald Reagan was elected president, he promptly shut down many federally funded medical research projects. Baker lost his funding, so he shut down his lab, lock stock and barrel, and left to join ATL as a full-time consultant.
"I was sorry the funding came to an end, but I have been always self-sufficient," he says. "It's like a genetic trait with my family. We always worked for ourselves, so it was not a big deal to shift gears and go into private industry."
He spent the next five years at ATL, traveling the world, lecturing and spreading the word about his ultrasound creation. But he tired of the corporate world and decided to retire. It didn't hurt that ATL was later gobbled up by medical research giant Squibb for $60 million.
The legacy he created reaches into every nook and cranny of medicine.
"There is no other diagnostic imaging modality that provides so much vital diagnostic information, is so cost effective compared to other more invasive procedures and is so readily available to all parts of the medical community in all parts of the world," says Donald Milburn, manager of customer education programs at General Electric Medical Systems.
In addition, Baker helped establish the Seattle area as one of the world's preeminent spots for training in ultrasound. Seattle University, Bellevue Community College and a Spokane school offer programs in sonography, a new field of health professionals who have special training to do ultrasound diagnosis. (In fact, Baker's wife, Joan, is one of the world's leaders in sonography training.)
Even though he is semi-retired, Baker, who was honored with the Joseph Homes Pioneer Award of the American Institute of Ultrasound, isn't sitting still. Soon, his early inventions will be headed to the Smithsonian Institution's National Museum of American History, where they will go on permanent display sometime this fall in preparation of the 40th anniversary of medical ultrasound.
Finding solutions has been his life. Looking back at his career, he sits at the dining table in his home, where the future of ATL and Doppler ultrasound was debated over thousands of dinners. "It was very exciting to be involved in a project like that," he says. "It was like being an explorer in the mountains, looking for that mountain pass. And you are the first one there. But you know exactly what to do."—Jon Marmor, '94, is associate editor of Columns.