So he tried it. And the "pulsed ultrasonic Doppler velocimeter" was born. Physicians could now track vital, real-time information on blood flow, volume and other characteristics. It was a stunning breakthrough.
But it was only half the battle. Getting the word out was the next step. Not content with letting its research sit on a shelf in a library, the UW bioengineering department held "show and tell" meetings with local industry and banks.
These meetings were not regarded very well by many in the academic community. "Contact with industry was a dirty word," Baker recalls, adding that it is still the subject of ethical debate in academic circles today. "It was as if commercial applications tainted your work."
But Rushmer, a world-renowned researcher himself, had the philosophy that you hadn't achieved anything until it benefited people.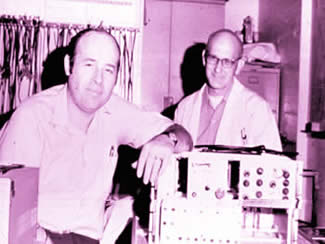 ---

Don Baker (left) and Vern Simmons, a colleague of Baker's in the UW bioengineering lab, display an early pulsed Doppler unit, built in 1967. Simmons built the unit based on a design by Baker. Photo courtesy Don Baker.
---
The big break for the Doppler ultrasound project came in the early 1970s when two officials from ATL, then a fledgling four-person company based in Bellevue, came to a show-and-tell and asked Baker to consult on an ultrasound emulsifier to treat cataracts. Although that project never went anywhere, the ATL folks were extremely interested in Baker's Doppler imaging project.
They joined forces and ATL began manufacturing Doppler machines in a garage in Bellevue. At the time, there were no rules governing technology transfer—developing ideas at a university, then having local industry produce and sell the products. Baker was "completely open" about his relationship with the new company (in which he owned a significant amount of founder's stock), and he made sure everything about his involvement—from scientific information to marketing strategy and compensation—was listed on paper, for all to see.
But sales of the first pulsed Doppler flow meter didn't go that well, which was very puzzling for such a momentous technological achievement. After scratching their heads, Baker and his partners realized that clinical physicians didn't know what good there was in measuring blood flow.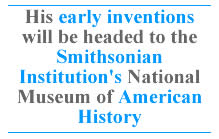 "We were taught that there was no need for blood flow information at that time," recalls Dr. J. Geoffrey Stevenson, a pediatric cardiologist at Children's Hospital in Seattle. "Clinical medicine had to be convinced why it was necessary."
So Baker retreated to develop a new business strategy. At the time, Smith Kline had the best echocardiography instrument on the market. "We decided to get a hold on the market by building a better instrument," Baker recalls. "That way, people would listen to us."
It worked.
By the mid-1970s, the number of fields interested in pulsed Doppler ultrasound grew like crazy. First developed for cardiology, ultrasound now drew serious interest from obstetrics, vascular surgery, gastroenterology, orthopaedics, you name it.
Fred Silverstein, a gastroenterologist who is a clinical professor at the UW and a partner in Frazier and Company, a Seattle biotechnical firm, remembers the time in 1976 when he saw a demonstration of Baker's new pulsed Duplex Doppler machine.