"The implications of Don's development are huge and international," states Indiana University Professor Harvey Feigenbaum, one of the world's foremost cardiologists. "Not only in developing the technique, but in demonstrating how useful the technique would be. This is a rare accomplishment."
In recognition of his accomplishment, the University of Washington and the UW Alumni Association have bestowed upon Baker their highest honor: the 2002 Alumnus Summa Laude Dignatus Award. He joins a distinguished list of alumni who have been honored as the alumnus of the year. Started in 1938, the award is the most prestigious honor the UW bestows upon its graduates.
Of course, like most success stories, this one has a twist. Baker, now 70, semi-retired and living with his wife, Joan, in a Kirkland home he designed and built, had no intention of revolutionizing medicine when he started out.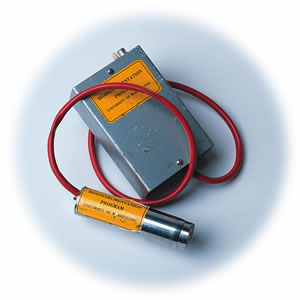 ---

This prototype Doppler ultrasound unit - headed for the Smithsonian institution - laid the foundation for the computerized medical ultrasound machines in use throughout the world today. Photo by Kathy Sauber.
---
After graduating from Raymond High School, where he was senior class president, Baker attended Grays Harbor College on a football scholarship for two years. Injuries ended the left tackle's promising athletic career, but he loved studying automobile design. However, he interrupted his studies in 1951 to enlist in the Air Force, since the Korean War was brewing and he didn't want to be drafted. Although he had no electronics background, an aptitude test said he would do great in the field. He was told to enroll in radar training and later served as an electronics troubleshooter for an air base in Fairbanks, Alaska.
After his stint in the military, he was assigned to a Boston-area lab to do research on an airborne Doppler radar project (to see if low-flying aircraft could be detected). He thought he would finish college at MIT but decided at the last minute that he wanted to return home to the Pacific Northwest. He came back to Raymond but didn't go to school right away, working for three months in a sawmill. It was memorable for one reason: it destroyed his hearing.
While a UW student in the late '50s, Baker had to work his way through school (his GI bill paid only $135 a month). He worked the swing shift until 1 a.m. as an instrument technician in the Boeing Wind Tunnel before heading off to class at 8 a.m. He also worked full time in the summers for John Fluke Sr. on a project involving the nuclear reactor in the basement of the civil engineering building on the UW campus.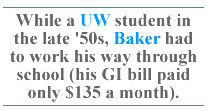 In 1958, Baker bumped into Wayne Quinton, who ran the medical instrument shop at the UW medical school. Quinton—who helped the UW devise the world's first successful artificial kidney as well as one of the first treadmills—suggested that Baker apply for a job with Rushmer, the founder of the UW bioengineering department. "This was a path I never expected to take," Baker says. He signed on as an electronics technician and joined a team of former military electronics experts who were helping Rushmer develop ways to measure things like blood pressure, volume and flow.
But there was one problem. "No tools for that existed," Baker recalls. "We had to create them. We were the living embodiment of the collaboration of medicine and engineering. It was a very exciting time."
Trying out a continuous wave Doppler ultrasound machine on a male subject, Baker discovered it had severe limitations. "We could not determine the depth of the blood vessels," he says. "We could not find where a blockage in an artery would be. The whole idea was to find a way so a physician could find exactly where that was and then figure out a treatment."
This was an important approach because back then diagnosing heart problems almost always required an invasive catheterization procedure.
While struggling with the problem, Baker had his "a-ha moment." He remembered hearing of meteorologists who were trying to track the presence of rain and snow in cloud formations. Continuous Doppler waves wouldn't work for that, either. "Sending pulsed sound waves would work," he thought.