ALUMNOTES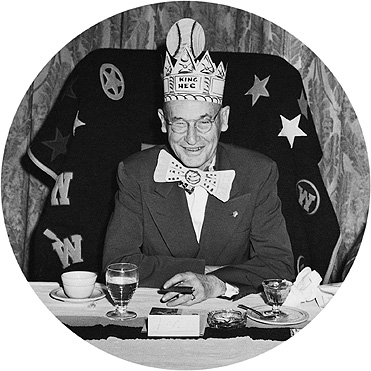 ---

"KING HEC"--Basketball and Track Coach Clarence S. "Hec" Edmundson celebrates another successful year of coaching at a 1950s sports banquet. File photo.

---
Darrell C. "Righty" Eden, '47
Kirkland, was inducted into the United States Tennis Association's Pacific Northwest Hall of Fame in a ceremony in Portland on Oct. 19. He is a member of the Husky Hall of Fame.
Hill Williams, '48, '66
Shoreline, had his book, The Restless Northwest: A Geological Story, published by Washington State Univ. Press in March. He is a retired science writer for the Seattle Times. His new book is intended for readers who do not have a scientific background.
Attention Class of 1952
Your 50th reunion dinner will be held during Homecoming weekend on Friday, Nov. 1 in Mary Gates Hall (the old Physics Hall) on the UW campus. Additionally, on that afternoon, we will take you on a multimedia tour of current happenings on campus, looking at how they compare to 50 years ago. Invitations with full details will be mailed in August. If you are interested in serving on the Class of 1952 reunion committee, please contact Asia Rau at 1-800-AUW-ALUM.
Jane Durland Alley, '52
Seattle, will receive a master's of education degree this year, 50 years after getting her bachelor's degree. She continues teaching as a volunteer.
Glen Vanlaningham, '52
Seattle, will celebrate his 50th wedding anniversary in June with his wife, Janice, '76. Their daughter, Kay Flaisig, '76, is lead cytotechnologist at Providence St. Peter Hospital.
James G. Newbill, '53, '60
Yakima, is retired from full-time teaching at Yakima Valley Community College and is now an adjunct instructor of history there and at Central Washington Univ. By winter quarter 2003, he will have spent 50 years in teaching. He recently had an article on federal judge J. Stanley Webster published in Western Legal History.
Joanne K. Woodland, '54
Bozeman, Mont., spent 25 years as a school nurse and continues to work part time at a Title X Reproductive Health Clinic and a VA clinic. She also practices Aikido and Tai Chi.
Gerry L. Alexander, '58, '64
Olympia, was named Judge of the Year by the Washington Chapter of the American Board of Trial Advocates. He is chief justice of the Washington state Supreme Court.
You must be a member of the UW Alumni Association to be listed in the Alumnotes section. To join, call (206) 543-0540 or 1-800-AUW-ALUM, or visit UWalum.com on the Web.
Robert Richards, '61
Mercer Island, had his book God and Business: Christianity's Case for Capitalism published in March by Xulon Press. He retired in 1998 after serving as president and co-CEO of the Commerce Bancorporation. He has served on the faculty of Whitman College and taught economics at Pacific Lutheran Univ. and the UW.
DeEtta Damaratus, '63
Seattle, had her book The Force of a Feature: The Search for a Lost Story of Slavery and Freedom, published in April by the Univ. of Utah Press. She has written plays and published articles on history and art as well as done screenwriting work for Paramount Pictures.
Frank Young Jr., '63
Mercer Island, was named Citizen of the Year at the seventh annual Best of Bellevue award ceremony in March. Recently retired as CEO of GLY Construction, he is a longtime community volunteer who has served on the boards of many local organizations and helped raise nearly $90 million for the Bellevue Art Museum, Bellevue Community College and Overlake Hospital.
Travis O. Thompson, '64
Wailuea, Hawaii, was elected the Republican National Committeeman for the state of Hawaii. He also enjoyed the first Dawg Day on Maui in February.
G. Douglas Ferguson, '66, '67, '73
Everett, is president of Anderson Hunter law firm in Everett. His father, Gordon T. Ferguson, '31, just celebrated his 96th birthday.
Tulin Idemen, '66, '89
Seattle, is a psychologist for the Everett School District. She attended a psychology conference in France last summer.
Stephen D. Russell, '66
Olympia, has joined some friends in developing a medical plaza in Tumwater. He has run a dentistry practice for more than 35 years and still enjoys it. His oldest son is a Navy fighter pilot, his middle son serves in the U.S. Coast Guard and his youngest son is a student in the UW School of Dentistry. His daughter will soon deliver his first grandchild. "I'm fortunate, indeed," he writes.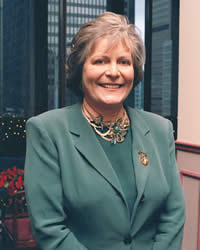 ---

Nancy Patricia Gibbs, '68, '71.

---
Nancy Patricia Gibbs, '68, '71
Bainbridge Island, was named Delta Zeta Sorority's Woman of the Year for 2001. An attorney at Preston, Gates and Ellis LLP, she has been a longtime community volunteer in Seattle and has won several honors for her civic leadership.
Ronald E. Bright, '69
Washougal, is a district sales manager for Astrazeneca Pharmaceuticals. His wife also works for the company.
James S. Rogers, '69
Seattle, has become a Fellow of the American College of Trial Lawyers.
Daisy E. Arredondo Rucinski, '70, '72, '83
Bellevue, is associate professor and program director of educational leadership at Seattle Univ.
Jerris R. Hedges, '71, '73, '76
Portland, Ore., received the Peter Rosen Award from the American Academy of Emergency Medicine at its 2002 annual meeting. The award is given to an academy member who has made an outstanding contribution to the organization's academic leadership.
Paul Willey, '71
Binghamton, N.Y., has lived in upstate New York for the past four years, working at Crowley Foods as corporate director of quality assurance. He and his wife, Elizabeth, a retired school teacher, have a son, Anders, 19.
Paul Kronfield, '73
Houston, founded and directed an oceanographic survey company, Oceanprobe, Inc., which conducted oceanographic and geophysical surveys worldwide for two decades. Last year he participated in the discovery of the lost Greek city of Helike. Currently, he is business development manager of Intec Engineering of Houston, a deepwater oil and gas production system engineering firm.
Sharon Prieve, '73
Everson, is retired and now volunteers in the community. She completed training and became a volunteer long-term care ombudsman. She also became part of Delta Society's cadre of "pet partner" teams, visiting residents of long-term care facilities.
Van R. Wood, '73, '75
Midlothian, Va., holds the Philip Morris Endowed Chair in international business at Virginia Commonwealth Univ. in Richmond.
Ray Price, '74
Fountain Valley, Calif., is the leader of the Orange County Husky Alumni Chapter. A former professional basketball and baseball player, he is a member of the All-Century Husky Baseball Team.
Dennis Keith Ruff, '74, '76
Arlington, Va., reports that he suffered a heart attack and he "has a few years to live as a theologian and an author." He also writes that his father, Alex A. Ruff, a top engineer with Sandia National Labs, died Nov. 9.
Minnie D. Anderson, '75
Indianapolis, retired after 27 years as an assistant professor in the family health nursing department at the Indiana Univ. School of Nursing.
Peter A. Gomez, '75
Honolulu, is president and founder of Pacific Facility Services, Inc. Founded in 1995, the company-which provides maintenance services to various businesses-has been ranked among the top 50 growth companies in Pacific Business News. He is married with two children and a new grandson.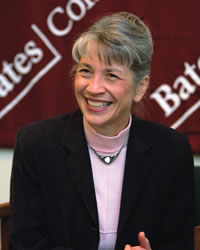 ---
Elaine Tuttle Hansen, '75.
---
Elaine Tuttle Hansen, '75
Haverford, Penn., is the new president of Bates College in Maine. She is the first woman president and seventh overall in the institution's history. She received her doctorate in English literature at the UW, and served as provost and chief academic officer at Haverford College when she was tapped for the top job at Bates. She assumes office as president of Bates in July.

Duane J. Covey, '76
Seattle, is regional leader of the Seattle region for the Edward Jones investment firm. He and his wife, Debbie, have three children.

Joanne M. Weimer, '76
Everett, has been a CPA since 1978.

Carol Thue, '78
Snohomish, has been teaching at North Middle School in Everett for the past nine years. In August, she will receive her master's degree in curriculum and instruction integrating the arts from Lesley Univ. She has been married for 22 years and has two daughters. "Life has been good to me," she writes.

Nan Nalder, '79
Seattle, is a manager for regulatory and environmental services for Acres International. She also serves as a board member for the Northwest Hydroelectric Assoc.

You must be a member of the UW Alumni Association to be listed in the Alumnotes section. To join, call (206) 543-0540 or 1-800-AUW-ALUM, or visit UWalum.com on the Web.

Gary Haas, '80
Kirkland, finished his 20th year teaching high school ceramics, wood shop and art at The Overlake School in Redmond. His son, Will, will attend Eastern Washington Univ. on a football scholarship this fall, and his daughter, Susie, is having her first baby in July.

Stephanie M. Johnson, '81
Woodbridge, Va., is a defense contractor in Northern Virginia, managing a database and a Web site for an Army organization. After attending the UW, she enlisted in the Army and subsequently became an Army officer, spending most of her career in Europe. She retired from the military in 1994. Her son is a crewman aboard the USS Cheyenne.

Michael J. Keiter, '81
Richland, has spent the last nine years as a cardiac sonographer and recently started an open-heart program at Kadlec Medical Center in Richland.

Jeffrey E. Leon, '81
Portland, Ore., is chairman of the Dept. of Anesthesia at Portland's Legacy Emanuel Hospital and Health Center, where he has worked for the past 12 years. He received his M.D. from UCLA. He is married and has three children.

Jackie Phillips, '81
Seattle, began a career in graphic design after working for seven years in UW's housing services dept. She is a graphic designer at the ACT Theatre. She and her partner, Diana, love golfing, the Mariners and traveling.

Dana Twight, '81
Seattle, has been appointed to the Washington State Board of Education.

David A. Hoover, '83
Tokyo, is an attorney for Squire, Sanders & Dempsey. He and his wife recently celebrated their first wedding anniversary. A former newspaper reporter, he received his law degree in 1991 from the Univ. of Southern California and has lived in Japan for the past six years.

James Buckner McKinnon, '83
Seattle, reports that his wife, Martha, died in October.

Patti Howell, '86
Seattle, has opened PJ's Paws and Claws, a gift shop for "dogs, cats and the people who love them" in Seattle's Magnolia Village. Her store features handcrafted art and jewelry, premium pet products and has local photographers available to take pet portraits. She is committing five percent of the store's profits to animal rescue and adoption agencies in King County.

Sean McCaffrey, '86
Vicenza, Italy, is an operations officer for the U.S. Air Force's 173rd Airborne Brigade. He, his wife and two children will return to the U.S. this summer after a three-year tour overseas.

Christine Weed, '86
Edmonds, is the principal consultant for Cultural Resources Consulting. She and her husband have adopted two children from China.

Marian Broida, '87
Seattle, had her second book, New Hope for People with Depression, published in December by Prima Publishing. It takes a look at the latest in treatments, including medications, psychotherapies, alternative and complementary medicine, mind-body approaches and self-help. Her first book, Ancient Egyptians and Their Neighbors: An Activity Guide, was named a Smithsonian Notable Book for Children in 1999.

Ken Alexander, '88
Edmonds, was recalled to active duty in the Navy shortly after Sept. 11. He is a commander in the Civil Engineer Corps serving on the staff of the U.S. Pacific Fleet commander as the chemical, biological and radiological defense officer in Pearl Harbor.

Bart Haggin, '88
Spokane, serves on the Natural Heritage Advisory Council for the state Dept. of Natural Resources.

You must be a member of the UW Alumni Association to be listed in the Alumnotes section. To join, call (206) 543-0540 or 1-800-AUW-ALUM, or visit UWalum.com on the Web.

Kirsten Laukkanen Dugan, '90
San Antonio, celebrated the birth of her second child, KelliAnn, last June. Her son, Joshua, recently received a cochlear implant to enable him to hear and speak.

Sean Williams, '90
Olympia, had his book, The Sound of the Ancestral Ship: Highland Music of West Java, published in October by Oxford Univ. Press. A teacher at the Evergreen State College, he will be an exchange faculty visitor at Kobe Shodai Univ. this summer.

Trish Seubert Buswell, '92
Alexandria, Va., was married to Navy commander Brad Buswell in July 2001 at the MGM Grand in Las Vegas. A vendor for The Hillman Group, covering Northern Virginia to Maryland, she swims for a masters team and is competing in the Nike World Masters Games in October in Melbourne.

Andy Lewis, '92
Seattle, is a dentist in private practice in Seattle after completing three years as a dental officer in the U.S. Navy. He lives in West Seattle with his wife. Their first son, Michael, was born in December.

Kevin Sheets, '93
Seattle, returned home to Seattle after a four-year hiatus in the Bay Area. Since September, he joined Providence Health System as human resources director, bought his first home in the Northgate area, and "survived my 40th birthday."

Derek Doell, '94, '95
Anchorage, Alaska, and his wife, Angela, '93, welcomed daughter Darla Jeanette on Oct. 28. Derek is an engineer with CH2M Hill and Angela is a CPA with Thomas, Head & Greisen.

Donald Sandoval, '95
Albuquerque, N.M., celebrated the birth of his first child, a daughter, last December. He married Kara Armijo in May 2000.

Donald G. DeSantis, '96
Brier, is director of taxation at Abraham Pendergast & Co.

Rebekah T. Moser, '99
Seattle, works in risk management for the treasury department at Amazon.com.

Mark Wickham, '99
Mendham, N.J., manages software development projects for Motorola in Beijing, China.

Arlin Peters, '01
Crescent Springs, Ky., works for GE Aircraft Engines. He writes that he misses "the snow, the coffee and everything else that makes Seattle one of the best places to live in this great nation of ours."

You must be a member of the UW Alumni Association to be listed in the Alumnotes section. To join, call (206) 543-0540 or 1-800-AUW-ALUM, or visit UWalum.com on the Web.
---
Submit a Class Note
Tell us what major events have happened in your life: a new job, marriage, children, retirement, advanced degrees, you name it.

Submit an Obituary
Please let us know if a UW alumnus has died. Be sure to include date of death, place of death and age along with the UW class year (if known).

Update Your Records
Moving soon or know someone else who has? Let us know so that we can keep Columns coming to you.

Contact Information
Columns Magazine
1415 N.E. 45th Street
Seattle, WA 98105
Phone: (206) 543-0540
Fax: (206) 685-0611.
E-Mail: columns@u.washington.edu