Part Four: Experiential Learning is a Key to Transformation
But these innovations don't stop after freshman year, Campbell says. Once a student has some basic coursework, the University encourages "experiential learning," taking the student out of the traditional lecture hall.
"One of the great strengths of the University of Washington is that it is a research university leading a life of continued learning," he declares. "We want to engage students in the discovery of new knowledge. We think it is a more advantageous form of learning."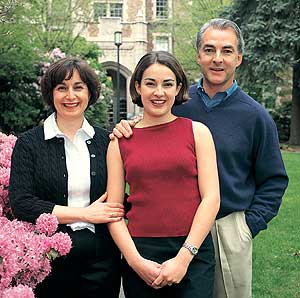 ---

Two Husky generations are represented by the Gibbon family: (left to right) Teddie, '76; freshman Alex and Lee, '76. Photo by Kathy Sauber.

---
UW undergraduates participate in the creation of new knowledge in new ways. About 24 percent are involved in at least one major research project before they graduate, and the UW wants to see that number grow. Boosting undergraduate research are programs like the Mary Gates Research Training Grants, which funded about 120 undergraduates in 2000-01. Each year the UW holds an Undergraduate Research Symposium, where top students present their findings to the public. This May saw 250 undergrads present papers on such topics as electricity from fuel cells, magnetospheric propulsion for space travel, robot soccer and arsenic toxicity.
Don't think of research as strictly a scientific endeavor, says Campbell. The UW uses the term broadly to mean student involvement in the academic work of a faculty member. "In the arts, faculty members might not call it research; they might call it artistic development. In the humanities they might call it scholarship." The May undergrad symposium also covered such topics as military intervention and terrorism, competitive balance in major league baseball and the archaeology of the Persian Empire.
While the lure of participating in research was not a factor for Alex, for other undergraduates it is a prime reason to choose Washington. "The possibility of participating in undergraduate research is our number one recruiting tool," says Janice DeCosmo, director of the undergraduate research program, who helps attract students interested in the sciences and engineering to the UW.
Lee Gibbon doesn't remember anyone he knew in the 1970s involved in faculty research. But he did benefit from learning outside of the classroom when he had an internship with the Eastside Public Defender's Office as part of his major in the society and justice program.
"I learned a lot by taking that internship," he says, "but I did not get a sense from my peers that there were a lot of internships out there. It was a rarity back then."
It is a rarity no longer. Thanks to the Carlson Leadership and Public Service Center and internship programs scattered throughout individual departments, the UW estimates that nearly 40 percent of its undergraduates will hold at least one internship before they leave.
"A lot of the juniors and seniors that I meet at our sorority have had internships. One of them worked at a major Seattle radio station. It helps being in a major metropolitan area. I definitely think I have lots of opportunities around here," Alex says.
Yet another way out of the classroom is service learning, where students volunteer for public service as part of their coursework. For example, geography students studying world hunger help out at a local food bank or chemistry students become tutors and mentors at local high schools. "Let's take what you've learned and put it to work," says Campbell. About 24 percent of recent graduates say they participated in community service as part of a class.
Go To: Page 1 | Page 2 | Page 3 | Page 4 | Page 5