Part Three: The Days of One-Way Education Are Over
While diversity and technology are the visible signs of change that a time-traveling Lee Gibbon would notice, there have been deeper transformations to what is now the largest undergraduate program on the West Coast.
The days of one-way education are over, says Dean of Undergraduate Education Fred Campbell, who has been on the UW faculty for 35 years. "Back then, students were more reliant on the professor for the information we dispensed," he says. "There was a limited number of materials on reserve, and some of us didn't even have copy machines. We had to use ditto machines.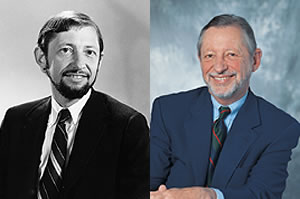 ---

Dean Fred Campbell (far left, in 1970; left, today) has seen incredible changes in undergraduate education during his more than three decades at the University of Washington. Photos by James Sneddon and Mary Levin.

---
"Today faculty aren't the only ones that have all the information. As a result, telling students what you know is not nearly as important," he explains. Reflecting on his teaching experience in the sociology department in that era, he adds, "In the 1970s, we focused on teaching; today the conversation is around how do students learn."
"The whole concept has changed," adds Richard Simkins, who was part of undergraduate advising for 38 years before retiring as director emeritus last year. "Students are involved in their education in an active way. They are not baby birds in a nest having knowledge poured down their open beaks."
The change didn't happen overnight. In the 1970s and early '80s, some critics attacked the UW for ignoring undergraduate education and concentrating too hard on its research mission. "I think that was a fair criticism," Campbell says. "We probably allowed the pendulum to swing too far in one direction." Also, society and technology were rapidly changing, and the University needed to reflect those changes in the way it taught students.
The turning point was in 1988, when the College of Arts and Sciences created an associate dean position just for undergraduate education. The college turned to Campbell, the first winner of the UW Distinguished Teaching Award (sharing the 1970 prize with legendary History Professor Giovanni Costigan), who had chaired the sociology department for seven years.
Soon after he started, he heard about a test program to help shrink the size of the UW for new freshmen. Called Freshmen Interest Groups (FIGs), they are clusters of new students who take all their courses together during the fall and meet once a week with a student mentor.
"We had four of them that first year. We didn't have any great expectations at the time," Campbell recalls. Last fall 2,461 UW freshmen enrolled in 115 FIGs. There are similar programs for transfer and returning students. "It has had a much more positive educational influence than we anticipated," Campbell says. He's found that the average FIG student has a higher G.P.A., lower dropout rate and easier time adapting to life at the University.
When Lee Gibbon arrived here in 1972, his academic life was centered around his living group, the Lambda Chi Alpha fraternity. "I don't recall any groups organized like FIGs," he says. "Until you met and had a peer group, you went into those classes solo." For daughter Alex, it was a natural way to ease herself into the UW. "It made the UW feel like a real home," she says.
In addition to FIGs, the UW started other new initiatives under Campbell. In 1993 the UW began to offer freshman seminars: a chance for new students to meet senior faculty once a week in a more relaxed setting. Since then, more than 200 faculty from 90 departments have participated, including Nobel Prize-winning physicist Hans Dehmelt, former astronaut George "Pinky" Nelson, Computer Science Professor Steve Tanimoto and Classics Professor James Clauss.
Go To: Page 1 | Page 2 | Page 3 | Page 4 | Page 5